Joined

Feb 15, 2016
Messages

1,368
Location
This began as a life drawing of a rescued owl in pencil on a dyed goose egg: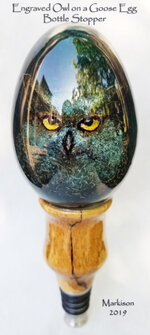 Glad to show the steps if there is interest.
Yes, I now keep eggs and pencils with me when I go field sketching - nice portable "canvases".
I'm still puzzled about which came first - owl or goose or egg.
I posted the "rehearsal" for this technique here:
While pondering the age old question of which came first, the duck or the egg, I was stumped again. Preferring more tangible challenges, I made a duck egg and spalted tamarind bottle stopper. Steps: Duck egg contents blown out, egg then sanitized with Clorox bleach. Acrylic paint handmade with...
Happy Friday to all - Bob
View attachment 219851
View attachment 219851
Last edited: