Joined

Jan 27, 2015
Messages

355
Location
After a few years and many pens, I've decided to move on to other pursuits. My loss is your gain. I'm selling my entire pen shop; hopefully to someone local to So. CA (Inland Empire). This is a very efficient shop and it easily fits into half of the single car garage area I have it set up in. I'd like to sell everything to one buyer, so I'm not currently entertaining offers for individual pieces of equipment. I have well over $2500 invested in this shop, but I'm willing to let it all go for a very fair cash price of $800. I'm including a ton of extra tooling, bits, blanks, pen kits, etc... that I have not even factored into my investment costs.
Let me know if you have questions and I'm hoping someone out there can benefit from this deal and enjoy the hobby as much as I have. Everything is in great condition with no issues. I was a "casual" pen maker, so this equipment has only been used a handful of times. Again, package price for everything is $800 cash, picked up in Eastvale CA, 92880.
Here's the list of the main pieces:
Rikon 70-100 Lathe
Central Machinery 6" buffer
Central Machinery 12" disc sander
Shop Fox W1826 Wall Mount Dust collector with wireless remote control
Rockler "Dust Right" system with 25' hose, floor sweep, bench sweep, and custom magnetic mount lathe hood.
Ryobi 9" band saw with custom pen blank cutting sled
The Rikon lathe and CM Buffer are bolted to a commercial quality industrial height adjustable workstation with laminate top and two deep drawers. The bench is 48"w x 30" deep with adjustable height legs. These are the workstations you see in industrial environments. The workstation has an added backboard that supports storage bins for your supplies and an overhead LED shop light. There are 8 power outlets on the workbench. This workstation alone was over $500 new.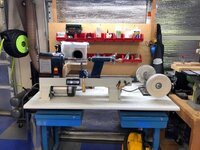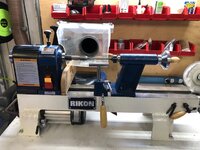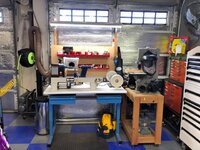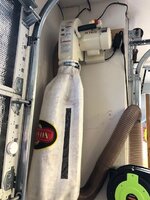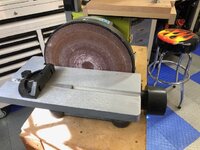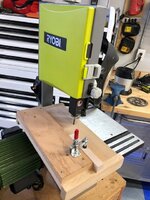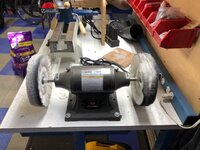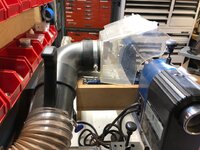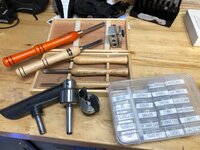 Misc. stuff included with sale: PSI Pen assembly press, Rick Herrell's wonderful offset sanding jig and flat top tool rest, two EasyWood carbide turning tools (square and round), 3 piece pen turning chisel set, dead/live centers, MT2 jacobs drilling chuck with drill bits for most pen kits, PSI Blank drilling chuck, pen mandrel/mandrel saver, sanding faceplate, set of 25 pen bushings for popular kits, 20+ pen kits (PSI and others), over 40 blanks (exotic woods and a dozen high end resins), and a bunch of other supplies such as buffing wheels, compound, and even an IAP smock!
Please let me know if you have questions and I hope this excellent shop goes to a good home. Chris