Joined

Aug 6, 2009
Messages

6,506
Location
Hi peoples,
Meet Luna, the unplanned pet on the day, I explain.
It is true that we have never had cats as pets, we are dog people but, after we lost Teddy and Zac recently, we considered adopting 1 or 2 cats for the single reason they are less costly to buy, feed and look after in general.
After some times thinking about it we kept talking about finding a small young dog female if possible as we miss the dog type companionship so, and after looking at all the local animal shelters websites for their available dogs, one thing became obvious, young dogs of under 1 year of age at shelters are well sourced and expensive to buy, an initial expense of a minimum of $500 and up to $1,000 and that is a bit too much for us at the moment but, we kept looking and hoping.
Last week, I spotted a female dog that I was familiar with the breed even though they had her breed wrong written on the web page, in fact, they had no idea what she really was, I'm talking about of the "typical" Portuguese Podengo, and exceptional hunting dog of medium size, and while there are a few variations in size, colour and hair length, the ones I had were all similar to this one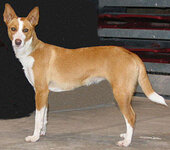 and the one I saw at the animal shelter was identical.
She was 13 months old and they wanted $380.00, she was the only one that after 1 week of me following that shelter website was not taken so I thought that we were supposed to be the ones to go and get her and so we did.
We were at the shelter at the time the website said they would open the doors for the dogs animal adoption but when we got there we were told that they changed the time to 12:00 to give extra time for the kernels to get cleaned before the visitor's arrival.
We had 2 hours to kill and the lady there said that we could have a look at the cats' section they were open to the public.
This was the local RSPCA shelter, a great set up they have there for the animals, I was quite surprised at the size kernel each cat had, all stainless steel but with lots of soft blankets, bed, toys and scratch towers.
At the very beginning and while I was looking at a couple of cats on my right, Merissa stopped at the first cage on my left and all of a certain she was reaching in to grab this cat. Well, this was an 11 month old (so they think) pure black, green and yellow eyes small cat called Georgina, she seemed to be enjoying the attention, very gentle little creature that liked to give head-butts before a head rub and a rollover.
We both spend a little time with Georgina but decided to put her down and continue looking at each of the cats available. It was getting close to 12:00 noon so we walked to the gate accessing the dogs' area that was already open.
We follow the signs painted on the ground and in no time we were at the area where they put the dogs so that visitors can get close to each one. We knew how she looked like and her name that was Kona so kept going until we saw her and my first reaction was to grab a handful of treats that I had brought from home, she was timid and hiding on the corner but when she saw the treats, I was her best friend (off-course..!)
We were so excited at being so close to her that we didn't realise that, at the top of the gate and just above her information, there was a sign saying "adopted"
what that heck, the last time I checked on the website (night before) she was available otherwise we wouldn't be there so, I approach one of the RSPCA girls and asked about Kona and that's when she tells me that someone else the morning before has adopted her but they would pick her up at 4:00 pm closing time that day (day we were there).
We were not impressed and I had to say something at the people behind the desk, I basically expressed my disappointment at their lack of complying with their own rules that say, "animals that are still available at the closing time the day before, will be available to first come first served at opening time the following day. Website info should have changed from available to "adopted" even though the animal spent an extra day there.
They apologised for their mistake and by then I had calmed down after a thought that came to mind and that was, obviously, that dog was never supposed to be ours in the first place, the events were clear and after I shared with Merissa my thoughts we set down for a little while, looked at each other and agreed, the animal we were supposed to take home that day was not kona the dog but Georgina the cat that really impressed us.
What is destiny...???? I could give you a few versions of what I thought it is or may be but I let that up to you people, but what I can tell you at this point is that and apart from the fact that we didn't think Georgina was the correct/best name for her so, and as we were coming home we named her Luna and a few days have passed since we got her and I tell you, Merissa and I couldn't have made a better choice, this small black cat is just a sweet-heart and a gentle soul.
We are now considering to foster any animals that may need fostering, the application has been made with RSPCA so now they know our intentions.
So meet Luna, our first cat pet...!:biggrin:
Cheers
George