Joined

Jul 17, 2017
Messages

2,099
Location
I had the good fortune of acquiring a Dogwood tree with the bare root wad from near a camp site I was at. It dried well and had beautiful color. A mix of whites, creams, blacks, Browns and a beautiful pinkish color.
It turns nicely, but as soon as any finish hit the wood, all of the pinkish reds turned to a still nice but warm to walnut brown.

Decided to see if stabilizing with Cactus Juice would help preserve the unusual color.
Before stabilizing
After stablizing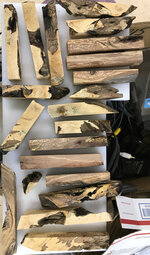 After stabilizing I rough turned a blank to apply just enough of various finishes to see the end result. Each time the blank was scraped back to bare wood with no effort to sand or polish.
Stabilized unfinished:

Stabilized coated with Dr's Pen Plus:

Stabilized coated with Captain Eddies juice:

Stabilized coated with BSI Super Gold thin CA:

In the end, I would say yes, stabilizing helped preserve more of the pinkish color, though the finish may affect the outcome.
Certainly a big difference from unstabilized version.
Sent from my iPhone using
Penturners.org mobile app
Last edited: