Joined

Nov 16, 2018
Messages

219
Location
Hi folks-
After a spate of failed efforts with segmenting lately I got impatient just to make a couple of pens that were, well, pretty! So I am posting pics of my two latest.
First is a pheasant feather blank I bought from Exotics in a Sierra Nomad. Easy blank to turn and just beautiful-got a nice finish from micro-mesh so I stopped there and did not polish or buff. I'm finding that I am fully capable of trying to go too far with finishing to the detriment of the final product.
Second is a pretty Indian Rosewood blank I bought from Joe S (wood128, I think) in a Jr. Milton fountain pen. Only my second FP and will go to my brother-in-law who likes them. CA finish and, again, micro-mesh only. The photos may not do justice to the two tones of the Rosewood; this was a really gorgeous lot of IR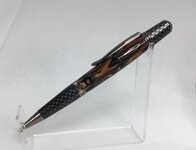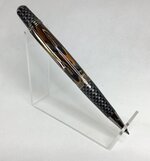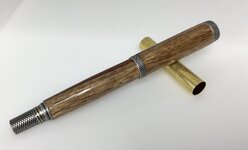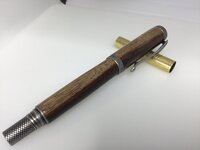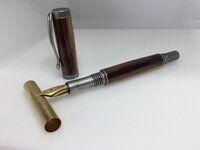 from Joe.
Have a great week!
Russ