Joined

Apr 20, 2007
Messages

4,122
Location
SAMPLE UPLOAD! COMMENTS or QUESTIONS welcome!
Thanks
Jon
Match The Shop!
Below are photos showing several members' shops and the names of the shop owners. Your job, match the shop to its owner. This contest will run for one week, starting today.
Each correct match is worth TWO points.
All entries received by 9:00 AM on the 13th (system clock) will receive a TEN POINT BONUS. Maximum score 40 points.
At approximately 9:00AM on the 13th, clues will be posted for some of the photos. Players submitting answers until 9:00AM on the 15th will receive a FIVE POINT BONUS. Maximum score 35 Points.
At approximately 9:00AM on the 15th, clues will be posted for additional photos. There are NO BONUS POINTS for entries submitted after 9:00 AM on the 15th (Maximum score 30 points).
Deadline for entries is January 17th, 11:59PM (IAP CLOCK).
As with all contests, entrants are subject to the Universal rules!
http://www.penturners.org/forum/f170/universal-bash-activities-rules-please-read-92887/
Attached are three groups of five shops and names. The names posted with each group of pictures belong to those five shops. Prizes to be awarded to the top point scorers, tiebreaker is time of submission recorded on the email.
1st: IAP logo Clock--USA postage courtesy of CNCcutter
2nd: Box of blanks courtesy of Bobskio2003
3rd: Small box of west KY wood courtesy of ctubbs
Additional Prizes (Small Flat Rate Box of blanks from my shop) to the shop owners who have submitted their pictures:
Famous Shop - The shop that the most people correctly identify
Stealth Shop - The shop that the fewest people correctly identify
HOW TO PLAY:
Send your answers to
SHOPSHOTS@YAHOO.COM
with your IAP NAME and SHOP ENTRY in the subject line (mine would read GOODTURNS SHOP ENTRY, but I don't get to play).
List the Shop Numbers and the member names in your message (see example below)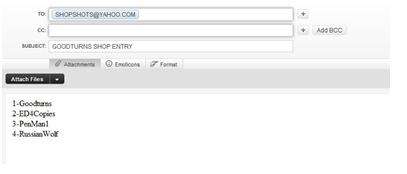 Decision of the judges is final. Judges are not responsible for lost or misdirected email.
Have Fun and Good Luck to ALL!
Correct answers and winners will be announced on the 19th!