Joined

Jul 17, 2017
Messages

2,921
Location
Was going to title this "Another Thing I'll Never Make a Living At".
Prior to adding a dividing wall to my shop to separate the "clean area" I removed the loose plaster from the brick in the 1880's portion of my shop. I found two 2x4 laid length wise in two runs of the brick, something had not come across anywhere else.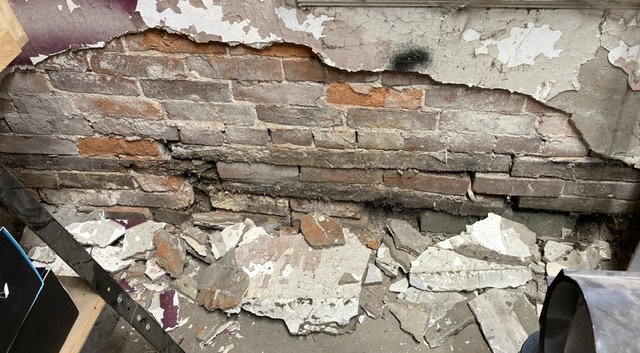 They were quite rotted out and needed removal and, because there was a single course of bricks in between, the bricks are old and the mortar is lime based, resulted in quite the void on the inner side of the two brick thick wall.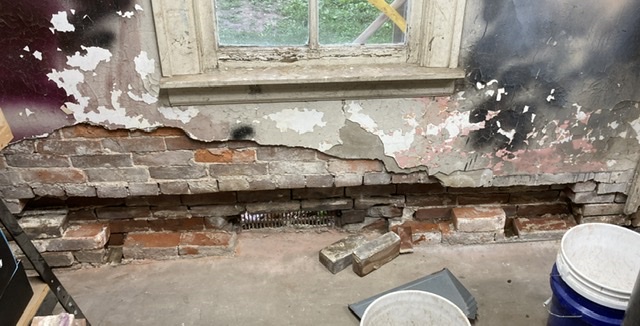 Those old 2x4's (yes, I saved them in case I want to cast them with something) needed 27 additional bricks to replace them. Fortunately I had a pile of 20 old bricks found under some concrete steps that were replaced and scrounged up the additional needs behind the shop, including one newer brick from the 50's off a neighbors house. In dry fitting them all looked pretty good but there is a slope to the concrete and nearly one course of bricks goes under the floor. This translations at the old ventilation grate. Before laying the bricks, I found pieces of +/-1.25 inch concrete paver that aided in the transition. The dry fit looked decent, though.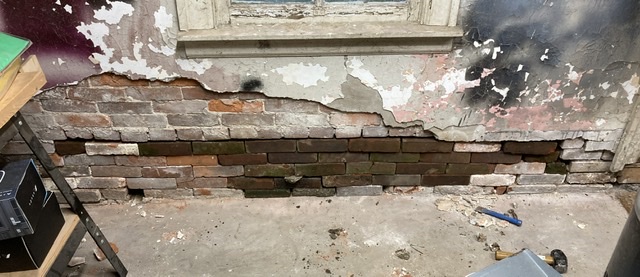 So, after referring to my concrete and masonry handbook (yes, an actual book) and watching a couple of quick videos o was ready to try my hand at masonry, having the needed tools from a combination of Dad's old tool chest and some concrete projects I had done. After all, I helped a guy lay block for about 2 hours when I was 12 or 13 so this should be doable.
All in all, it was. I am pleased with the outcome. I knew my mortar had to stick to my trowel to be ready to work and not to add too much water, all from past concrete experience and watching others. While still a little wet from rinsing off a few of the brick faces I am pleased. But, it did take me about 3 hours for about 40 bricks, though. I'll never make a living laying bricks at that pace.

Oh, and read the label on the bucket of premix mortar before you start. I am not a Fast Set kinda guy and only made it through the first 4 bricks before that batch of mortar was done.