Joined

May 22, 2018
Messages

147
Location
All have been sold elsewhere

Blanks are $8 each, plus shipping. 4 or more blanks ship free.

These were single batch "experimental" blanks, so I only have these 6. If anyone shows interest, I'll happily cast more.

A1

, A2, and A3

: Popcorn kernels cast in clear resin. I suggest painting the inside of the drilled blank, rather than painting your brass tube. I chose black for this Vertex Click.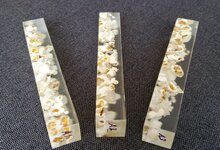 B1, B2, and B3:
Fruit Loops cereal cast in white resin. These look best when the inside of the drilled blank is painted white.
These blanks like to chip out
as the resin cannot completely penetrate each cereal piece.
Take extremely light cuts, and stop to fill voids frequently.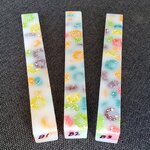 Disclaimer
: While I only recommend these blanks for experienced turners, newer turners can still get fantastic results if they take their time and use sharp tools. As with all embedded object blanks, be sure to stop frequently to fill voids.
Last edited: