Joined

Dec 1, 2020
Messages

136
Location
I'm not sure if this process is right or wrong; unique or common. But it works for me and I want to share in case it's interesting.​
20: Polygonal Facets
last pos
t:
19- Facets with a Twist

Building on my hexagonal facet jig, I made guides for 5 through 9-sided shapes.
The Jig
More information about its construction can be
found in the original post
.
It works with my router table and can configure to reference five shapes, including a hexagon which I wrote about last time.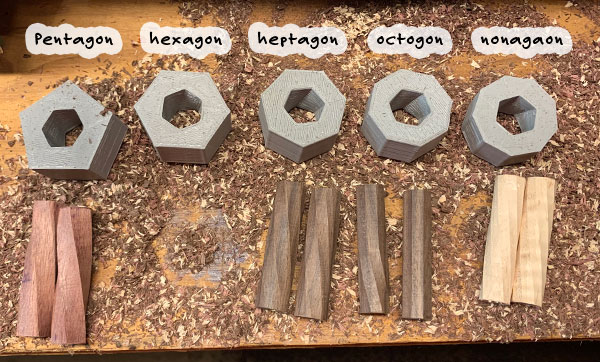 The 5, 7, 8 and 9 sided blanks.


Examples

A
5-sided pen
with twisting facets. I think it came out the most angular and interesting to hold.

A
7-sided
top that tapers to smooth bottom.

This
8-sided pen
has a straight facet until the top inch where it begins to twist.
3D Files
I'm happy to share 3D files with anyone who is curious about what I put together.
I'm not recommending anyone try this themselves but just showing what I've done.
As always the files are provided as-is. File:
FacetJig2.zip
.
Thanks for looking!
- Cullen