Joined

Nov 14, 2006
Messages

2,685
Location
This week's challenge is going to be fun. I can't wait to see what you guys come up with. Here we go!
The challenge is for you to turn a pen with cracks and or voids. Fill those cracks and voids with a substance OTHER than wood. You can use any substance you wish to fill these cracks and voids. Your allowed to use any pen kit with any plating, your emphasis should be on the wood and whatever you use to fill the cracks and voids.
1. All pens MUST be made specifically for each contest. What you do with the pen after is your business.
2. All pens entered must be made to the specification of each contest.
3. All pens must be entered in the alloted time.
Please send your entry along with your name and IAP name to;
2008BashChallenge@penturners.org
This contest will end Tues. Jan. 22st at noon PDT.
Contestants will be judged anonymously and there will be a 1st and 2nd prize for each contest. Winners and pictures will be posted at the end of each contest along with the rest of the entrants. Thanks everyone, now go have some fun and get those pens going!!!!!
THIS CONTEST IS CLOSED
All these contestants should be congratulated. These are some beautiful pens and I can see it took some time to make them. Winners, please contact me with your mailing info. Congratulations everyone!!!!
NCWoodworker
1st Place - 2 sets of lathe tools - penturners set and miniature KMS set.
"This is a piece of sycamore that is spalted, curly, wormy and decayed. While sycamore is typically very light in color, this sample is full of color. To fill the voids, I took a piece of amethyst, put it in a cloth bag and broke it into pieces with a 3 pound hammer. I colored the tube to prevent the brass from reflecting in the purple gem. I used CA glue to hold the amethyst in the voids and turned it on the lathe".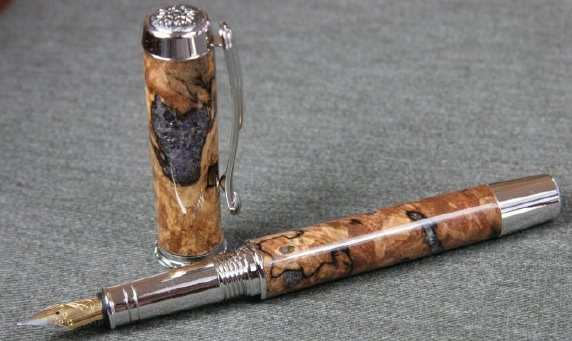 JayDevin
2nd Place - $25 Gift certificate from Craft Supplies USA
"Manzanita Root Burl, its voids filled with Alumilite colored with Pearlex Powders".
Baron 10K Pen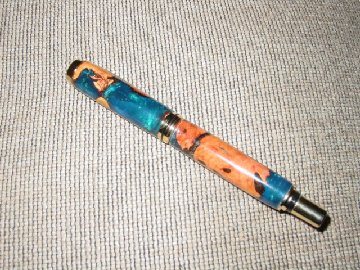 Slinter99
Honorable Mention - Box of Blanks
"Briar Burls cut offs, and chunks with large voids, I put some of them in a mold and filled it with a burgundy colored polyresin, after the cast had cured I re-cut them into blanks. I added a segment of black dyed maple veneer and the leftover resin from the sides of the mold to each of the barrels. When I started to turn them another large void opened up so I filled that and all the other small voids with some coffee grounds".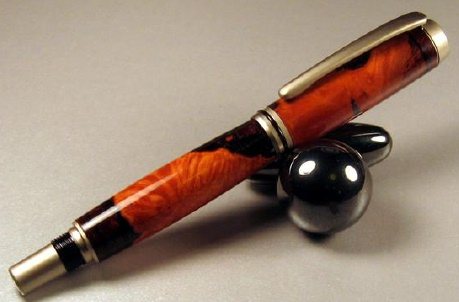 Draken
"This is a Black Chrome Cigar in reclaimed Oak from the Rappahannock River Crib dam. The wood has been under water for over 150 years. As it dried out after being removed from the river in 2004, parts of it split and cracked, this is one of those pieces. It has been filled with Antique Gold colored Polyester Resin, for an elegant yet understated look. The darker stripe up the center of the pen in photo contest3.jpg is the PR, with additional PR in voids at both ends of the pen. The finish is Lacquer".

Curtis O. Seebeck
"It is "Worthless Wood" mesquite with turquoise Alumilite resin with silver metal powder".

MLKWoodworking (Mrs.)
"Red River Gum Burl with Brown Ebony segments on the ends.
Segments were used as the inclusions were all the way into the edge of the blank as well as all the way to the tube.
Sleeping Beauty Turquoise fine powder was used to fill the voids".

Sparhawk
"This is a piece of cedar that the knothole fell out of. Filled with two blues of powdered glitter,pearl ex, and epoxy".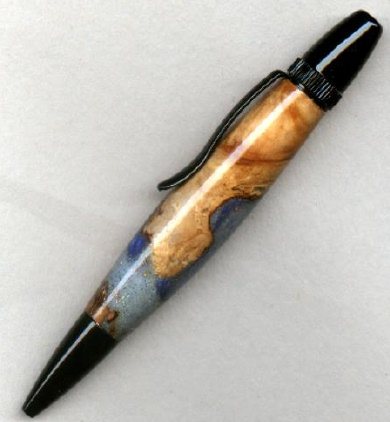 Jon Piper
"DI Burl blank that blew out while turning. It is filled with crushed turquoise and CA glue, layer after layer after layer".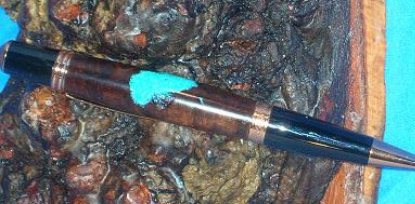 alamocdc
Churchill with Buckeye Burl and I believe crushed stone. Input Billy?

pssherman
"The wood is mesquite and contains heartwood, sapwood and bark in a single blank. The voids in the bark was filled with glitter and CA".