Joined

Feb 15, 2018
Messages

320
Location
Try this. I'd like to see if you agree. Call me lazy but this seems to work for me. I finish turning my pen as always with 400 or 600 grit sandpaper and then apply GB in the normal way with the lathe off starting with Blue then orange using accelerator as directed. I use a paper towel. Then instead of only using 2 coats of the orange I apply 2 more coats insuring it has a nice smooth finish wiping back and forth with the grain as the GB is self leveling. Then......hold on to you chairs,
I SKIP THE MICRO MESH!
I use EEE on a paper towel once or twice, wiping and polishing between applications at about 2K rpms. Then I buff/polish with my Maguires plastic polish as always, also with a paper towel. I really can't see or feel the difference between that method and the micromesh method. My thinking is that it also removes less of the finish. Less mess and less time. The EEE seems to be about as aggressive as the m mesh.
Maybe somebody else could give it a try and see if they agree.
This one done with m.mesh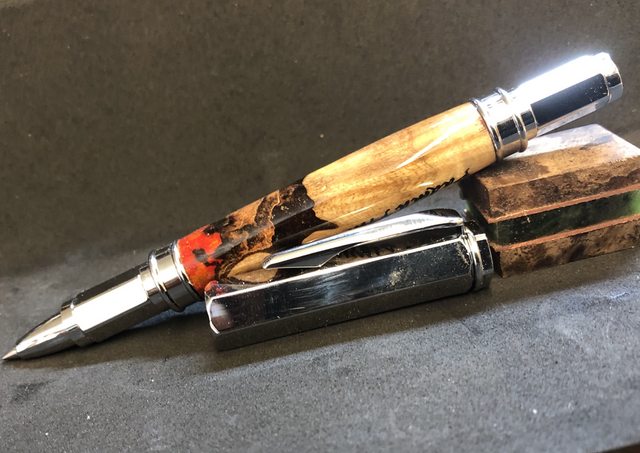 This one skipping the m. mesh
Last edited: