Joined

Jun 26, 2019
Messages

1,003
Location
I've been working on a design for ballpoint pens that 1)appeals to me, and 2)will hopefully appeal to customers - or as they as at the Masters Golf Tournament, will hopefully appeal to "patrons." The design has a flare in the lower part of the tube at the nib. For me, this makes writing with it much more comfortable; it is an exaggerated fountain pen section if you will. From the flare, the tube tapers out to a swell that is widest at the approximate point just at the end of the pocket clip. From there the tube tapers back to mate with the end cap. Hopefully this is all done in a smooth, flowing manner. This design lends itself well to single tube - as shown here - and to conventional 2 tube construction.
This started as a BHW Streamline 7mm Flat Top in chrome using a BHW AA24P Translucent Red blank. The drilled blank was not back painted nor were the brass tubes painted because of the uncertainty of what might happen with repeated removal and insertion for the nib tube.
As always, thanks for looking; ALL comments are greatly appreciated!
DrD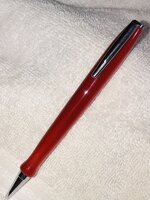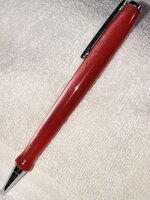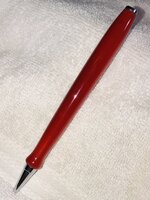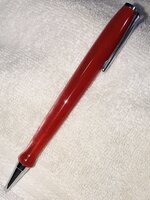 Last edited by a moderator: