Joined

Feb 2, 2011
Messages

14,787
Location
This was my entry. . I am quite pleased with both the idea and the result. Unfortunately it didn't rate very highly. Do you think my description of my method is understandable ?
All comments would be appreciated ... don't hold back !!!!
.
Do you think it would have ranked more highly if I had entered it in a different contest ?
Diagonal Dowel Segmentation
My pen is a PSI Vertex Click BP with a novel segmented barrel, finished in CA.
The segmented barrel consists of a Chechen blank, 1/4" Birch dowel, red Box Elder, and brass.
The square-cross-section blank was trued for squareness and cut a little longer than required.
One dowel hole was drilled between diagonally opposite corners and the dowel was glued in.
The next dowel hole was drilled in the same way after the glue for the first dowel had dried.
After all four dowels had been inserted in this way, the ends were again squared.
The blank was then cut accurately in half, and each half was reversed end-for-end. Now,
each outer end showed a nice cirle of Birch in the center where all four dowels crossed.
The brass shims and red Box Elder burl adornments were glued in and the whole clamped tightly.
Then the segmented blank was rounded, tubed, shaped, and CA-finished with usual techniques.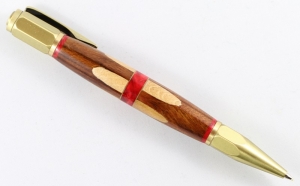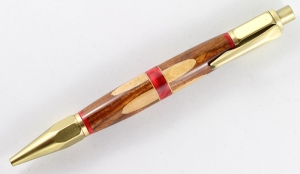 Last edited: