Joined

Aug 6, 2009
Messages

6,435
Location
Hi folks,
Last week I was
looking around some of my older logs
and try to catch up on getting a few more pen blanks done to top up some of the ones that are getting pretty low on the shelf and in the process I picked up a log that I could identify even if the number wasn't written at one end, I didn't really see anything "unusual" so I put the log in the wheelbarrow and took it to the workshop bandsaw area.
It wasn't the first log I processed but when got its turn I got it on the bandsaw table with ease as this wood is lightweight, started ripping it away and all of a certain I got a surprise, t
he logs/wood species it belongs to has some yellow
but this was the first time that a log had 99% of its wood surface in a darkish type yellow.
After I had all the boards ripped at 23mm (before sanding size) I wondered what I would list them and after a little thinking I decided that the only reasonable thing to do was to sell it/them with the number of its original wood species but make it a variant and call it #? "special",
this species has had variants such as
diagonal, cross cut,
root burl
and possibly others that I can not recall at this moment.
I managed 15 packs of 4 blanks each, they are not yet listed and it will not be until this game is over, for obvious reasons...!:wink:
So, my question is simple,
What tree/wood species these blanks belong to...?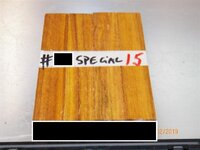 I would like to remind you all of the new conditions I introduced in game #32 and that is what actually the gift voucher amount will be spent on, and allow the actual winners to make their own choices. The only RULE that I ask you all to respect is that I allow each 1/3 of the value amount (AU$100.00) to be used for the selection of blanks/packs between the 3 main blanks types I make/sell, there is, raw/natural wood blanks, stabilized blanks/packs and Resifills (cast blanks), this means basically that you can select 1/3 of each type or all raw/natural blanks but never the voucher amount of all stabilized or Resifill blanks, I hope this has come clear if not, let me know...!
A voucher code will be sent by PM or email to the winner that will use it to put his/her's order, any freight/shipping is not included in the prize/voucher so, you will be requested at checkout to pay for posting.
Good luck...!
Cheers
George
Last edited: