Joined

Aug 6, 2009
Messages

5,923
Location
G'day peoples...!
Here it comes game #52 your way, let's see who get it right.:biggrin:
A few years back I created a pair of knife handle scales that I haven't seen for a long time but recently I come across the picture and I've thought it would be a great subject for this game.
The question is;
What is the wood name or number (if you think is one of mine) have I used to create these knife scales...?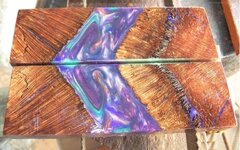 I would like to remind you all of the new conditions I introduced in game #32 and that is what actually the gift voucher amount will be spent on, and allow the actual winners to make their own choices. The only RULE that I ask you all to respect is that I allow each 1/3 of the value amount (AU$100.00) to be used for the selection of blanks/packs between the 3 main blanks types I make/sell, there is, raw/natural wood blanks, stabilized blanks/packs and Resifills (cast blanks), this means basically that you can select 1/3 of each type or all raw/natural blanks but never the voucher amount of all stabilized or Resifill blanks, I hope this has come clear if not, let me know...!
A voucher code will be sent by PM or email to the winner that will use it to put his/her's order, any freight/shipping is not included in the prize/voucher so, you will be requested at checkout to pay for posting.
Good luck...!
Cheers
George
Last edited: