Joined

Feb 2, 2011
Messages

14,606
Location
For a long time I have thought that I could use a good milling machine.
Would really be helpful for doing lots of things such as:
1. making blanks square after rough cutting,
2. squaring the ends of blanks,
3. making clean diagonal surfaces for segmenting to other clean diagonal surfaces,
4. cutting nice clean grooves for doing inlays and segmenting,
5. planing thin inserts or inlays for segmented designs,
6. accurately thicknessing all insert materials for slipping into various nooks and crannies,
7. making accurately shaped triangular, hexagonal, and octagonal cross-section blanks,
8. not to mention other "odd" shapes such as pentagonal, duodecagonal, etc.
9. generally trimming off bits and pieces that won't come off in any other reasonable way,
10. creating another sinkhole for not-so-readily-available-cash that SWMBO has forgotten to claim,
11. anything and everything else that might come along .... you can probably think of millions of other things yourselves.
So, the machine got delivered today. . Actually, it had been delivered once earlier last week, but they came
and took it away again before I could get my hands on it.
I just assumed that SWMBO had had a word with the supplier when I was not listening, pretending to be me,
and convinced the supplier that it was not intended for this address.
But then, through the intervention of the Blessed Almighty Pen-Making Gods who have miraculously favored me
throughout my pen-making career, in spite of my never, ever, turning a profit of any kind, it reappeared. . TODAY !
Yes .... this Milling Machine reappeared today .... a couple of hours ago !! . I gasped !! . I wept !!
SWMBO was nowhere around, and so I was quick to uncrate this Milling Machine today .... SUNDAY !!
.... getting it into the shop and ready for work tomorrow !!!!
YES !! . It is Sunday !! . And they delivered it today !! . Well ... that is ... they RE-delivered it today !!
How lucky can a guy get ?!!! . I wasted no time in uncrating it, and I phoned the supplier to express my extreme gratitude !!
And the supplier's rep was in his office expecting my call !!! . What a thrill we shared !!!
Well !! ..... Where's the picture, you ask !! ..... "No picture ... didn't happen !!" ... you say !!!
OK, OK, Ok ....... FINALLY ....... here's the picture ... !!!
Our front street desperately needs resurfacing ..... the work starts tomorrow >>>>
I didn't know this thing was called a milling machine until I asked the delivery guy ....... He is such a nice guy .......
He explained all about it ...... even though he said he really didn't know a thing about it ....... he just delivers ....... and takes away ......
But here it is ....... ....... THE MILLING MACHINE ....... !!!

And in case you are wondering why we need such a thing, the next two pics show you the condition of the surface of our front street !!!
Don't you think it's time for a new surface ? !! . And what about all those faithfully paid taxes ....... ABOUT TIME, ISN'T IT ???!!!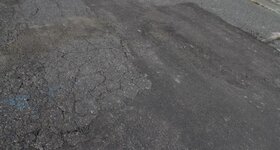 Thanks for listening .... er, reading .... you guys !!!