Joined

Aug 7, 2015
Messages

2,737
Location
Well ... I finally got round to getting those bushings for the Le Roi .... grabbed a few pen kits to go with it, since I was shopping out that way (thanks, Smitty!
).
I was looking around my shop for something worthy of gracing such nice pens and lo and behold ... I came across a blank sent to me by Brian G ... Stabilized Buckeye Burl! Well, I pulled it out, drilled my center marks, turned it round, and then I measured for my barrel length and cut it off ....
Oops! I dropped the one I measured, which one was it??? Grab the brass tube and compared to the blanks .... oh .... I can make TWO??? :biggrin:
Well ... I did!
Pair of Le Roi V2's sharing a single blank of Stabilized Buckeye Burl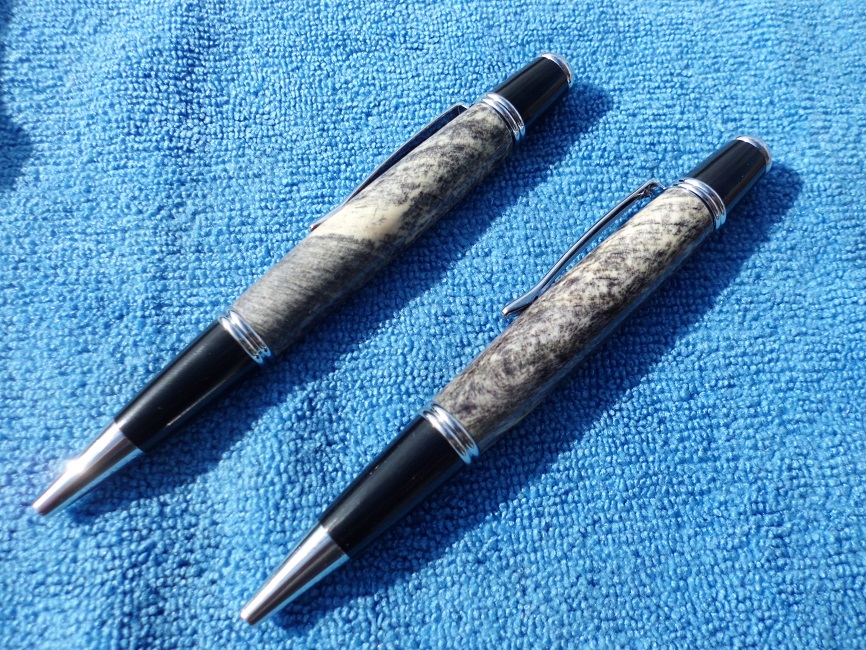 Nearly had a blowout while drilling, though .... I gotta invest in more of those acrylic bullet point bits or a drill doctor... :tongue: There's a crack running down the barrel directly under the clip on one of the pens. I dripped CA in it before I started the final turning. It was barely visible after finishing ...
Turned with a 1/2" bowl gouge (both of them, exclusively just the one tool), sanded up to 1000 grit, cleaned, applied Minwax Stain and Seal (natural), followed by 6 coats CA. Micro-mesh wet sanded up to 12k, with Plast-X polish and Turtle Wax Hard Shell.