Joined

Feb 2, 2011
Messages

14,787
Location
I've been playing around with some ideas for kitless ballpoint pens.
Here is a final prototype. . Not polished because it is just a prototype.
Also, the nose cone and top finial are made of Delrin, just as a prototype. .
Next version will have acrylic or Alumilite nose cone and top finial, or possibly brass or Aluminum. . And I will polish that one.
The prototyping has gone through several stages. . I think I have the dimensions and threading correct now. . Notice that there are no brass tubes necessary because the single piece body is sufficiently robust.
All parts made by me, except the refill, spring, and click mechanism (from a PSI Slimline Pro kit), as well as the clip (modifed, from Slimline Pro). . I intend to make my own clip in future.
I have chosen the shape of the pen deliberately to be unusual. . I rather like this shape and will make a few more like this. . The maximum diameter (top finial) is 0.62", the center of the body is 0.55" and the top of the nose cone is 0.43". . The various tapers were fun to do on a metal-working lathe. . The overall length is 5 5/8", not counting the pushbutton.
Notice that the clip ring is hidden by cutting a recess on the underside of the top finial.
I love the way the whole pen disassembles by unscrewing the two ends.
For the final version, I might use a Schmidt click mechanism and reshape the top final to match.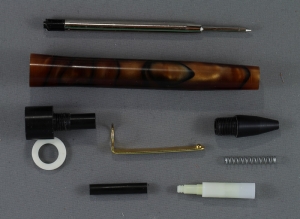 Last edited: