Joined

Nov 27, 2004
Messages

254
Location
I've made a couple carbide tipped tools, so I thought I'd capture some details for folks who might want to venture down the same path as I have ...
Introduction
Carbide
is common for cutting materials, because it can keep shaper longer. These have long been part of metal milling/lathing, but you are seeing more of these used in woodturning.
So, you probably noticed the >US$100 tools for sale that have a small, carbide, inexpensively replaceable,
cutting tips
I am horrible at sharpening (I can do it, but I dislike it and not as frequently as I should).
I also notice that the individual cutter tips, sold in woodturning stores, are more expensive than if I just bought the tips direct from the stores that the metal workers use.
Such a tool, with such tips, would be great for me. However, I am either frugal or I convince myself that I am, so I am unwilling to spend that kind of money for a single tool.
I noticed that Captain
Eddie Castelin
posted a YouTube video -- since removed! -- that walked through making such a tool. Similar video
here
.
And, I read an
IAP thread
with some folks sharing info.
Here is my accounting of making some of these tools ...
Carbide Tips
My goal was to have a couple tools with at least one square tip and another with a rounded tip.
I pursued some 14mm x 14mm square cutters tips. This size is so that it would fit on a 1/2" square steel bar. I'm trusting Capt Eddie that 1/2 and 3/8 steel bars would be strong enough. I got:
a set of 10 of one of these from Global Tooling @ $1.56 x 10 ($15.60)
and bought 5 of these round cutters from Carbide Depot @ 10 x $10.35 each ($51.75! wow!)
Again, I trusted Capt Eddie and purchased an Irwin standard #10-24 tap and drill bit. Then, I went looking for square bar.
I could not find anything but hollow square and round tubes at the Home Depot and Lowes. So, off to Grainger I went. I bought:
1 foot of 1/2" x 1/2" Square Bar, Carbon 4YNC9 @ $12.71
1 foot of 3/8" x 3/8" Square Bar, Carbon 4YNC7 @ $7.76
and, some 3/8 round rod to see what it would be like @ $16
(evidently, Grainger prices in-store are different than listed at Grainger online; or I had some discount rate)
In that expensive, Carbide Depot order, I also picked up their special screw & tap. I forgot a drill bit, so that tool waits to be finished. I assume it'd be a 2.5mm (based on
this fine chart
). They are:
TS-35.6-9M1 screw (prod id: CU 90973) @ 2.50
M3.5 x 0.6 HSS 3flute plug tap (prod id: CU 210879) @ $6.84
I had some stuff sitting around:
osage orange (1.5"x1.5"x 10") @ $3 ?
some maple (2x2x12") @ $3 ?
some 1" copper couples @ $1 ?
some #10-24 and #10-32 machine screws (1/2" length) @ $3-4?
two taps & drill bits for #10-32 and for #10-24 @ $10?
Prices are a guess here, as I had these around for a while.
Process - make the tool
Grind the end of the bar. I used the 3/8 bar, since the cutters fit nicely on it and over the edge (less grinding!). I cut a ledge for the cutter to fit, and swept the metal under it away from the cutting edge.
Mark the spot to drill. Use a tool punch that fits in the cutter. Place the cutter forward, a bit, in your ground-out ledge (so that back cutter edge is away from the metal) and knock a small ding so the drill won't wander.
Use the machinists vice, under the drill press, to hold the bar level, and drill out the hole with the #10-24 or #10-32 drill bit. I did one each, then bent the 10-32 drill bit ... so no more of that. Use cutting oil or something to cool & lubricate the metal-to-metal cutting.
Put the tap in a tap holder (oops, I had one of those sitting around, too), and turn the threads down into that hole. Go slow, use lubrication.
Clean the metal bits (swarf) from hole, from bit, from tap
Not done yet -- need a counter sink for these square cutters. Chuck up a larger drill bit (I eyeballed it), and drill a small angled countersink so the machine screw will not sit high/proud up off the metal and never tighten against the cutter.
Ok -- now screw the #10-24 screw through the cutter, and into your new threaded hole at the end of the bar.
Process - handle
I won't belabor this. Chuck up your wood, turn a nice tool shape.
Important details:
Cut a tenon on the end, where you'll be drilling in for the insertion of the new tool your created. I measured the copper coupler (1") and turned down to that. Once close, I kept checking diameter of the wood tenon & thinning, so that the copper would fit snug.
Tenon length: if you don't want to hacksaw and turn/file/clean the edge of the copper coupler down to a shorter length (I did), then you will have a long tenon.
CAREFUL with metal. It will cut you quickly. So, no hand sanding or checking it while its turning. Stay away.
Once the coupler fits on the tenon, epoxy it in place.
Chuck up your jacobs chuck in the tailstop, and pick a drill bit. Size = the distance between the 2 corners of the 3/8" bar. Math says hypotenuse of 3/8" sided triangle is .53 ... so back to the size chart to find 7/16" bit is close/snug.
I drilled in a couple inches, and the bar tested in snugly
Part off the handle after sanding and finishing.
Process - set screw
I put the new handle under the drill press and drilled out another #10 hole through the copper & wood tenon under it. And, yes, a countersink.
I put the tool bar in place, and put another tool punch down the new hole -- to mark the bar. I can then just take the tool bar under the drill press and drill & tap a hole through it.
You see -- the 1/2" screws would go through the copper ring, the wood tenon, and still have some amount more. So, I want it to thread INTO the tool bar for a nice/mechanical connection.
So, my set screw isn't really a set screw -- but extends into the bar.
I tapped the tool handle hole, and the bar, and it fits very nicely.
Picts
More picts on the
IMGUR album
Completed tool, in 3/8 round rod (vs. square bar). Osage orange handle.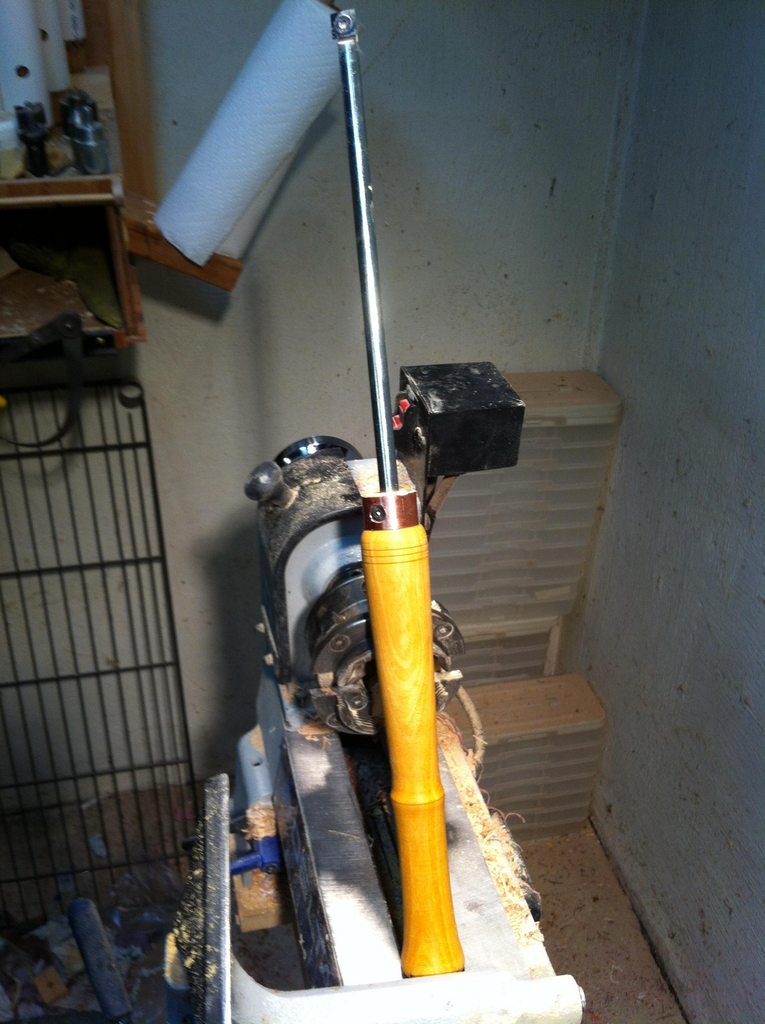 Close up of the cutter and ground end of the rod.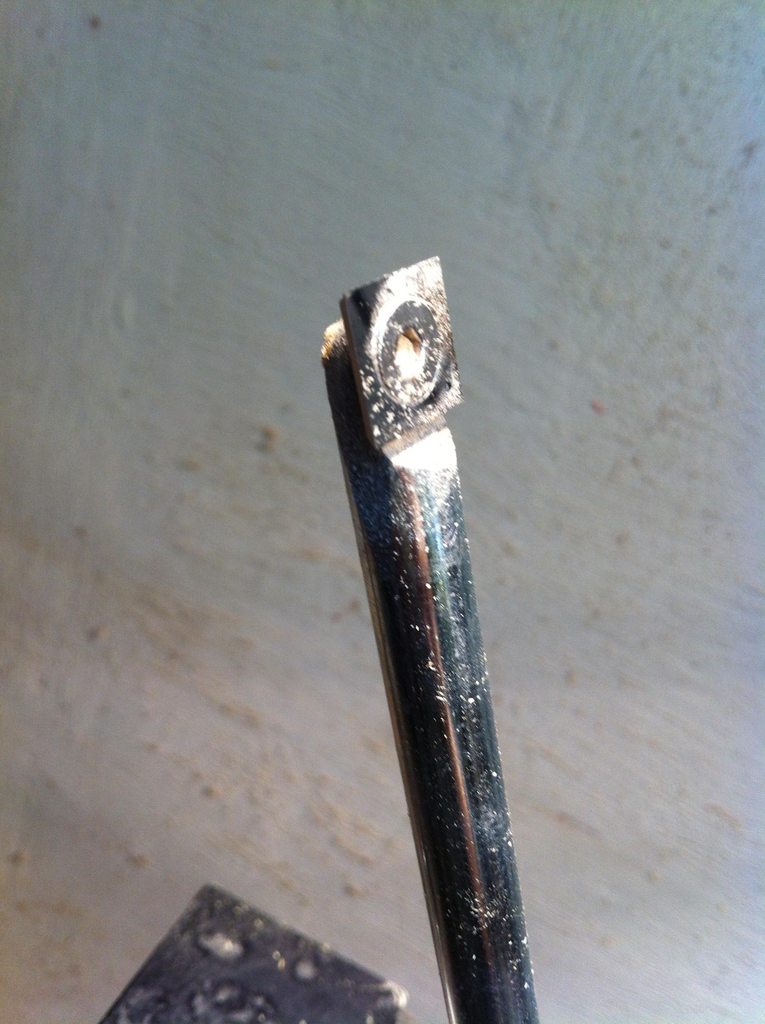 Close up of the set screw that goes through the copper, the tenon, and into the tool rod.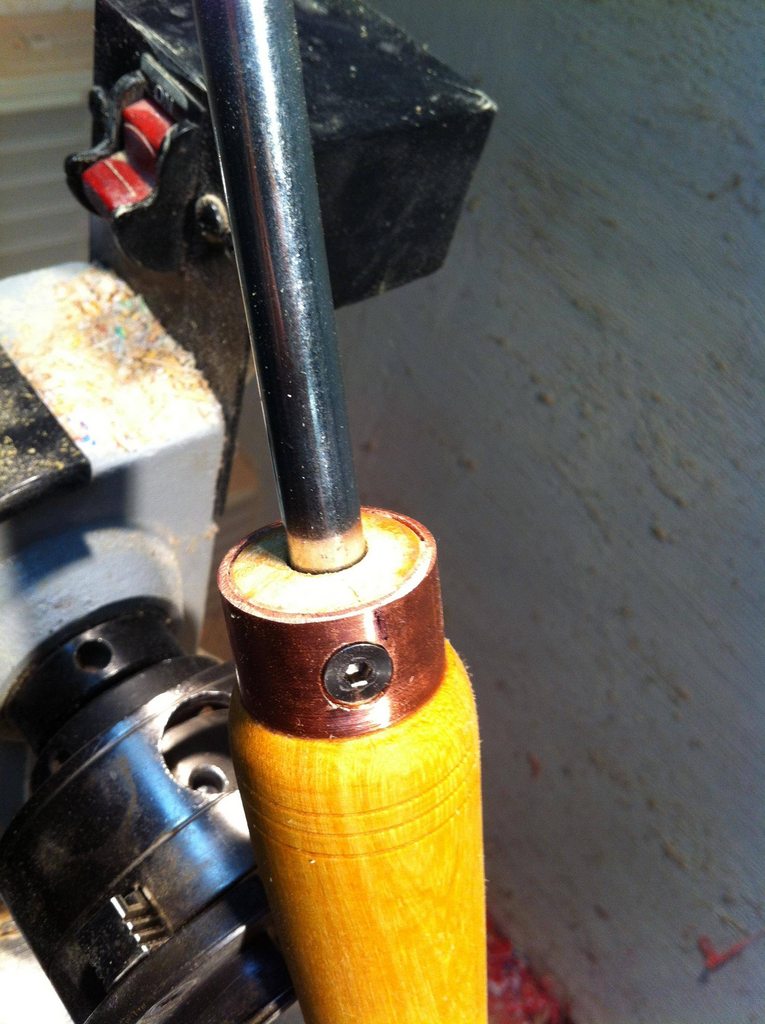 -- joe