Joined

Aug 31, 2012
Messages

1,597
Location
I have 2 questions for you:
1) A couple of weeks ago I made this
drumstick
pen for my daughter. It was made from a Jr. Gent I - the cap is triple threaded, so the label on the drumstick only lines up 1/3 of the time, unless you know at what position to put the lid back on. Well, she was showing it to one of her friends and her friend's father snatched it and messed around with it. He couldn't get the label to match up so he turned it REALLY hard . . . . Yep - he actually broke the plastic threads inside the cap.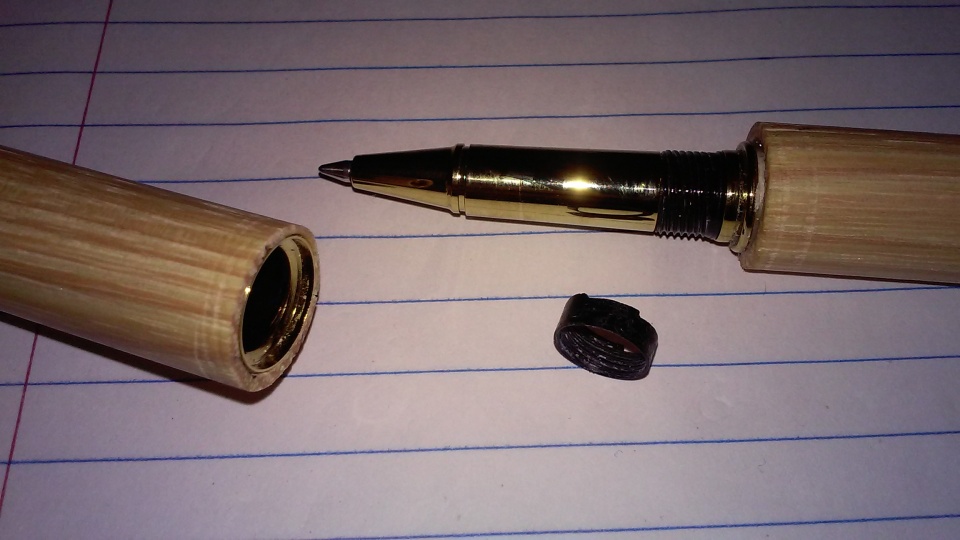 That little black piece is part of the insert from inside the cap. It still screws on nicely to the pen body. Any ideas on a fix for this? I have thought about trying to glue it back in with some CA, but getting it in just the right position would require me to insert it while it is screwed onto the pen body, and I am afraid the entire pen would end up glued together. Keep in mind, the cap pieces are epoxied into the drumstick. Again, I think I am stuck, but just looking for suggestions.
QUESTION 2: The Rollester pen (or maybe a Zen)
- Thinking about my problems above, I was wondering if the Rollester Rollerball kit might provide a solution to the problem (I'm not sure if this is a magnetic cap or snap cap or something else). I've never used one of these kits. If you have used it, do you think the cap has enough grip/strength to stay on if it has half of a drumstick stuck to it?
Thanks,
Dave