Joined

Jun 9, 2017
Messages

894
Location
Greetings from Nebraska and Thank You to everyone that commented on my Thursday thread regarding working with Genuine Lignum Vitae. I had the opportunity to review them and to turn the pen and pencil set this afternoon (Saturday). The wood was salvaged from spare Aft Tube (propeller shaft) bearings of the MV Doulos Phos, which I've read was the world's oldest active ocean-faring passenger ship until it was decommissioned in December 2009 after 95 years of active service. I paired them with PSI's EDC DuraClick Pen and Pencil kits in their Burnt Bronze Aluminum finish and finished them with three coats of HUT Crystal Coat instead of using my typical CA regimen.
I intended them to be a "Technical-Mechanical" pen and pencil set, thus the mechanical nature of the Lignum Vitae and the anodized aluminum finish and style of the EDC DuraClick kits with their knurled parts. I will be buying more of the kits, or similar kits that use the same Schmidt click mechanism - it is amazingly quiet and smooth. My only complaint is that one of my blanks had a black streak running nearly the entire length of the blank that almost looks like a crack. Whatever it is, it was in the blank before I started. Even so, I think they have met my expectations for a Technical-Mechanical type of set.
To continue with the Technical-Mechanical theme I am planning on ordering one of the PSI Aluminum pen cases and modifying the insert it to hold both of them. Comments welcome.
Regards,
Dave
PS That Lignum Vitae sure had a strong and interesting odor when I was working it.
Here they are (The Pen is laying on the blank cutoff and the Pencil is standing in front):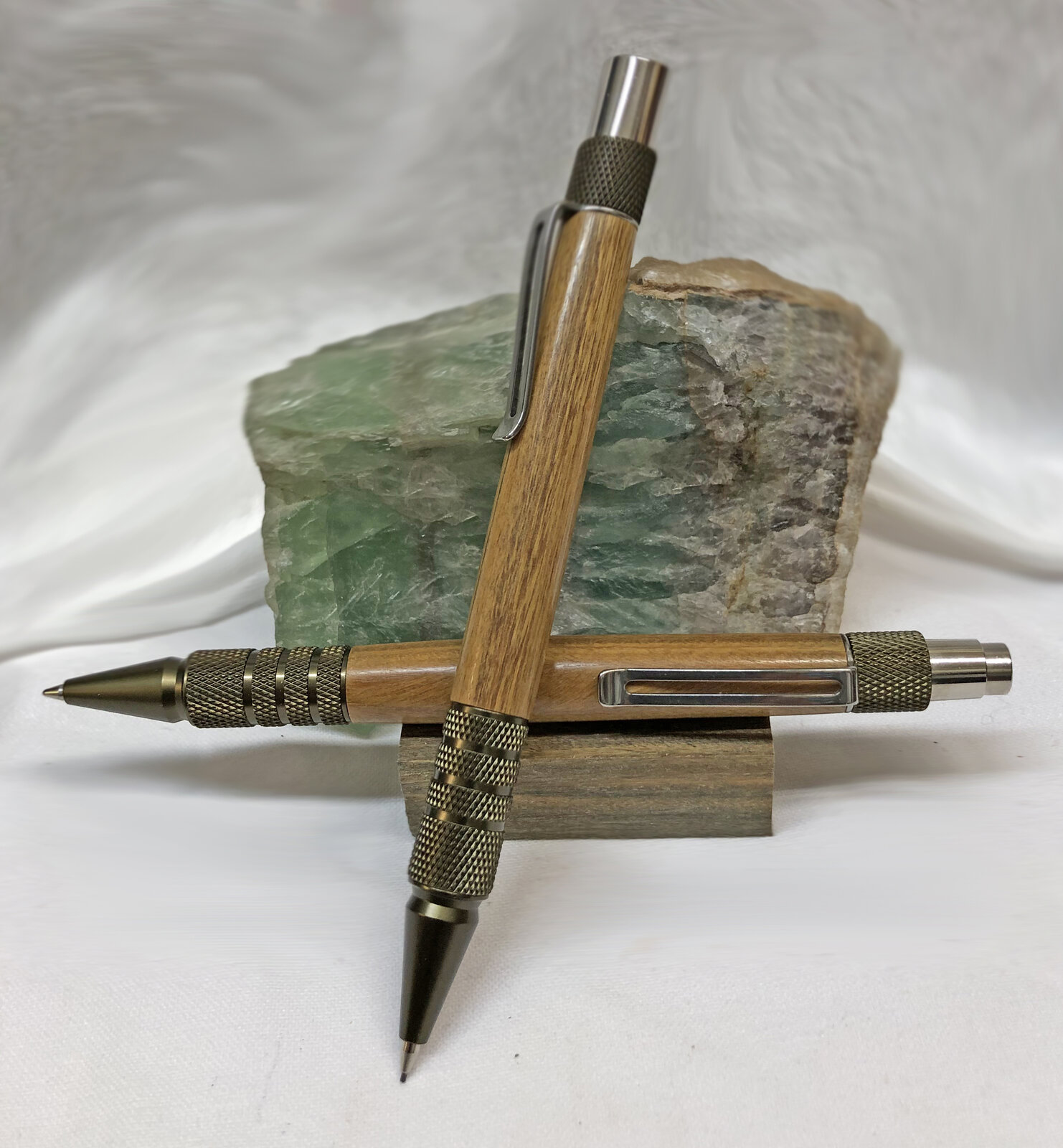 And my traditional three views as they were rotated:



Last edited: