Joined

Oct 19, 2006
Messages

7,737
Location
First the silver lining.......
Yesterday was a bit of a big one for me. I have finished all my chemo for hopefully the foreseeable future. Although I'm 'technically' not in remission, all my levels are good enough so that I can just go into a monitoring stage. I had a total of 22 rounds of 3 different chemo's. 10 for the Multiple Myeloma, 4 for the original Bowel Cancer and then 8 for the metastasised BC into my lungs and liver. The last batch was pretty tough going I have to admit. But I walked in on the first one and I walked out on the last one.
With the amazing and wonderful help from many medical teams and especially being looked after by my darling wife, as well as trying to maintain a positive attitude I managed to not leave feet first in a box.
I think most cancer units all over the world have a bell that patients get to ring if they get cured, go into remission or, like me get well enough to take a break.
I may have scared many of the patients half to death with my ringing, but I got a big cheer and whoop whoop from the rest.
I also had my Picc line removed. There was some serious butt cheek clenching when the nurse removed the retaining hooks !! They may only be about a quarter inch but felt like ship anchors !!
Here's a pic of me ringing the bell.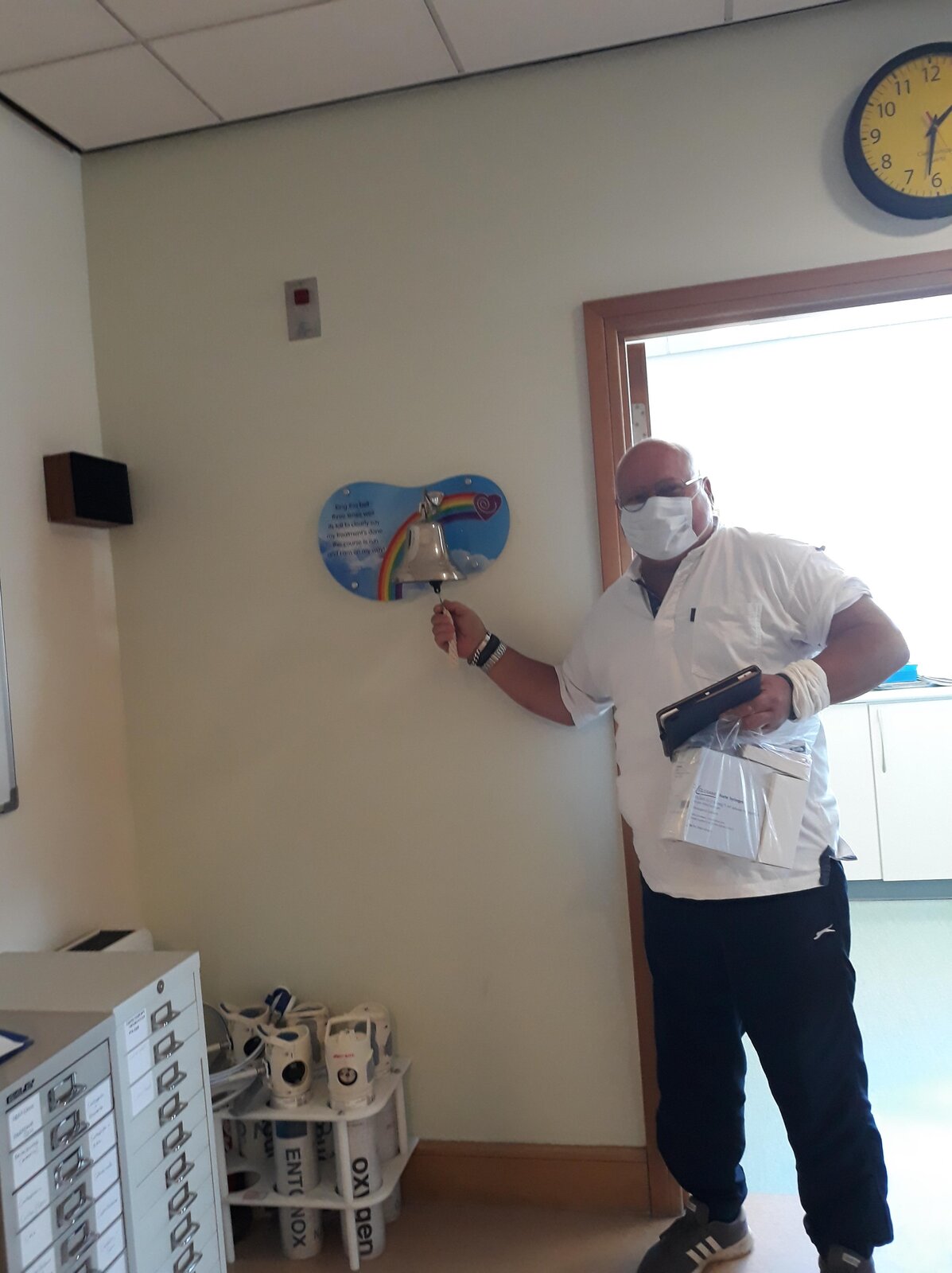 Now for the horrible cloud....
We have several cats. All from rescue centres. The oldest was a beautiful calico. Unfortunately, just like me, she had bowel cancer. Unlike me, my tumour was removed and I got a stoma. That simply wasn't an option for her. She had got progressively worse over the last few months even though she was on some pretty strong meds.
We made the heartbreaking decision today not to prolong her suffering and I took her to the vet to be put down. Even with social distancing rules in place where vets just meet you at the door and take your pet in, they let me come in and comfort her till she passed. Yes, I cried.