Joined

Jul 10, 2011
Messages

1,733
Location
I know we have a few turners amongst us who turn occasionally in stainless steel, and i thought i would share a process with you.
By electropolishing a piece of stainless, we in effect dissolve the entire surface area of the piece but only by a micron or too so we are not to Jeopardize any of our dimensional tolerances. because of this, all those tony blemishes and faint scratches dissapear giving you a finish with a gleam like its coated in water.
So, how does it work?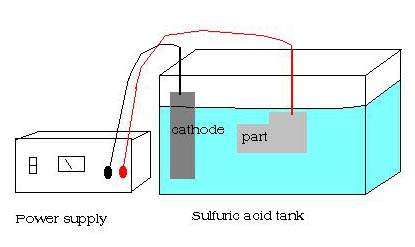 Well very much in the same way as anodising. The same equipment and setup is used, with the workpiece being connected to the anode. only this time rather than gowing a microscopic layer of crystals over its surface like aluminium does, its outer layer begins to break down atom by atom literally just skimming a layer off.
you need an anodising tank, and i would recommend any LDPE plastic container. i use one of those household plastic storage containers with the blue clip on lid and its great picked up at my local diy store. keep away from glass fish tanks please.. tanks of acid and glass isnt a good idea. and even if you make a plastic tank, spend $20 on a acid spill kit. i can assure you its one of those things you never realise the importance of until you spill a load of acid everywhere... on my occasion it was a concrete floor luckily not indoors. only took a few secondsfor the concrete to start smoking. Cleaned it well though :redface:
for your cathodes, you can use lead flashing, or just a bar of aluminium 6061T6 alloy or similar which is the industry standard.
your electrolyte is made in a stronger form than what is used in anodising. this is the solution which will conduct electricity and of course aid dissolving the part.
Place the water in the tank first, and then pour the acid's into the tank carefully and slowly one by one.. you dont want this splashing everywhere.
Here are recipes for the type i think we would use: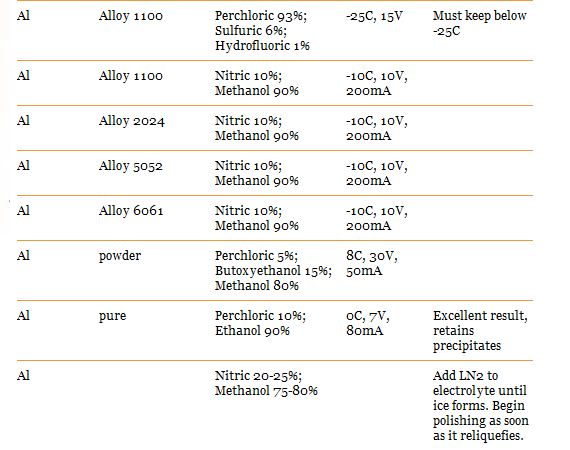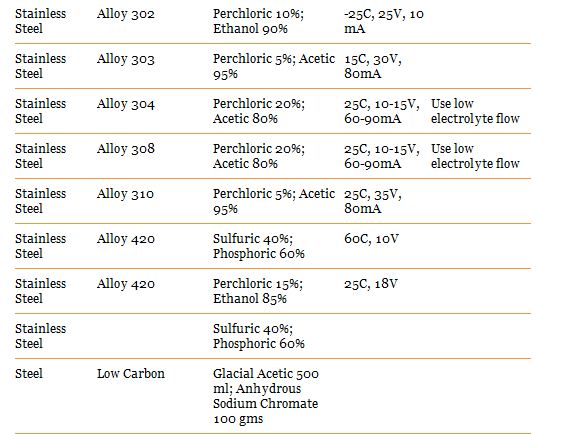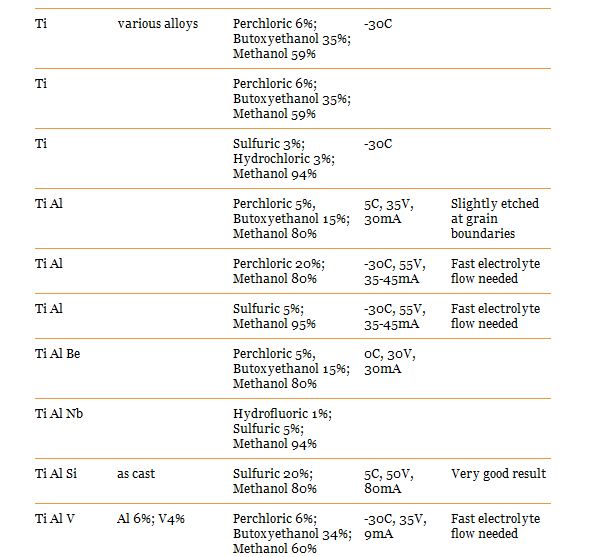 Wear eye protection
and a lab coat while doing this as it makes a mess of clothes
ALWAYS add acid,
... Dont put the acid in first then pour all the water onto it causing it to splash everywhere and flashboil. A violent reaction occurs when it is done in this manner causing the temperature of it to flash up which can make it spit more.
with your Cathodes in and wired together. connect this to the negative of your power supply. your workpiece, becomes the anode by having the postive lead attached to it. lower it and suspend it in the middle of the tank taking care that your part is clear from the sides and wont short out by touching a cathode.
Voltage and mA to set your power supply on can be found above on the charts. You should start seeing a nice difference after 10 minutes, its up to you how long you let it run for. i suggest you do some experimentation with a scrap piece and a caliper.
Lots of gases are produced doing this too albeit most of it hydrogen. setup some good ventilation to get those corrosive fumes out of your shop and lungs.
once you are finished, turn off your power supply and remove your piece wearing your chemical rated gloves and give the part a good rinse down.
Then, admire your shine
after electropolishing, rinse your part in dilute nitric acid which will dissolve the sulfates and other residues left on the surface from the polishing process. if these are left on over time they will crumble to white powder ruining the look of your shine. Dont forgetto wash in water after any process step
Last edited: