Joined

Oct 7, 2018
Messages

45
Location
Just had the pleasure of working with cocobolo for the first time. Such a treat to turn this wood. My real interest in this hobby is finding projects for tiny scraps of wood with sentimental value, and so I don't usually buy blanks. But Tony suggested that I try this wood, just to see if it was my technique of my wood choices that were holding me back, and I'm glad that I did. So much easier to work with, particularly compared to my ancient old growth pine. Also, this stuff smells great! Note, though, that it splits relatively easily. I drilled through a 3/4 inch blank with a 10 mm bit. The first time through, I was too aggressive with the drill, and it split. It was okay the second time, though, when I went just a tiny bit at a time, maybe just 1/8 inch per plunge. It sure turns like a dream, though.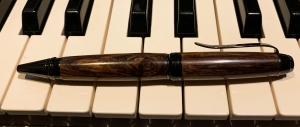 (Note that some people are allergic to cocobolo dust.)
P.S. I'm just photographing it on my keyboard because that's my usual desk surface, so it's out of laziness, not as an attempt to be artistic....