Joined

Jan 24, 2005
Messages

6,506
Location
Larry Korn (LKorn) was kind enough to send me some of his private stash of cedar a few weeks ago, and I finally got to finish a business card holder from some of what he sent. Of course, now in hindsight, I should have taken both sides of the holder, so you could see the natural edge too. I also have realized that I need to invest in a router, so I can actually cut in the groove that I wanted so this could double as a pen rest. As it is, there's a slight angle, and the pens just slide off!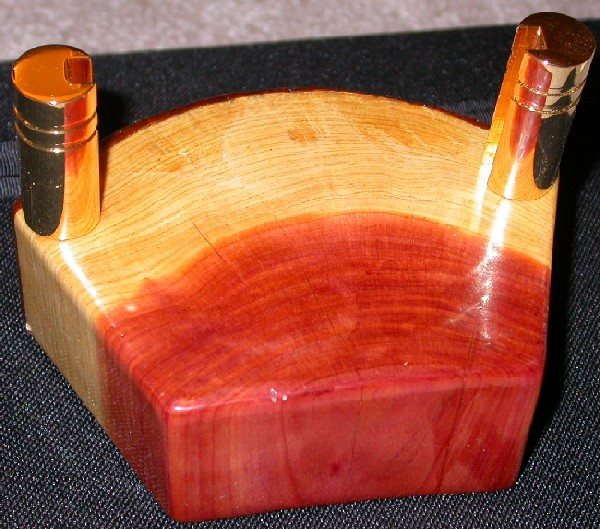 I also recently purchased some cedar from Ryan (Ryannmphs) here:
http://www.penturners.org/forum/topic.asp?TOPIC_ID=6442
. When the cedar arrived, two blanks really jumped out at me. Since I was making the business card holder and a pen for a friend (he said he was a big cedar fan), I knew I wanted to give him a pen from one of these blanks, since the cigar pen I made for him isn't something I'm exactly proud of (too much bushing dust). So, I stole a little time over the last few nights to work on these. They are both Jr. Gent's, and the one on the left-hand side will be going to my friend. The right-hand one had two small places where the scraper got a little aggressive and wound up turning down at/near the tube (or, as I was told to call those spots, "accents"). The right-hand pen has a base coat of BLO/CA as a sanding sealer, and 3 coats of Deft. The Deft left some waves that I'm not thrilled about, but it does look pretty good. The left-hand pen has two or three layers of BLO/CA, without anything else over it.
I think the right-hand pen will be going to my 17YO brother as he heads off to college.
Any hints, tips, suggestions, criticism, etc. are greatly appreciated!
---
Edit: Duh, helps to add the pics!