Joined

Aug 1, 2006
Messages

1,336
Location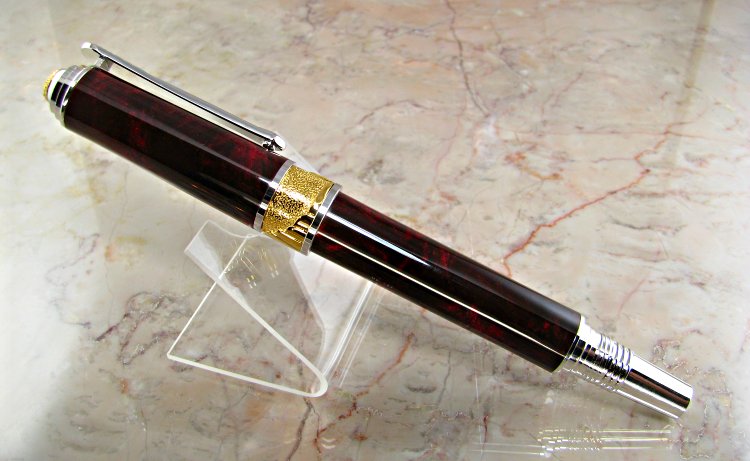 Broadwell Art Deco with Dawn's Deep Burgundy. I'll post it open ... sometime. Maybe. :biggrin:
I really like this pen, and that's unusual for me to say where a PSI kit is concerned.
Mini-Review:
While I like the design very much, I have some complaints about the quality. A close examination of both of the kits I received reveals that the gold center band section is a bit rough around the edges and does not mate up with the silver as perfectly as I'd like to see in a high end kit. Also the gold accent piece in the cap finial has a very noticeable gap between it and the silver base in which it is mounted. Again, this is on both kits.
And the gold plating is rather rough, with visible flaws in the art deco "crown" part of the center band.
Except for the gap at the top, these are things one would notice only on a very close inspection. And hopefully, these are just "start-up" problems that will be rectified in future production runs.
Again, I take issue with PSI's infatuation with "pimp stones" in their kits. I thought maybe the darker stone at the top of the clip would work better than things I've seen on other kits like the Majestic, but now that I have one in my hand, it's not that impressive. I'd rather they just add a bit more accent color there. Or this might be one instance where a clear stone would have perfectly accented the "wings" engraving of these otherwise lovely clips.
Also, the clip ring seems a bit tight at the fitting point, but Dayacom kits often sport that weakness. No one is perfect, I suppose. Use a press block for pushing the clip onto the cap before pressing in the cap assembly, if you encounter this problem.
That said, I LOVE this kit. Good looking, but I especially like how it feels in my hand. The diameters are the same as a Junior Statesman, but the length is close to that of an Imperial. The pen section is actually longer than that of an Imperial. The extra length (without the cap) balances it perfectly for me. The cap does post, but I never use that on any pen. I hope they can clean up those problems I've mentioned because this kit is a winner, even with the pimp stone (I need to find a way to knock that out and put a piece of the barrel material in the hole.) It's a perfect in-betweener for someone who doesn't want the heft of an Imperial or Statesman, yet finds the Juniors without the cap to be too short, but too long with it.
I like these enough I'm going to have JohnnyCNC make me some precision bushings for it. Great kit, despite the problems.
Last edited: