Joined

Aug 30, 2009
Messages

2,784
Location
Here's an trio I have on hand (until they sell) that I think gives us a change to look at how three different base pens give a unique appearance even though they all use the same great looking feather design:
All using a Blue on Green on Black feathers blank by Marla Mills (IAP - Cricket). Three foundations for these black beauties!
Rear: Majestic FP in Rhodium and 22k
Made about a year ago but didn't get listed till recently.

Middle: Majestic RB in Rhodium and Black Ti
Finish about two weeks ago. This was made because I ordered components for a possible customer that wanted me to disassemble the above and convert it to what you see. But when he became too demanding and and started cussing me out on Etsy I decided I'd keep it and find a more grateful recipient for it.

Front: Nouveau Sceptre FP in Rhodium and 22K
This was was an unintentional cast according to her when she received the wrong tubes from PSI. I was blessed to be the recipient of some of those, another of which I recently posted on this thread:
http://www.penturners.org/forum/f13/marlas-magic-ala-nouveau-114717/
I noticed some of these beauties ended up on Classic Nib too, so I may have to get more as soon as future sales rebuild the pen making funds!
I hope you like them, It' not often I have this many that look this similar on hand since there's so much great stuff out there yet to be tried. As always, comments are welcome!
Be sure to click on the thumbnail to get the bigger version from MPA and click again that one to really zoom in!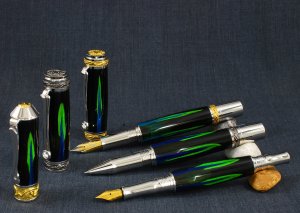 Here's an easy game: Who can spot an obvious flaw on my part in one of them?