Joined

Dec 18, 2005
Messages

2,992
Location
Hi all,
It's been a few weeks since my last post. Busy, busy. I created this pen with the help of a new Friend. I will let him introduce himself if and when he chooses. I say this because of the nature of this piece. I worked with him to develop the initial design. It took several steps to come up with the final design you see here. This is actually the fourth generation of this pen for me. The first was a simple segmented/laminated design. Shown in this earlier post;
http://www.penturners.org/forum/topic.asp?TOPIC_ID=25076
The next three generations where developed with Mr. X. He did the casting with photos I sent him which I found in various places. He and I both learned a lot from this process. He learned new methods for casting light colored photos and how to hide the tube from showing through the lighter papers. Which he did b-e-a-utifully I might add. The final product turned out fantastic. I am very pleased with it and I'm sure my son will be as well. This was all done as a gift for him. What I learned is that I want to begin casting. Therefor, I ordered my own paint pot and vac machine from HF and will be setting it all up as soon as it arrives, hopefully in the next 10 days.
So anyway, here is the finished product. "The Seahawk Pen". The first pen I get to officially name.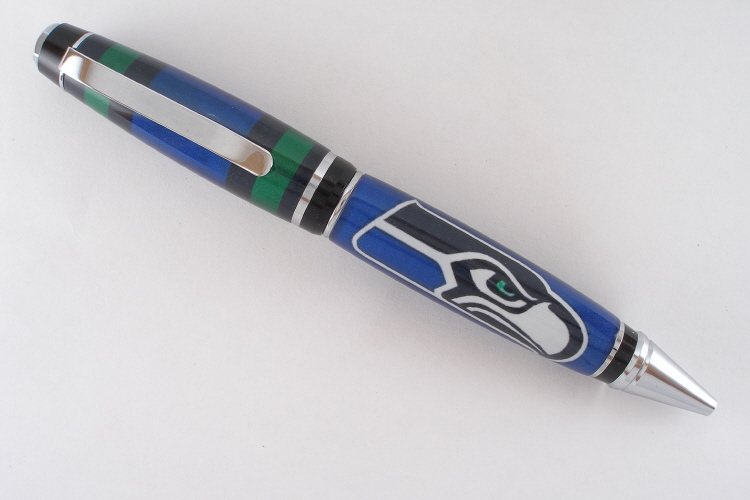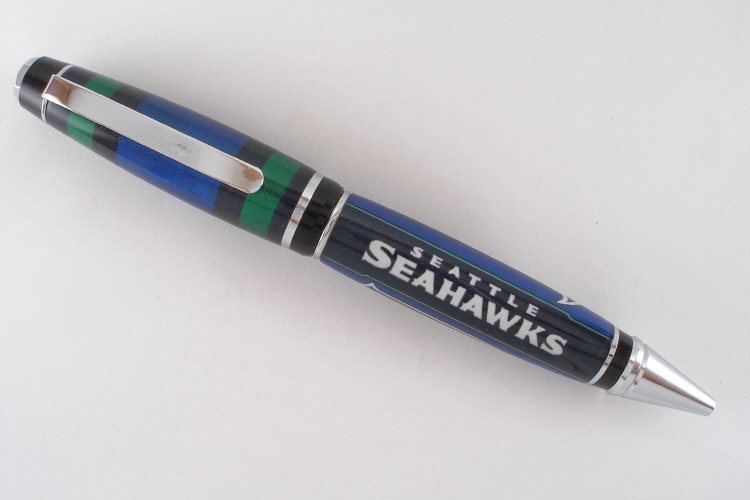 Before any of you say it, I am fully aware of the copyright implications involved here. I have been in touch with our own in house lawyer and have been given the fore warnings and choose to post this of my own free will. The pen is is a "one of a kind", and was done as a gift, with no intention of ever making a profit from it. I understand this does not make it "OK" to violate copyright laws, but it was done as a show of intense team loyalty and the love he has for his Seahawks. If this is a crime, then we are both guilty. Guilty of being Seahawk fans since before their division win in the 80's till today.
Comments and critiques welcome.