Joined

Oct 12, 2020
Messages

225
Location
So, hi... I'm... err... *checks for nametag* me. I guess? *waves awkwardly*
I'm here for pen stu... well... no. To be perfectly honest, I'm probably here to lurk more than anything else. But I'm here to lurk
about
pen stuff!
In any case, I've been
stuffing pens
turning
pens off & on for a couple years now, but I'm probably not much more than halfway to my first hundred (much closer if you count all those poor unfortunate pens that didn't make it), and less than halfway to my first sale.
My eventual goal is to be able to make all the bits (minus the guts, because I'm not
that
crazy) from scratch. Not for any particularly good reason (it's hardly
practical
) - just because it seemed like a good idea at the time, and I've been too damn stubborn to admit otherwise since. My big hangup, though, is the clip - and the clipless pens I've made have always felt somehow incomplete (not to mention getting lost in my pockets). If you look at the pair of Patrizios below, you can recognize my clone by the shapeless flap of shiny-but-flimsy stainless sticking off the back end where the original has *gasp* a
pen clip
(and a kinda nice one, at that).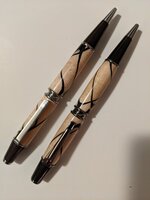 I'm hoping that eventually, if I complain loudly enough, around just the right people, during the appropriate phase of the moon, after doing the nameless ritual dance (which looks only
superficially
like the Macarena), that great secrets of clipdom may be revealed to me.
I've also made a couple metal & metal/wood hybrids (of rather uneven quality - me being a lousy machinist & all), but haven't been ambitious enough to try again recently. Maybe if I hang around here long enough, I'll be inspired to get off my ass and do something interesting again.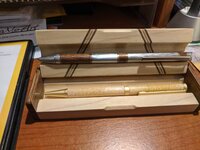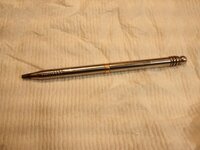 In the meantime, I'm here to leech up as much knowledge as possible, like a big ol' knowledge-sucking lamprey (or a big ol' metaphor-mixing leech?) before the distraction of too many tools inevitably drags me down into another lapse in pennery. Penury? Penalizing? Pen... Pen stuff.
So I guess that's me... but who are you people, and why are you all staring at me like I'm crazy?
-Bats
(In the meantime, I actually kinda like slimlines)