Joined

Aug 13, 2016
Messages

1,457
Location
First off sorry for the low quality pics, they're very bad even by my standards. I wanted to make fountain pens for the 2 nurses I work with at the cancer clinic. Luckily I had these Vertex and the blanks in my workbench, probably for the last year or two. Gunmetal with tigers eye and chrome with freezing water, both AA blanks and backpainted black. One pic shows the freezing water blank back painted white, but after seeing the epoxy still showed through I pitched it. Fortunately the remainder of the blank was just long enough for another, which I painte metallic black by mistake, and the sparkle shows through. I should've red the cap instead of just grabbing the can with the black lid on it. What a difference the 2 colors make though. I should've used blue but I'm out. Personally I feel the blank is too translucent for pens. I used a larger one for a bottle stopper and it looked great, probably would for a shaving brush too but anything that's drilled like a pen or call makes it too transparent IMO. After using 2 Vertex FPs at my job for about 3 years here's my thoughts.
THE GOOD:
With just one barrel it's easy to make, and since the hardware has beads you don't have to be real precise with your measurements. This makes it a great kit for a beginner that wants to try a FP. It's cheap as FP kits go, and the magnetic cap gives a nice positive click when it shuts. It's also very durable, mine have taken a trip off my desk many times onto the hard floor with no ill effect, and they writes good enough.
THE BAD:
The section looks clunky to me. I understand the nib is an odd size, so you're stuck with what you've got, no upgrading to a nicer one. My gunmetal one also started showing significant wear through the finish on both the cap and where I hold the section in less than a year of light but daily use at my job.
THE UGLY:
Check out the section on the chrome one. The finish leaves a lot to be desired, and I wiped it down for the pics. The gunmetal also had a flawed cap, I had to make a 1.5hr round trip drive yesterday to get another kit just for the cap.
IN CONCLUSION:
At first I really liked this kit, it seemed a solid performer for the price. Nowadays, I'd only recommend it for a real beginner. For a few bucks more nicer kits can be had with normal nibs and a better finish, but they'd be a bit more difficult for the true novice.
Just so everybody doesn't think I'm being a cheapskate to the nurses I love working with, these pens are a trial. If they like using a FP I'll be making them nicer ones, probably for Christmas. If not then either RBs or click pens, the latter being much more practical to use on the job.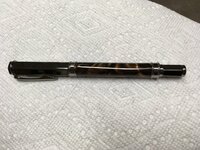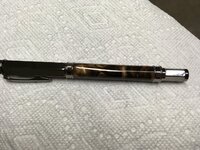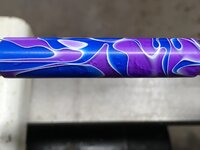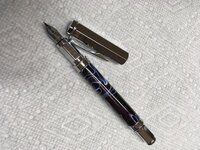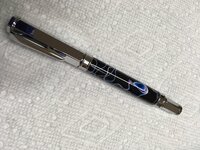 Last edited: