Joined

Feb 15, 2016
Messages

1,411
Location
A dear African drummer/percussionist friend with a broad interest in world music requested a tunable Kalimba, so I obliged.
Steps:
Throw top ring and bottom bowl separately and precisely out of Toki Vanilla cone 6 clay on a potter's wheel.
Dry top ring and bowl until leather hard, then score, slip, and join by interposing a coil of soft clay.
Bisque fire it when bone dry.
Underglaze with airbrush (outside) and handbrush, then glaze, then final fire at cone 6.
Cut 21 hole electricians ground bar, rosewood bridge, and cherry wood sound board to size; then epoxy them together and then onto the ceramic unit.
Cut 21 equal lengths of (Greenlee 438-2X) spring steel fish tape, finishing the ends so they are comfortable.
Insert, tighten, and tune the tone tines (long = lower pitch, short = higher pitch).
This one is tuned to a Javanese (full pelog equal temperament 7 tone Gamelan-type) scale on the left, and a Western chromatic scale on the right.
Sounds good acoustically, or with a piezo pickup.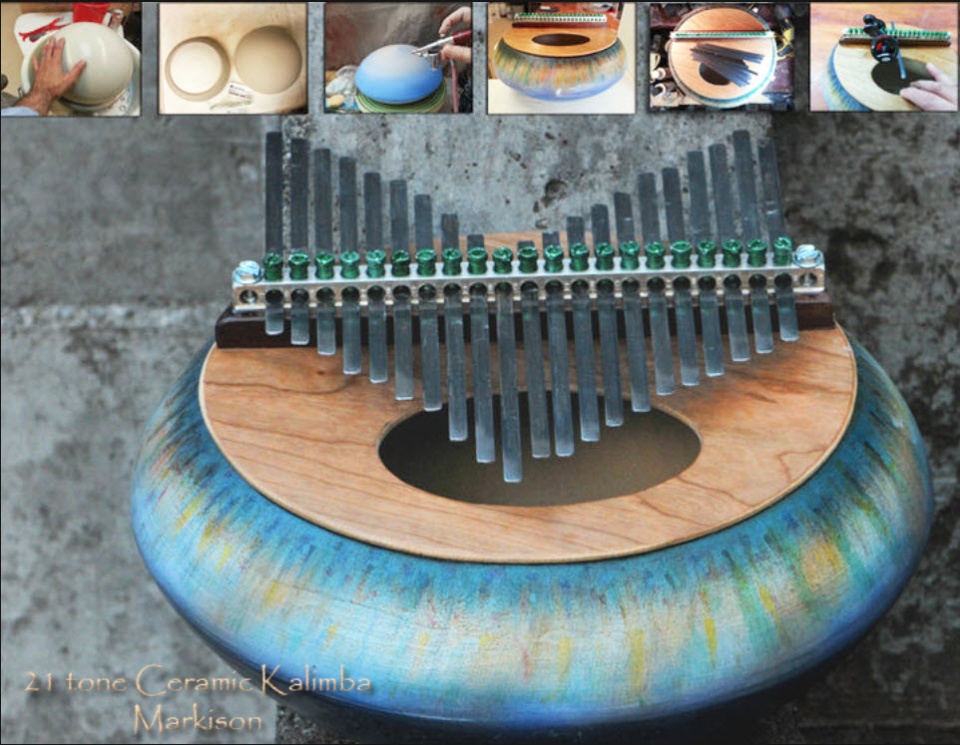 Fun little project.
If I had a larger lathe, I'd make the base/resonating chamber out of wood - or might scroll saw a bunch of rings and save some wood - hmmm... - sort of like I did for the Dizzy Gillespie wireless ceramophone (link below) - only different...
http://www.penturners.org/forum/f45/commissioned-dizzy-gillespie-ceramophone-140008/
Happy Saturday to all - Bob
Last edited: