Joined

Jun 13, 2017
Messages

892
Location
I have been spending a lot of time lately casting my own resin blanks and having fun turning those pens, and occasional pens made with Burl, but now and then I like to do some segmenting, just so I remember how to do it. This pen is a simple cigar kit from Berea. I knew that this model gets fatter in the center and thinner at the ends, which usually doesn't go well with segmenting along the length of the blank - but I figured I would play with the colors of the woods and see if I could have the segments accentuate the thin and thick parts (basic geometry).
The orange segments are padauk and have the most pronounced taper, since they were on the outside of the blank, and are most affected by the different diameters at each end. The inner segment is red mallee burl, and it kept its original width, since none of its sides were turned away. The thin tan strips are mahogany and the scallops are African blackwood. I used white veneer for the separators.
I listed this pen on Etsy on Sunday evening, and it was sold by the time I got up Monday Morning.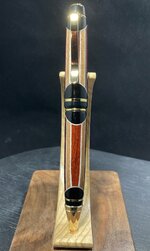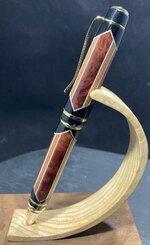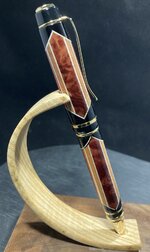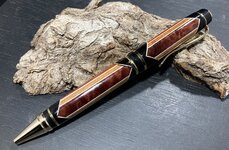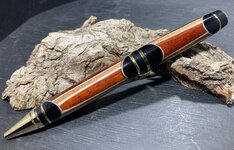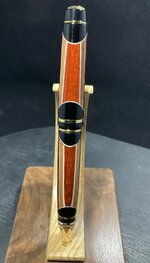 Comments & critiques are always welcome.
Thanks