Joined

Oct 7, 2018
Messages

45
Location
Here's an annoying thing. I had read the recommendation to set the lathe on its highest speed when using a friction polish, and I did this for the first time. The piece cracked; I assume because it got too hot.
I've actually only used my lathe (Delta MIDI Lathe) on its lowest speed, and had wondered about the higher ones. It certainly behaved like a new beast, going that fast, and I was optimistic at first that it was going to open the door to better quality, but not so far....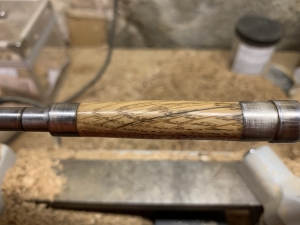 Thoughts about lathe speed? And is cracking like this a known problem?
Also, any idea what kind of wood this is? It was a scrap that's been in my shop for years. My guess is some kind of oak, as it's heavy.
Last edited: