Joined

Feb 2, 2011
Messages

14,994
Location
A few weeks ago a thread titled "Simple High Quality Kits" appeared. .
In that thread I made some posts about the newly introduced Blade pen kit now offered by Berea.
This kit makes use of the SKM-88 clicker mechanism made by Schmidt. . The SKM-88 is also used in a previously introduced new pen kit by PSI.
Somebody mentioned that the appearance of the Blade did not appeal because of the overly long metal clicker mechanism at the top.
I suggested a possible remedy for this in the form of a home-made cap to partially cover the metal clicker mechanism.
The photos I presented there, to illustrate my idea, were of an incomplete pen. . I have now completed the pen and show pictures below.
The first picture shows the pen without the cap.

Next are shown two pictures of this pen with the cap installed. . These show the refill extended and the refill retracted.


Finally, I show two (not particularly good) "macro" pictures of the cap alone, hoping to give you some idea of the cap design.
One feature to note is a recess milled to accommodate the metal piece that connects the clip ring (inside bottom of cap) to the long part of the clip.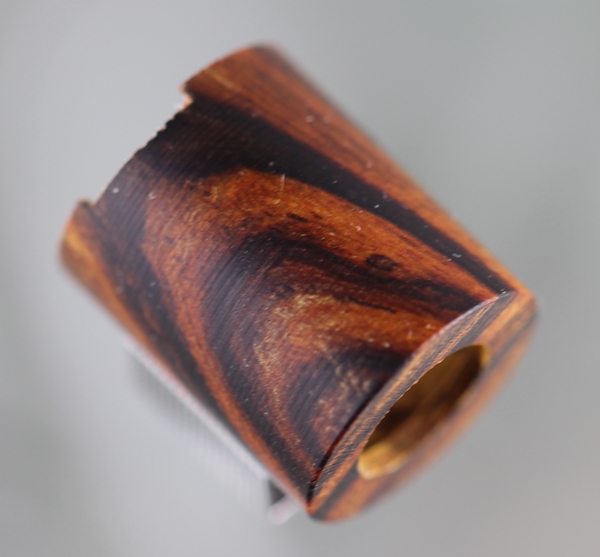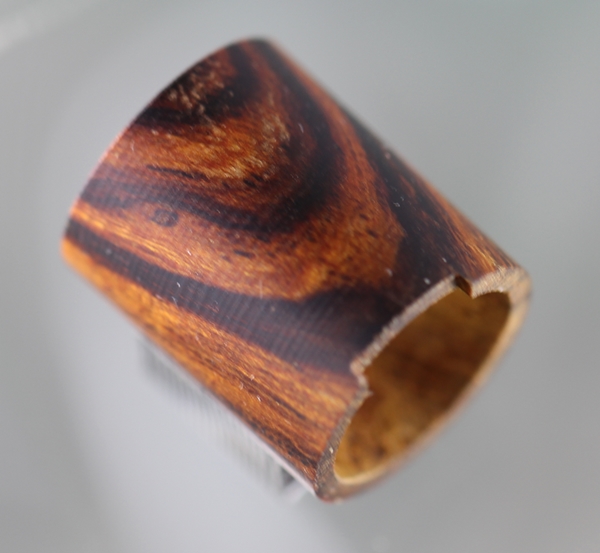 Of course, this cap could be made of any material you wish. . I chose to use a scrap of Desert Ironwood (not finished in any way).
So please post your comments and say whether you prefer the capped or uncapped pen. . Shaping the top end of the blank (without cap) or shaping the top end of the cap (if you use a cap) can be done to suit your tastes. . In my example, I have chosen to leave the top end "square" to the pen axis.
For those interested in the green blank material, it is a vintage cellulose acetate which I purchased from one of our members. . Hope you like it.
The clicker mechanism is a delight to use ... very quiet with a positive, reliable action.
The original post can be viewed here:
https://www.penturners.org/threads/simple-high-quality-kits.161526/#post-2041331
Last edited: