Joined

Jun 16, 2016
Messages

244
Location
Hey guys! I'm back! Been away for a while, picking up the turning tools again soon. The girlfriend and I are huge Dr Who fans, but she's a few steps into the fanatical end of it. I found a
site
(mods snip that link if you think it's spammy) that supposedly has pen blanks made of wood from a rebuilt 1965 tardis. Ok, so the true authenticity of the blanks is not 100% in my mind, but I don't really care. One, because it's the thought that counts, and two, I already bought the blanks. Going to use a Steampunk pen kit from PSI.
I plan on casting the blank in resin to preserve as much as the blue paint face as possible, ie: The casting will allow me to offset the pen blank enough to have a thick layer of resin over it, and expose more of the pine (I assume it's pine, I don't want to mess with the plywood one unless this one goes belly up, although I may run that piece as test #2 for practice, but I'd rather not, I have other plans for it). Quick pic for explanation: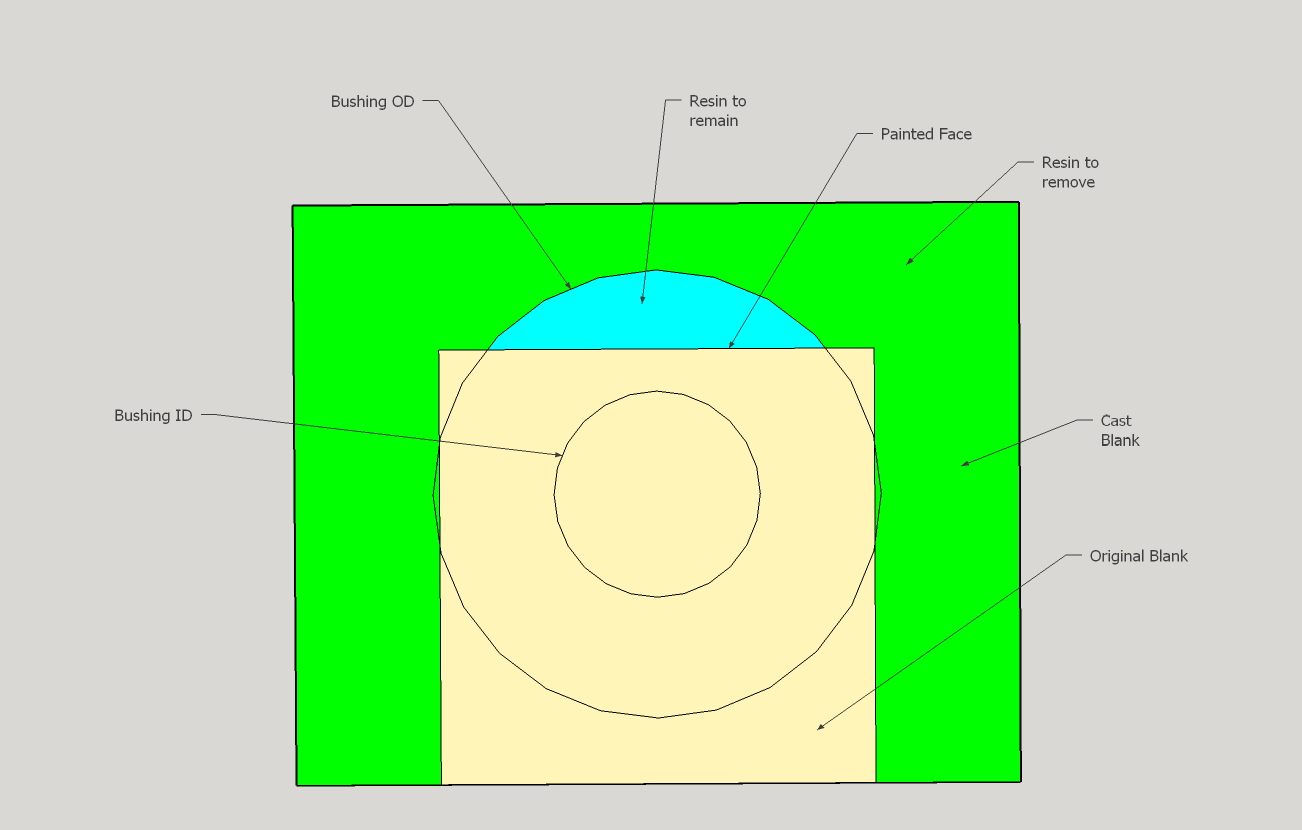 This is my first time casting epoxy for a pen blank, so all tips are appreciated. No, I'm not tied to epoxy either, it was affordable on amazon, but I'm willing to go alumalite or some such if it's a far superior option. As my first test, I cut down a chunk of paduak (yeah, very pine like, I know
) to match the blank size, and then glued some flattened crinkled aluminum foil to the blank to One, clearly mark the face I want to save and two, cause I picked up a crinkled foil blank at a meetup some years ago and thought the effect was amazing, wanted to try a hybrid blank on a random pen, probably a Sierra. It's currently curing.
I have already noted an excess of bubbles, but I'm not overly concerned about pitting on the surface, as I will be doing a finish coat of CA, and I can fill the gaps. I can't really tell if there's any bubbles on the surface, only the sides, but any bubbles that I can't reach with CA will be an issue. So I'm assuming the best route is acquiring a Pressure pot?
All other comments, ideas, and suggestions are welcome. Including ideas for what to do with the 2nd blank, my plans aren't set in stone yet.
Thanks!