Joined

Dec 13, 2016
Messages

47
Location
Having recently become a resident of Idaho (as a political refugee from the People's Republic of Kalifornia) I decided that I should embrace the states slogan - the Gem State. While Boise is known as the City of Trees, the climate does not allow for growing timbers native to Australia, the Mediterranean, Central America, South America and Africa as was the case in SoCal. So without a ready supply of interesting woods I've decided to explore new materials.
Accordingly I have spent the last several months researching and developing equipment, tools, methods and workflow to use stone and semi-precious gem materials in making pens.
Here is my first attempt as a proof-of-concept stone pen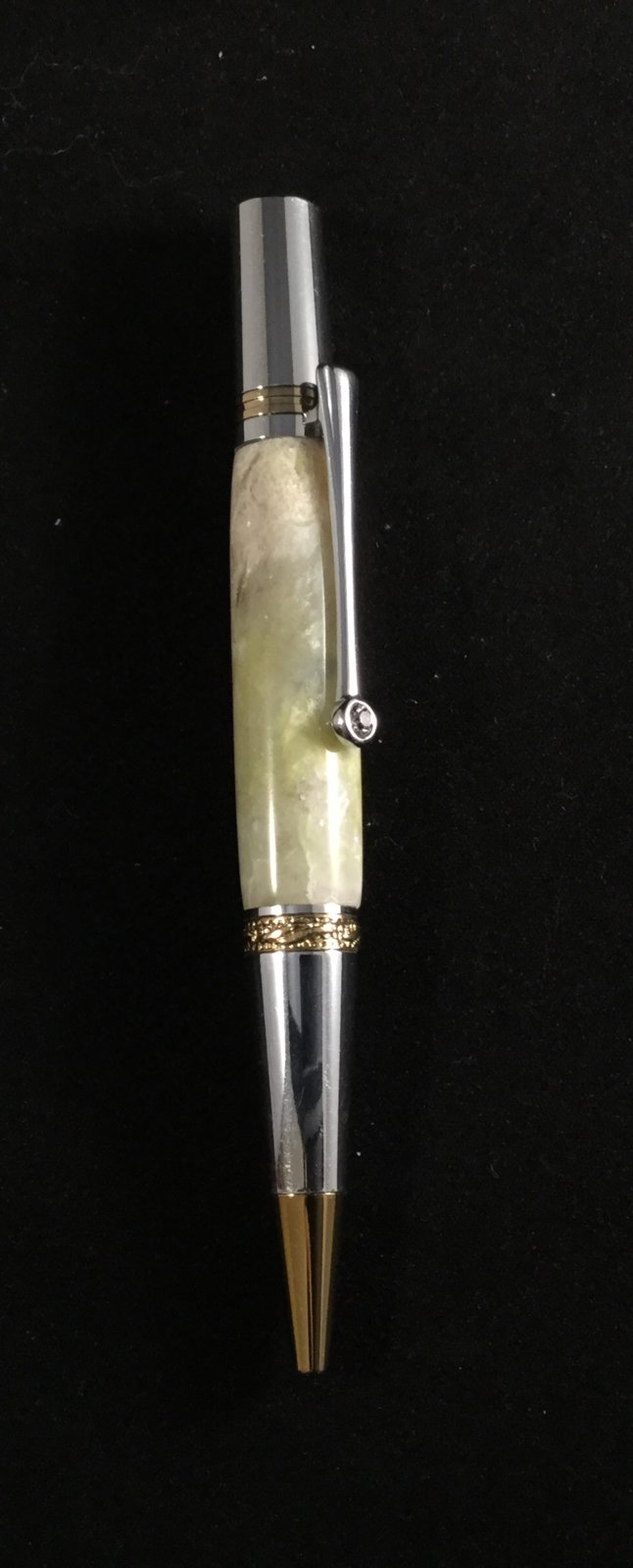 Using less than optimal tools with a relatively soft stone (marble - mohs 3-5 compared to granite 6-6.5 and petrified wood 7) I was able to get a sample drilled, tubed, shaped and polished. It wasn't exactly round, the barrel wasn't square, the polish and finish left something to be desired and took an inordinate amount of time. But it was encouraging and warranted additional research and development. Clearly it is possible to turn very soft stone like Onyx, Soapstone, Talc and Alabaster using traditional tools but I wanted to use Petrified Wood, Jasper, Quartzite, Agate, Granite, Labradorite, Tiger Eye, Dinosaur bone, Quartz, Obsidian and so forth. Therefore I embarked on a couple months of research and development to create the equipment, tools and workflow to efficiently work with stone.
Every step in the process is different from working with wood.
Blanks
No one sells rock or stone blanks so finding suitable materials and cutting them to appropriate sizes is a significant challenge. Obviously a table saw or band saw isn't going to cut stone so a lapidary saw or tile saw is essential.
Drilling
Drilling stone is not a trivial matter. Traditional carbide or masonry drills just don't cut it. And diamond drills aren't very long and don't come in many sizes, so developing drilling strategies took a significant amount of time and required fabrication of custom bits.
Barrel Trimming
Traditional barrel trimmers, even carbide ones don't work, so a custom jig and diamond cutter needed to be fabricated.
Rough Cutting
To get a square stone blank to a rough pen barrel required designing and building a "lapidary lathe".
Finishing
Final shaping and polishing requires the use of diamond tools. Some material requires special sealants and color enhancers.
Assembly
Stone is extremely brittle, especially when turned as thin as required for pen barrels. Consequently pressing components for assembly risks cracking or chipping of stone so gluing is necessary.
I now feel quite confident that I've got the equipment needed as well as processes and techniques down and am pursuing some of the more interesting and exotic materials.