Joined

Feb 2, 2011
Messages

14,805
Location
Nine of these pens feature the feather pen blank artistry of Marla (aka Crickett) - I highly recommend these blanks for classy design, as well as smooth turning and brilliant polishing. . The other two pens have Alumilite blanks made by Eugene Soto (aka ElMostro) - very highly recommended also.
The pen kits have recently been reviewed excellently by edstreet
http://www.penturners.org/forum/f96/zoe-r-b-crafts-140293/
The kits sell under different names depending on the vendor. . They use Parker-style refills in 8 mm tubes and so are a nice alternative to slimlines and are slightly bigger. . Double twist style transmission. . Just two platings shown - chrome and gold - but other platings may be available if you search.
The transmission screws solidly onto the center band. . Just a barely perceptible "wiggle" between the two barrels due to the design of the transmission - far better than the slimlines I have made. . The center band is solidly anchored to the lower barrel by a press fit into the brass tube (again, far better than slimlines).
I like the styling with the two crystals, one on the finial and one on the clip. . Just the right size for a lady and not too small for a man.
The upper barrel is straight-sided, having two equal size bushings. . The lower barrel has a slight taper at the nib end, so requires two bushings of slightly different size (0.392" and 0.412"). . Actually, I believe the nib should be redesigned and enlarged to 0.412" at the top end so that the lower barrel could also be straight-sided. . The straight barrel sidewalls are 0.052" thick, enough to allow a little turning artistry if you are careful. . You could, of course, make them a little thicker than that without excessive bulging.
So here they are, folks ! . Have a good look and feel free to post any comments that come to your minds.
Three cheers to Marla (Crickett) for her snazzy feather blanks !!!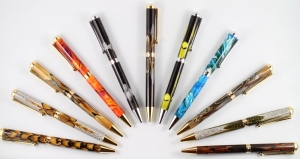 Last edited: