Joined

Jan 24, 2005
Messages

6,506
Location
Sorry in advance for the really bad pics - I need to figure out how to take these! I've been on a kick lately to learn how to make different pen components myself, so I can start making really unique pens. As part of that process, I took a lost wax casting class at a local metalsmithing school. I thought at first that my wife would be reluctant to have me gone for several weeks in a row - little did I realize that she had an ulterior motive for saying I could take the class! The pendand and most of the rings in these pictures are for her, though there are a few pen CB's as well. I was most interested in learning how to work with the waxes, and how to do the casting, and machined wax wound up being easier than stuff that was hand-filed, so I wound up mostly focusing on the hand-made stuff so I could learn as much as possible from my instructor.
The pen is my first attempt at a closed-end pen. I'm not happy with the shape, and the fit between the cap and the base is intentionally bad - it's coming apart in a little bit. I just wanted to give an idea of it being a pen! Oh, and if Rich K. sees this, yes, I know the refill is missing! I made the pen using a Jacob's chuck and some pin vises made from HF transfer punches, with pins made from cut-off pices of Q-tips. The body is made of Ebonite, and has a bronze CB that I created during my first class. The pen will be getting small, round, blue topaz inlays on the top and bottom, and a bronze clip. The clip is cast, but I lost it in my shop - hopefully I'll find it some time soon. I'll also be making a custom writing "grip" some time soon.


The rings are either solid sterling silver or solid bronze. The "U" shaped ring has small rubies inlayed. The three rings in the last picture still need a lot of work - the left-most two will be getting Abalone inlays, and the stone will actually be set in the right-hand one once I've finished buffing and polishing it. Most of the rings need a good cleaning and buffing before they'll be "done", but since my class is basically over I thought I'd share what's been taking me away from pen turning lately.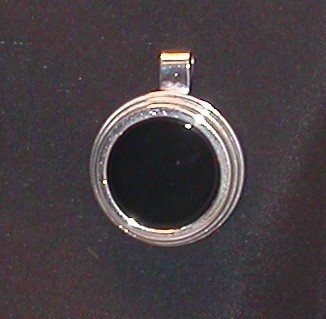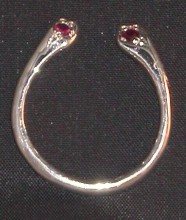 As always, comments, critiques, etc., are welcome (except, in this case, the "take better pictures" critique!)