Joined

Jan 18, 2012
Messages

122
Location
:biggrin: First Time Doing a Pen Swap
:biggrin: First Time Casting (with color and embedded objects)
:biggrin: First Time Segmenting
:biggrin: First Time Using New Tool (Woodchuck Pen Pro)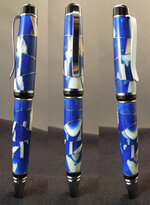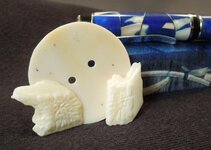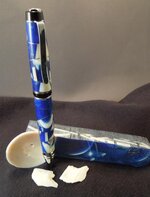 First Pen Swap
I made this pen for the Transformation Swap Challenge. I want to publically apologize to Rodney (Carpblaster) for the lateness of sending the pen. I had several obstacles to overcome, but I finally was able to finish the pen. The lateness of completing the pen was mostly due to my family's busy schedule and also my work situation. I really had not anticipated that it would take me more than the allotted time. There was a weekend that I planned on working on it and possibly completing it on time, and then the electricity went out for a few days in a huge storm. I am grateful for Rodney's understanding and that our continued communication has made me a new friend.
I really enjoyed the pen swap and coming up with items to send to my partner and receiving such unusual items to use to create a pen. Rodney sent me scales from an Alligator Gar that he had caught bowfishing, preserved in the earth for a year, and then bleached, some large curved ceramic buttons, a couple of sheets of aluminum, and a few blanks of Butternut and castings. He saw from my postings that I was trying out postage stamps casting with my son and said that he wanted to allow me to experiment with casting, but also give me a backup with some blanks if it wasn't working out.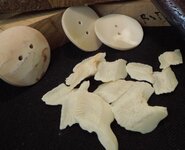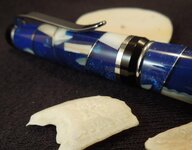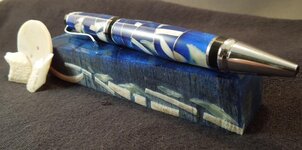 First Embedded Object Casting
My casting experience is very little and has been a couple of successes, but more failures. All of them until now have been Tube-In casting. I wanted to come up with something unique for Rodney's pen using the buttons and the Gar scales. I thought that I would embed them in a deep blue to symbolize the water that the fish came from. I made a mold using Legos® that was just big enough for two pen blanks. The large buttons fit perfectly in the width of the mold. When I laid them out, I overlapped the buttons and tried to place the scales so that the intricate details might show through the Alumilite in spots. The objects stayed in place in the bottom of the mold and only came about halfway up. I added a spoonful of pearlescent powder to the blue dyed Alumilite hoping to get a shimmering water effect.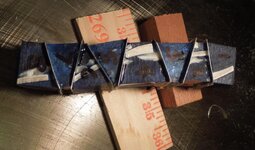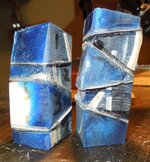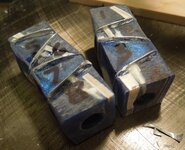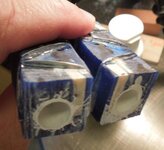 First Segmented Blank
I love seeing the segmented pens with the metal dividers! I knew that I wanted to try this. I also knew that I would need to do something so that the buttons and scales would show up on the outside of the pen. I cut the blank up into angular pieces that I could refit together in a semi-random way. I used the sheets of Aluminum to separate each slice. It looked a little scary when it was ready for drilling, but I knew I had something unusual in the making. I was pleased when the drilling came out good and the hole was near center. I used my sander to remove the sharp protrusions.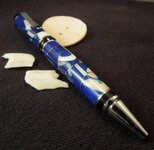 First Time Using A New Tool
Got the new hunks of creativity on the lathe and soon learned that I would not be able to turn them down very quickly. I was sharpening my gauge way more than I was turning off material. Those buttons were extremely hard. (I had earlier wondered how it would go when I saw sparks shooting off the bandsaw blade.) I took them off the lathe and used my sander on it to help me get it smaller. This worked out okay, but it was nowhere near round. The gauge still could not handle turning them round.
I contacted Ken at Woodchuck Tools and bought the Woodchuck Pen Pro and a few extra carbide inserts. This tool worked very well, but I still ended up going thru quite a few of the cutting edges. I was very happy with the tool though and am really looking forward to trying it on other materials! I took my time because I was worried that I would end up blowing up the blank after all the time I had already invested in the project. Just did a bit at a time and took breaks to play ping pong with my son or take the dog for a walk… Finally got it round and to the shape I like and finished the pen as usual (sanding, MM, and buffing with White Diamond).
[FONT=&quot]All in all, I am very happy with the pen and my perseverance. I learned a lot and am looking forward to making more casted/segmented pens. As Olympian Brendan Hansen said after winning his Bronze medal "honestly, I am really proud of myself." I'm glad that Rodney likes the pen and I look forward to doing another IAP challenge with you all in the future. Thanks for reading!



[/FONT]