Joined

Sep 9, 2009
Messages

788
Location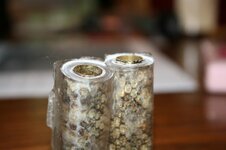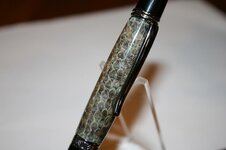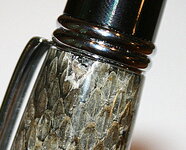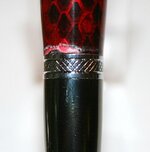 I have been asked to give a review of the snake skin blanks. I hesitated to make the first post but have been encouraged to tell all publicly. The reason for this is not to hurt the vendors that make quality blanks, just those that are substandard.
I purchased these blanks from Gary Max. I ordered them and got them promptly. I was anxious to turn them and jumped right in. I started on the rattlesnake first. The blanks felt kind of sticky at first. I figured they were hot from being in the mailbox, so I let them cool in the basement. I noticed the first problem when I went to square the blanks with a pen mill. The tubes on both of the Rattlesnake blanks pushed through the other side. I will post the picture of them. I was not pushing hard as I was holding the blank with my hand. When I started the python blank I was very careful as well with good results, no damage to the blank from the mill and the tube stayed put. I put the python between centers and turned it down. I was very proud of the desired size when the skin started to come through the outside of the blank. I stopped turning at this point and left the man cave. Not in a good mood I slept on it and contacted Gary the next day.
After a couple of pm's back and forth Gary Informed me that he would not give me a refund, only replacements. It was several weeks before I got his address, I was on vacation and had some work issues. I returned the blanks AT MY COST. He promptly sent me the blanks back. The new rattlesnake blanks looked like the old ones with more clear added to them to cover the tubes. That is my best guess. The python skin blank was not any better.
Just to wrap this up I will not be doing any further buying from this vendor and could not recommend him to anyone else.
Once again I did not get any refund I paid shipping both times and have nothing but a three Sierra kits with no tubes to show for it.
The first picture is of the first rattlesnake skins that I received. All the rest are pictures of the "replacement blanks".
I am sure that I will get flack from this but if it saves some of YOU a few dollars I am fine with that.