Joined

Jan 31, 2008
Messages

4,076
Location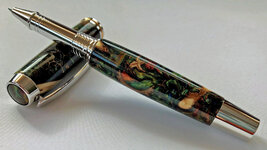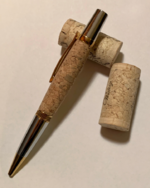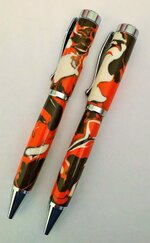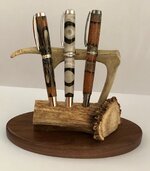 Kind of a weird combination when you put it all together. These are a few of the pens I've recently made.
The first is a Smurf watch part pen of blue and black woven Kevlar. My wife claimed it even before I made it, as she looked over the watches I had stashed.
The second is another one of the wife's pens. She asked me to make a cork pen for her years ago. I finally finished it. I epoxied two wine corks together, drilled and epoxied the tube in. I turned most of it with carbide tool and then sanded the rest to shape so I didn't blow it up. No finish applied.... just the feel of cork.
The third pen was a donation pen I made, which raised $200 for a scholarship fund. I entered it in this years bash since I had a pen done for once. Was happy to see it win 3rd place - thanks for your votes.
The fourth pen set were made from some retro colored casts I made that didn't make the cut for selling. My wife and her close friend own them now. (are you seeing a pattern here?... I don't own many)
The fifth pen is flag cast I made for the carbine pen. I'm making several of these to donate to the local American Legion.
The last set is a piece I entered in an art competition this past weekend at the Illinois Taxidermy Associations yearly event. The requirement was it had to be made from real animal parts..... Clear cast Ringneck Pheasant Feathers, Whitetail Deer Antler in resin, and clear cast Corn Snake, (the corn snake pen was made and show on here a while ago, but it fit the theme and is one of my personal favorites.) The base is an Elk Antler and the back rest is a small whitetail deer antler piece on a walnut oval. I was proud to win a 1st place blue ribbon.
Sorry the pictures aren't better. I took them with my cell phone. All comments welcome.