Joined

Oct 7, 2018
Messages

45
Location
I'm enjoying turning sketch pencils (PSI kit from Woodturningz).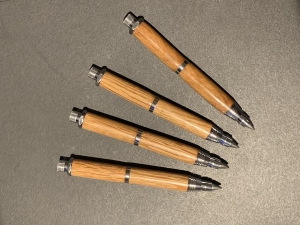 They are interesting in part because they require a couple techniques that most other kits don't.
First, you have to cut a "tenon," which isn't explained well in the directions. It's actually simple. You just need to cut a bit of the wood away from the tube so that you can slip the nut on the end. (The nut prevents the pencil from rolling.) It needs some CA glue or some epoxy to stay put, though the directions don't mention this. I've used both. CA glue drips everywhere, like water, so you have to be super careful and ready to clean it up. Epoxy requires mixing, so it takes a little more effort, but it also is easier to control. Both seem to hold, though I haven't put either method to extensive testing.
Here's a photo of what that looks like, on the lathe. I don't know why it is displaying sideways.
You also need to glue part of the assembly together, inside the tube where you can't see it, which requires bravery. Once you understand these two new tasks, they are easy. The hard part is figuring out the written directions.
I'm not sure if it's necessary, but I wiggle the top of the pen a bit while the glue is drying, to make sure nothing is getting glued that shouldn't. I honestly don't know if it makes a difference, but it makes me feel better.
One more tip: if the lead is stuck, unscrew the cap and force it out from there with a tool of some kind. I use a Phillips head screwdriver. Be ready to catch it! It slips out as fast as gravity.