Joined

Jan 27, 2008
Messages

247
Location
UPDATED 10/10 - NEW pictures added of B, C-D, and F four sides
Darrell's Chittum Burl is offering SIX SETS of Chittum burl blanks for his first sale on Penturners.org
Darrell has personally sourced all his Chittum burls from the forests and mountains of north Alabama and south central Tennessee, where this rare wood grows in the wild as the American Smoketree. The burls are usually under the ground surface, and take hard work to dig them out, and then haul from the mountainside. Darrell's been at the harvesting for over fifty years as a winter hobby, and has probably the most extensive collection in America – no kidding!
This initial offering is comprised of sets of four to six blanks that are mostly shorter than 4 inches, and suitable for single barrel pens. The shorter blanks are less pricey than a full 5 inch length (easily $35 and up for this top quality). The intention of this sale is to get some of these into the hands of turners who can produce sample pens to show off the stunning quality of the wood, and also give Darrell a chance to get up to speed on using the IAP messaging system for sale transactions. He's an old dog, but he'll "eventually" learn the new tricks!
A note on Chittum burl quality – the things that make a Chittum blank top quality are the combination of the eyes, dark lines, feathers, and chatoyance once they're turned to a high gloss finish. Take a close look at the photos and you'll see that these blanks are excellent examples of high quality Chittum.
Chittum is an excellent turning wood – it doesn't chip out, sands like a dream, and is a good density without being "too hard" to work with. It takes a CA finish VERY well (search for Chittum burl on this site, and there are recent examples of Chittum burl pens). Also, it isn't irritating like Cocobolo or the oily woods.
You may contact Darrell through his account here on IAP at "Darrell's Chittum burl", or direct to his email at
darrell0959@gmail.com
if you would like to purchase one of the sets here. His Paypal Account is the same:
darrell0959@gmail.com
Shipping is $8.00
They will be shipped out the next day following your purchase.
In an effort to get these sets into as many hands as possible, we ask that you limit your purchase to one set per turner.
Group B
4 pieces 5/8" + or – 1/16" x 4-7/8" long
$ 52.00 for set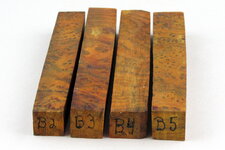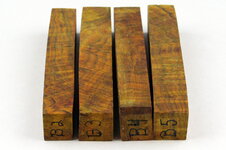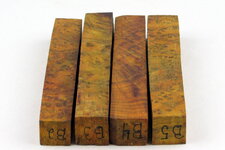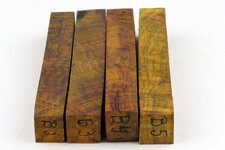 Group C-D
5 pieces 5/8" + or – 1/16" x 4-7/8" long
$65.00 for set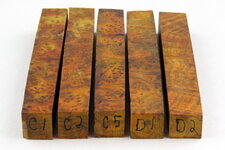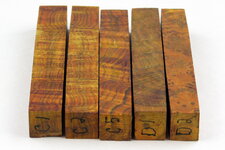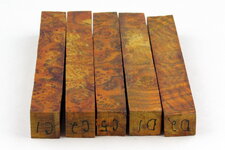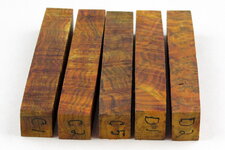 Group F
4 pieces ¾"+ or – 1/16 x 3-1/4 to 4"
$ 57.00 for set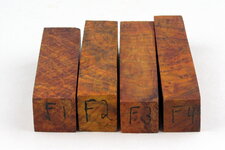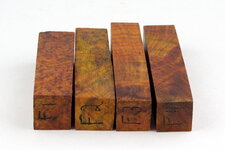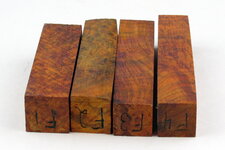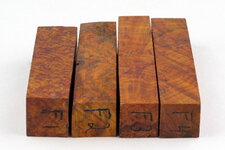 Group H
4 pieces ¾ + or – 1/16 x 2-7/16" to 2-7/8"
$52. For set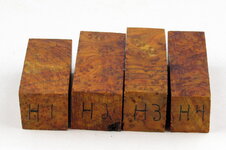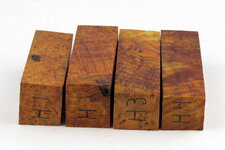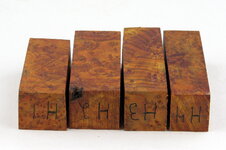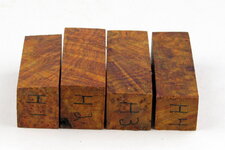 Last edited: