Joined

Nov 25, 2020
Messages

27
Location
If you didn't see my first post, where I went on and on about pretty much nothing....
you can find that here...
Well, since I last made a post I've made a name change,
Potomac Arsenal Penturning
is now
Shenandoah Arsenal Penturning
, although I still think there are too many "Shenandoah" named things around here! Anyway...
As you know, I decided to order a wood lathe and start making pens just before Black Friday in 2020, probably when I saw a sale at Rockler on the Excelsior Mini Lathe. It took about a week for it to arrive, and I also ordered a bunch of turning supplies to get started, some of it was stuff you'd expect, like the assorted pen blanks.
Other stuff was not the typical starter kit stuff; I was lucky to have discovered the
IAP Forum
and figure out that turning between centers was a better method than the traditional method of pen turning, and not to waste money on stuff I don't need like mandrels and other junk.
I've made 4 pens total so far, all are
Rockler
Manhattan Kit pens made with blanks from a
Rockler
Wood Pen Blank Assortment pack. You'll have to excuse my ignorance of the woods I'm using, they aren't labeled, and I have no idea what is what.
---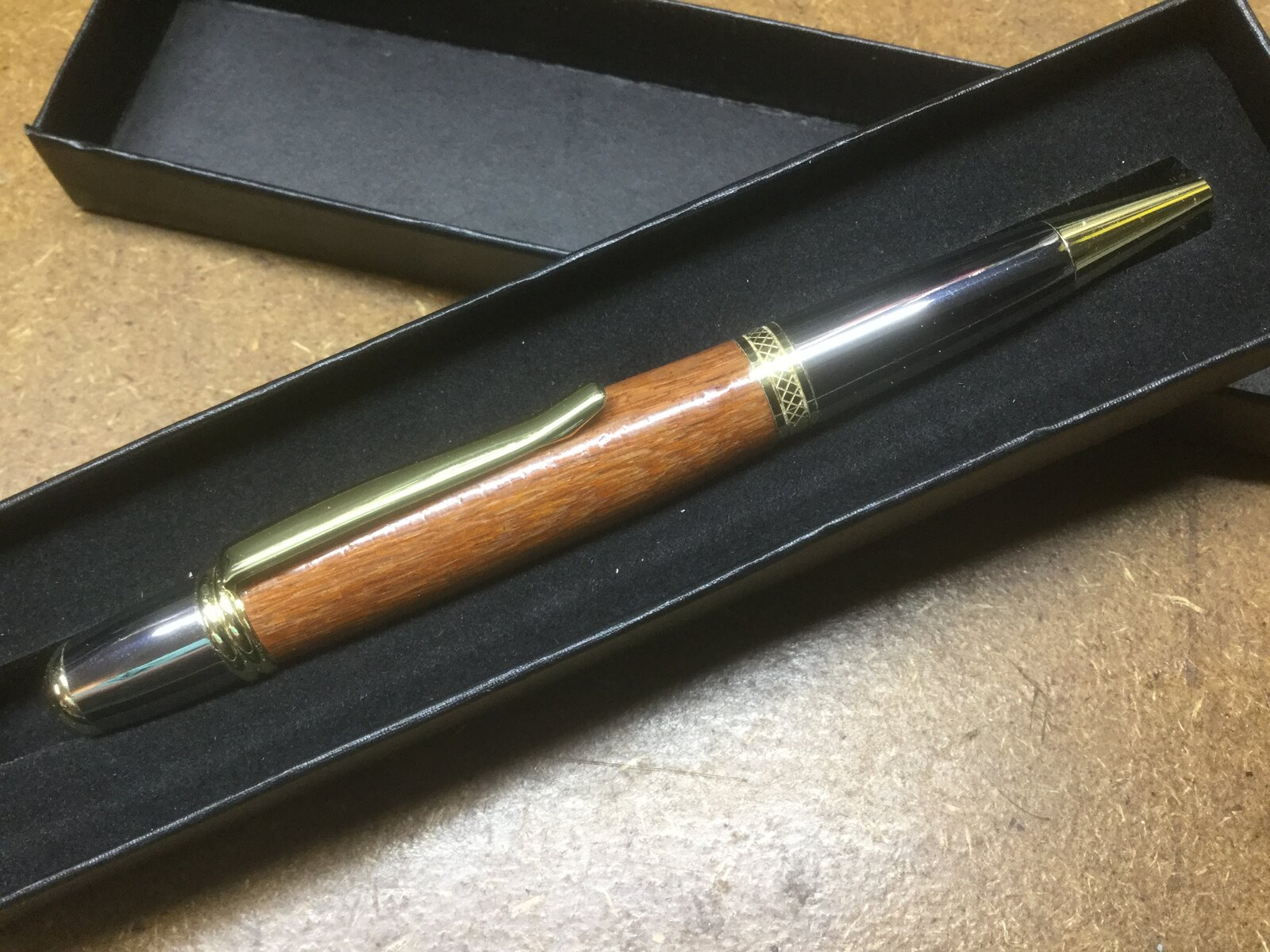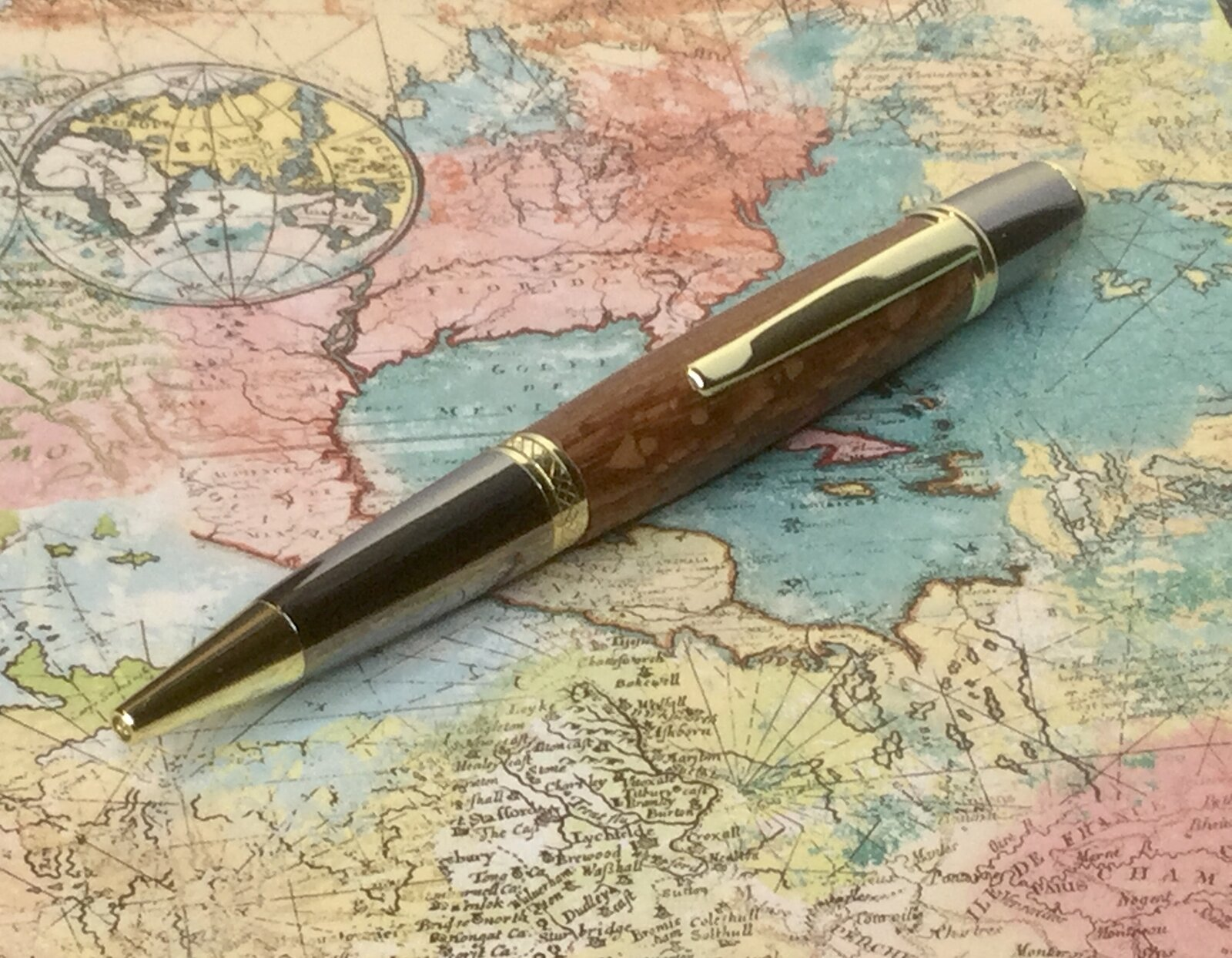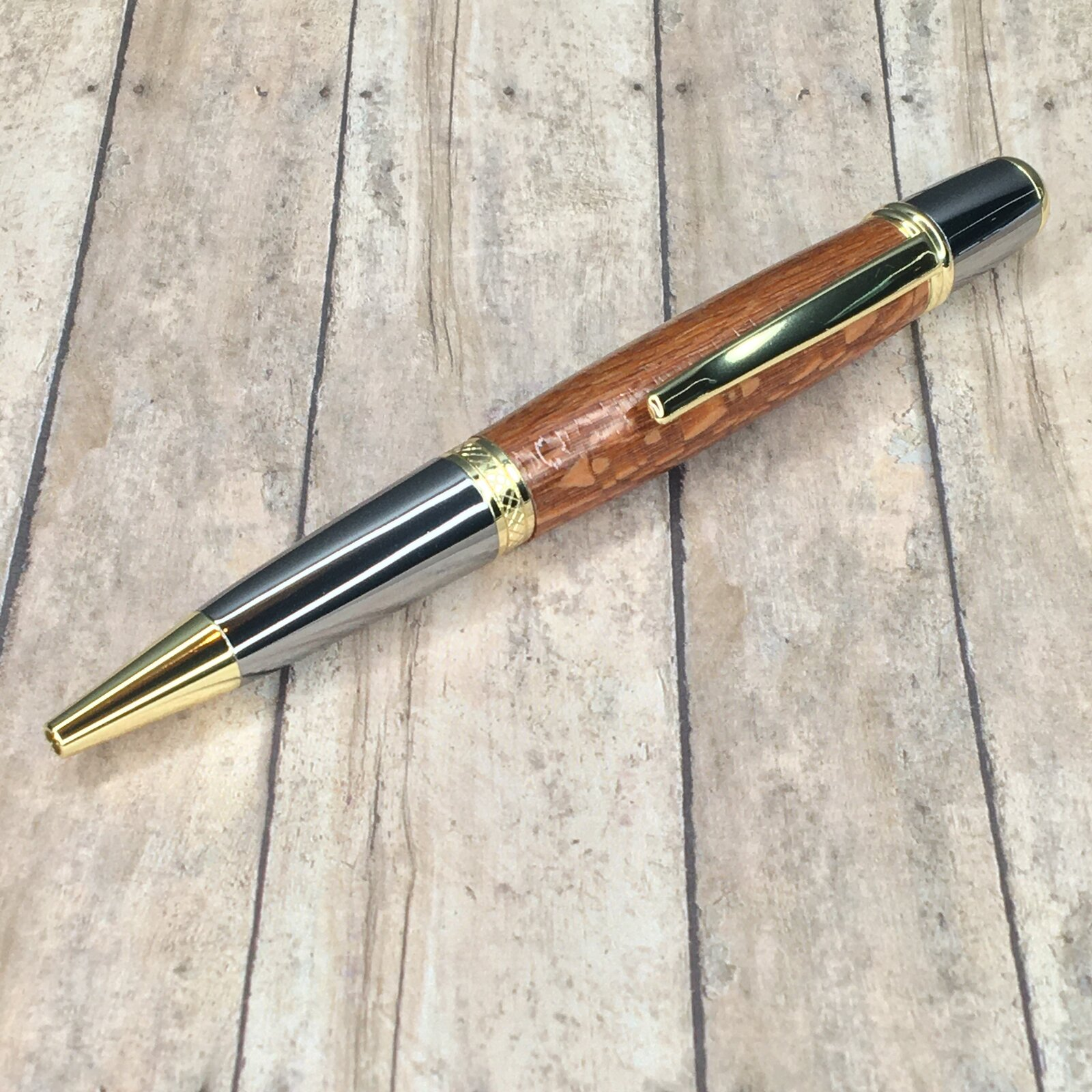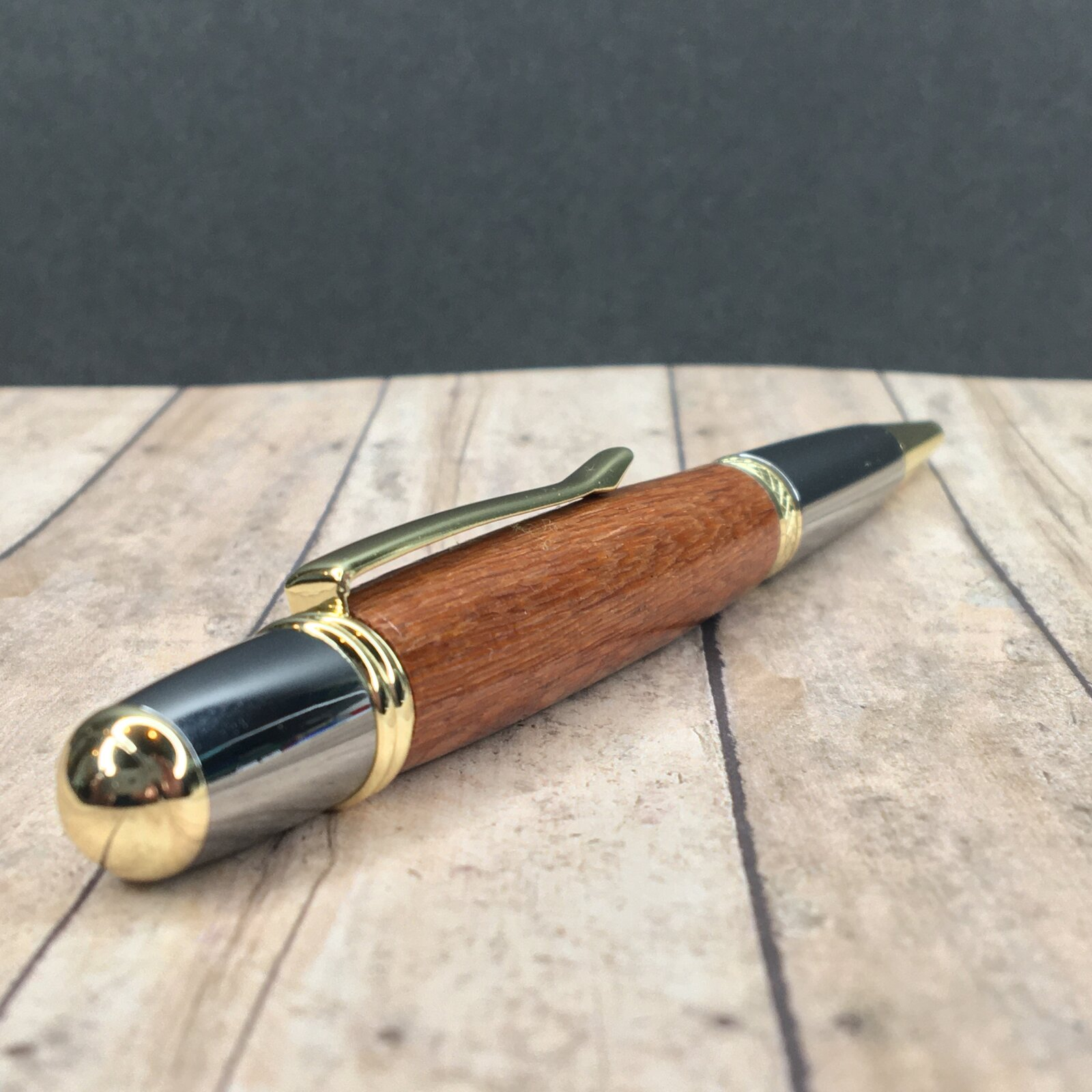 #001
:
(December 14, 2020) The first pen I ever turned had this chocolate hardwood that I found really interesting.​
​
However, near the end of my cutting, I realized that the bushings, as provided by Rockler, they actually caused a bit of a wobble during turning, even when used between the centers. This caused the fit of the wood on the pen to not be be quite perfectly round, its more oval shaped. (I don't use these bushings on the lathe anymore, I only use them for test fitting when I take the cut blank off the lathe. I quickly have learned to measure my blanks as I cut and check for flushness with the bushings.)​
​
During testing, I was never really happy with any of my CA test finish applications. I made at least 15 test applications on 3 test blanks, and they all had various issues.​
​
I was really nervous applying the finish on this pen, If I only knew what I was about to do to myself! I nearly destroyed the pen in the process of finishing it...​
​
This was my first truly successful CA finish, 5 thin coats and one medium coat. I think I was somewhat shocked at how easily and successfully my CA glue went on this time. Something clicked, my timing had improved, I was more deliberate with my application, I'm not exactly sure what it was, but things went very well. It was shiny, it didn't have ridges, and if it needed sanding, it was minimal. I took the blank off the lathe, and was wondering if I should add one last coat or not. I was pretty happy.​
​
I decided to look at the edge or side of the blank where it meets the brass inner tube. What I haven't told you at this point is that in order to do this I still had to do one thing: remove my metal bushings.... that's right, I had glued my bushings onto the blank with about 6 coats of CA glue. I bet this is a typical beginner mistake!​
​
So now it's panic time, how in heck am I going to get the bushings off with 6 coats of CA glue applied!??! It took a lot of patience and careful twisting and pressing, twisting and pressing, until it just let go of the pushing. Took me at least half an hour to get those bushings off without damaging the blank, I used nothing but my fingers, I figured that any tool I used would damage the blank beyond repair.​
​
Needless to say, I didn't add any more CA to that blank, I gave it a simple polish with Novis2, and it was D.O.N.E.​
​
Overall I'm really happy with how this pen, my very first, turned out. Best of all, I made it!​
​
Current Disposition: My Personal Collection​
---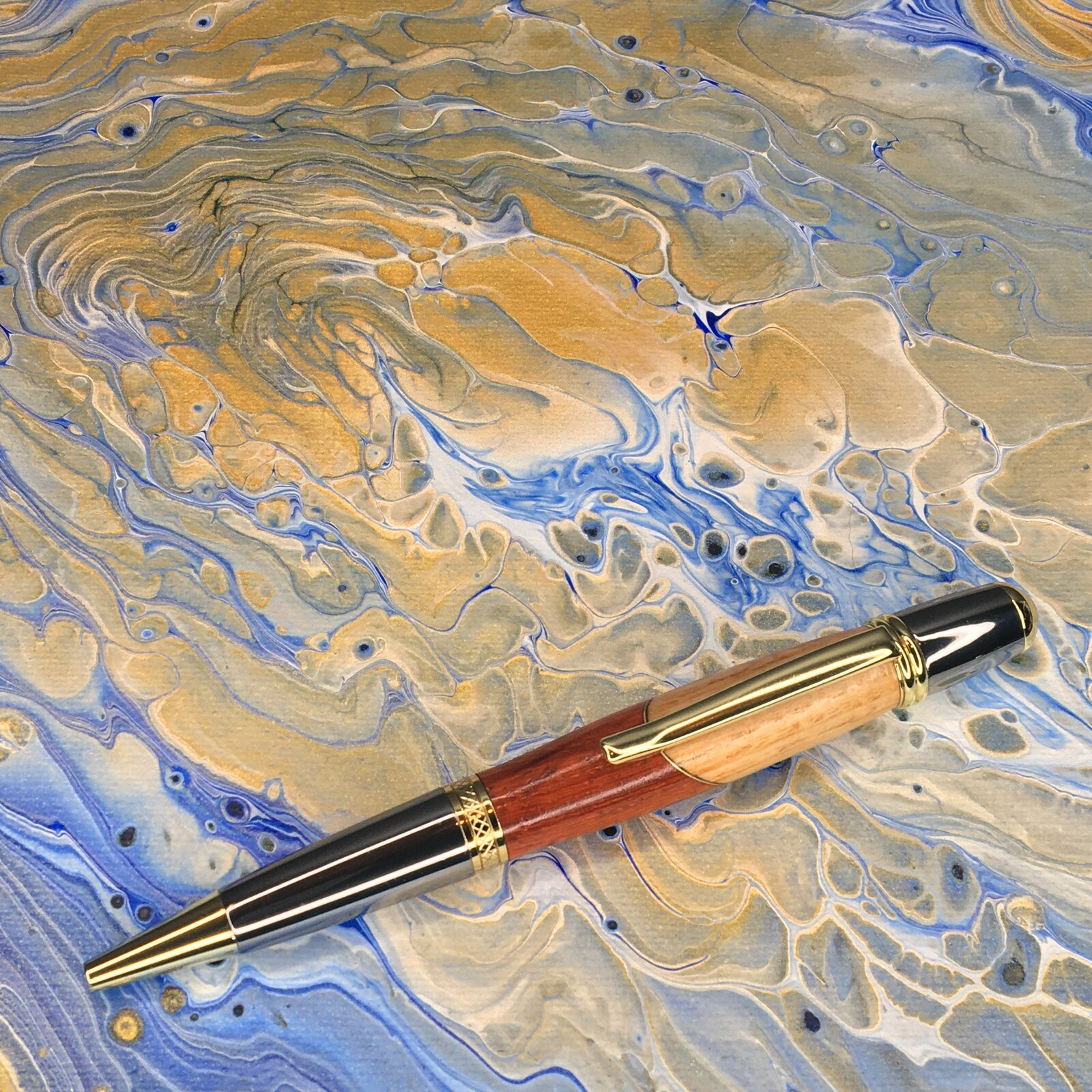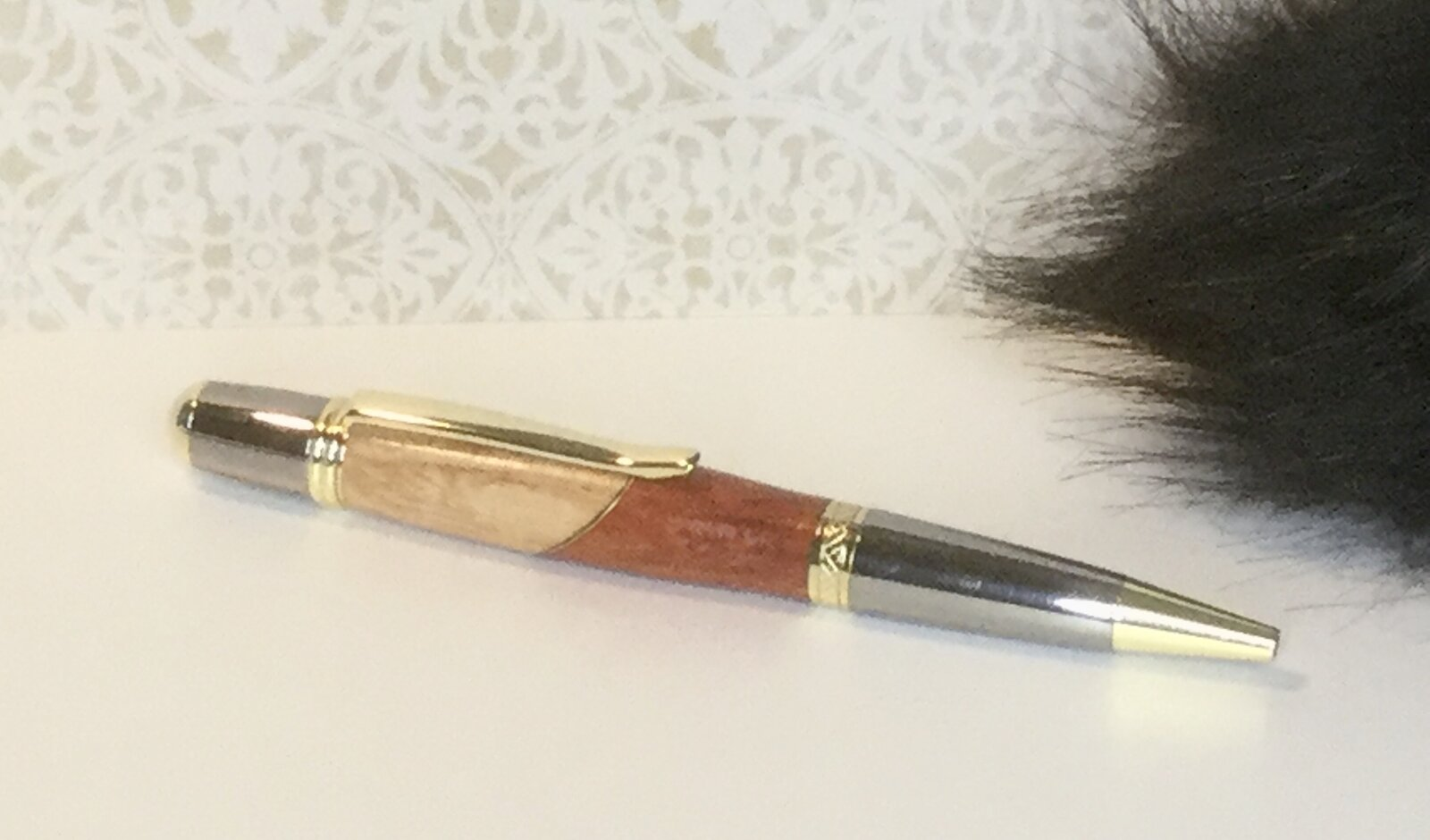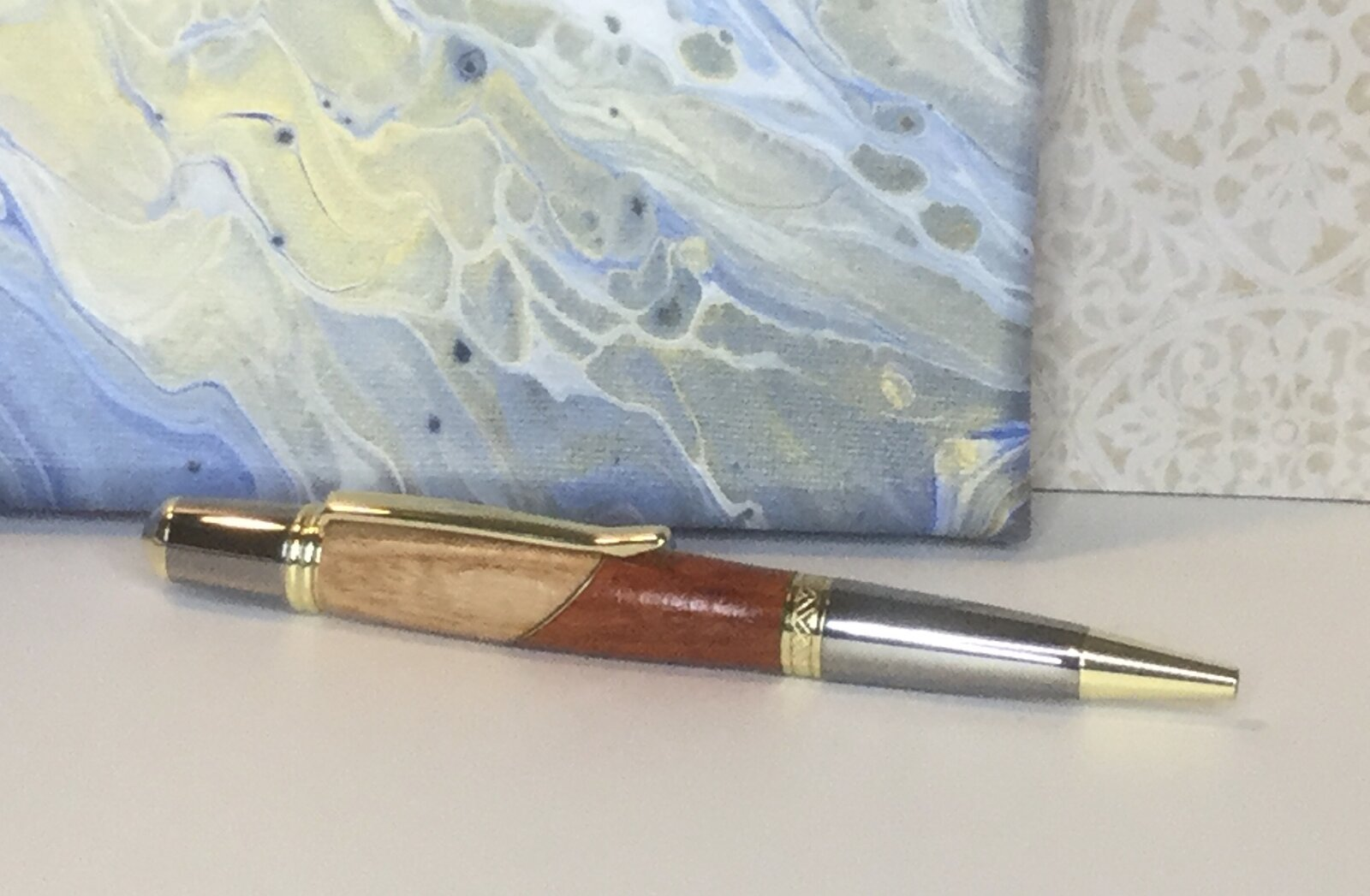 #002
:
For my second pen, I created this segmented piece, just because I wanted to challenge myself, and because I thought it would be cool. I used a sheet of brass to separate the two halves of the wood blank. The angle was set at 45 degrees.​
​
This pen also has a good CA finish, using perhaps 6 to 8 coats of thin CA, but I had to sand, and reapply a few times before it was the way I wanted it.​
​
Current Disposition: A Christmas Gift for My Manager at Work​
---
I had a bit of a pause in making pens at this point, I wanted to do some additional learning, and also upgrade my shop. That didn't mean buying stuff so much as building stuff. I could tell that my current shop was lacking in the jigs I needed to complete my pen projects with precision. So I built several jigs, a sliding jig for my Band Saw, a Drill Jig for holding my pen blanks, a blank jig for holding my pen tubes and blanks to keep things organized.
When I got all that completed, I tackled my next two pens in one night...
---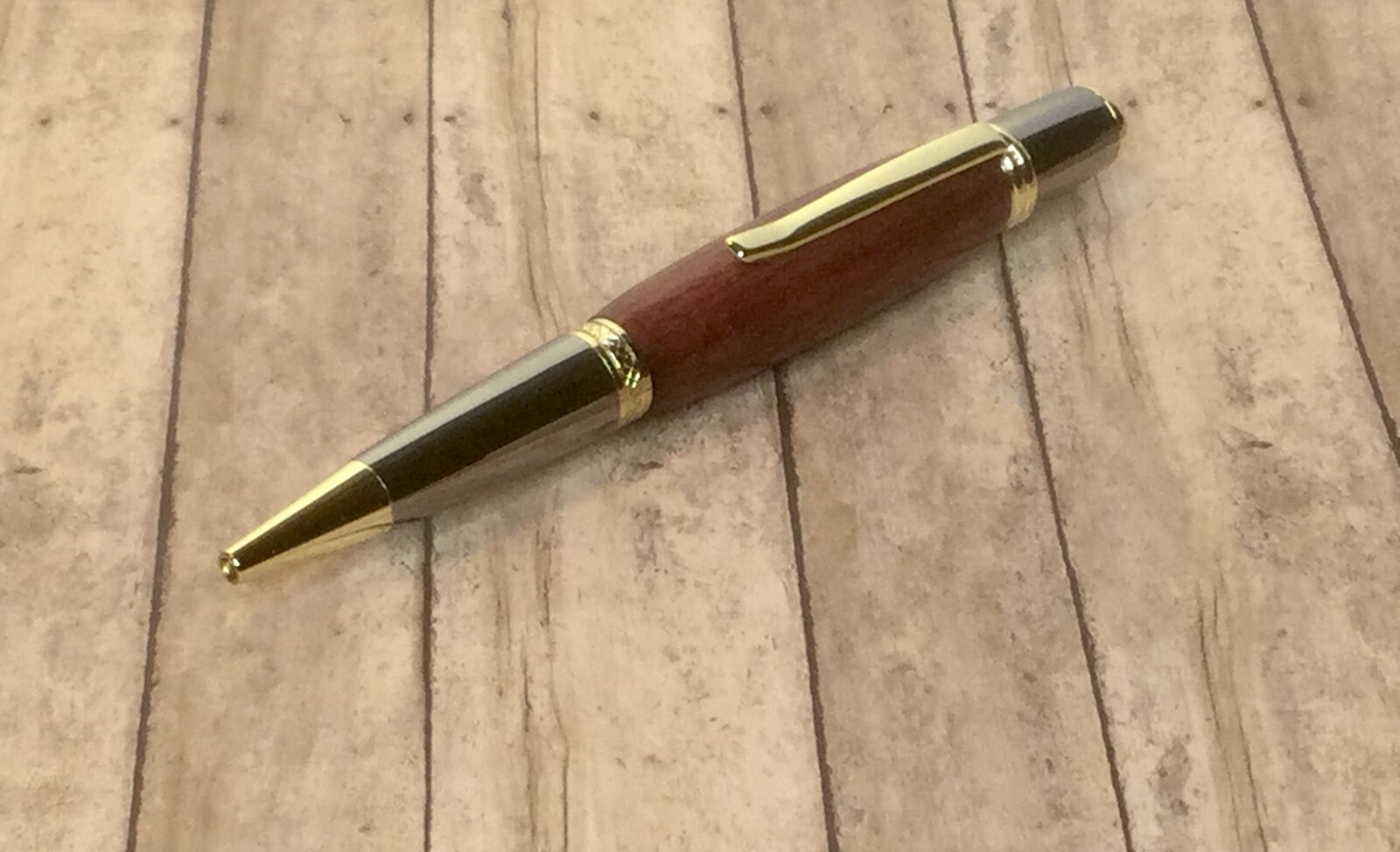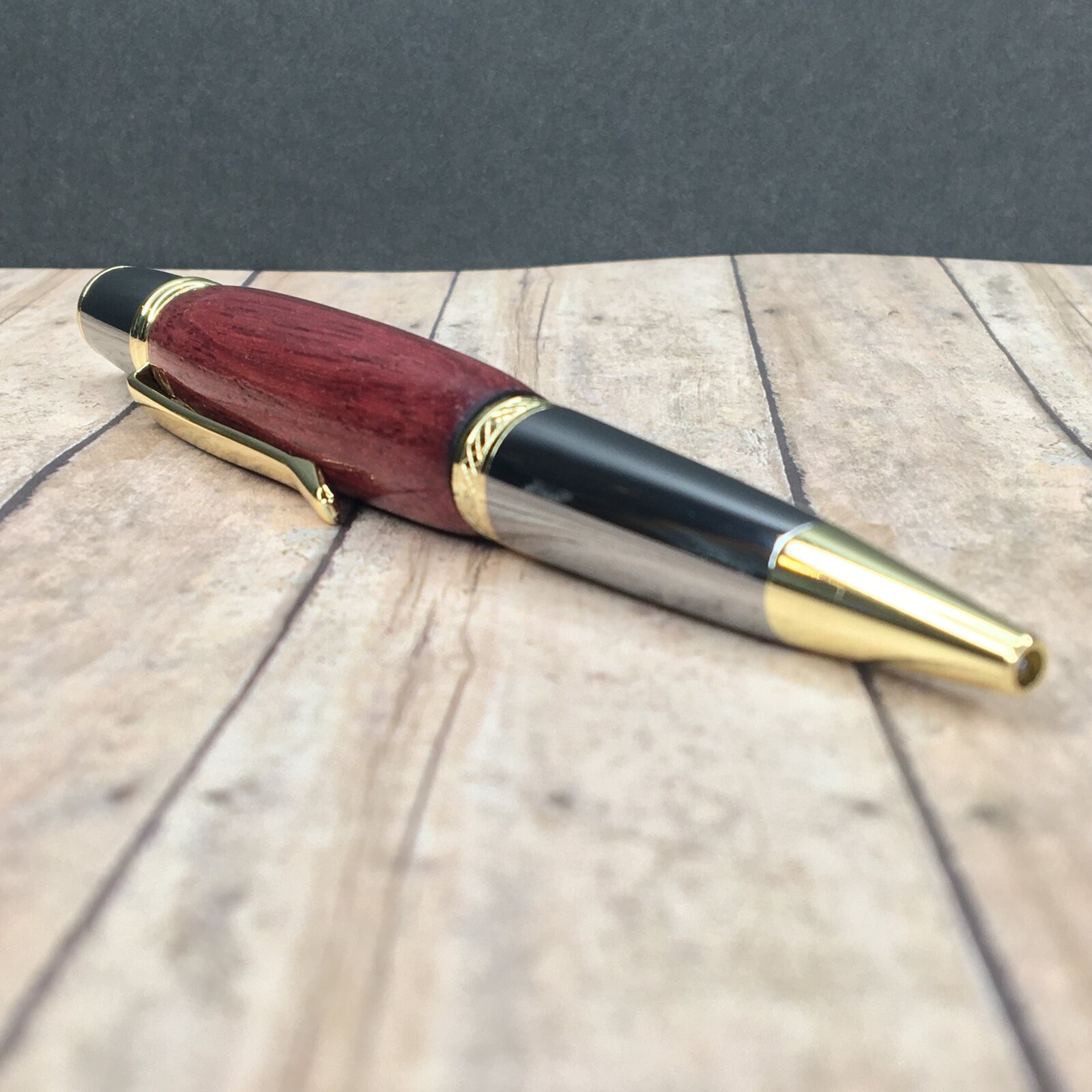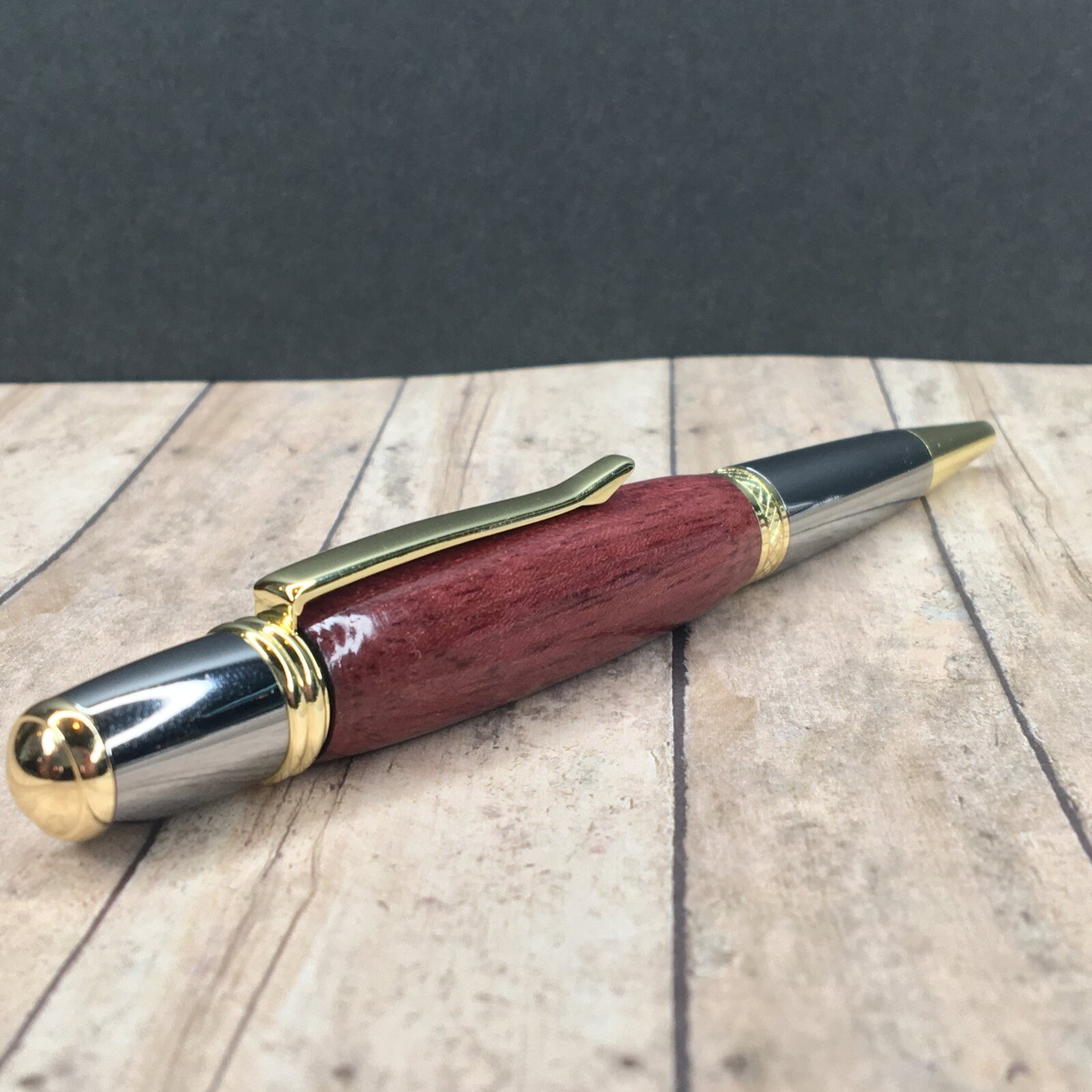 #003 :
For this pen I chose a Dark Wood Blank with some Purple color from the Rockler Assortment. My new jigs performed very well, and made the pen production much easier! This one turned very nicely, and in different lights it actually looks different. It also took my CA finish very well, and this one was probably my very best CA finished pens, with 6 coats of thin CA, and lots of polishing, it looks very good in person.​
​
Current Disposition: TBD​
---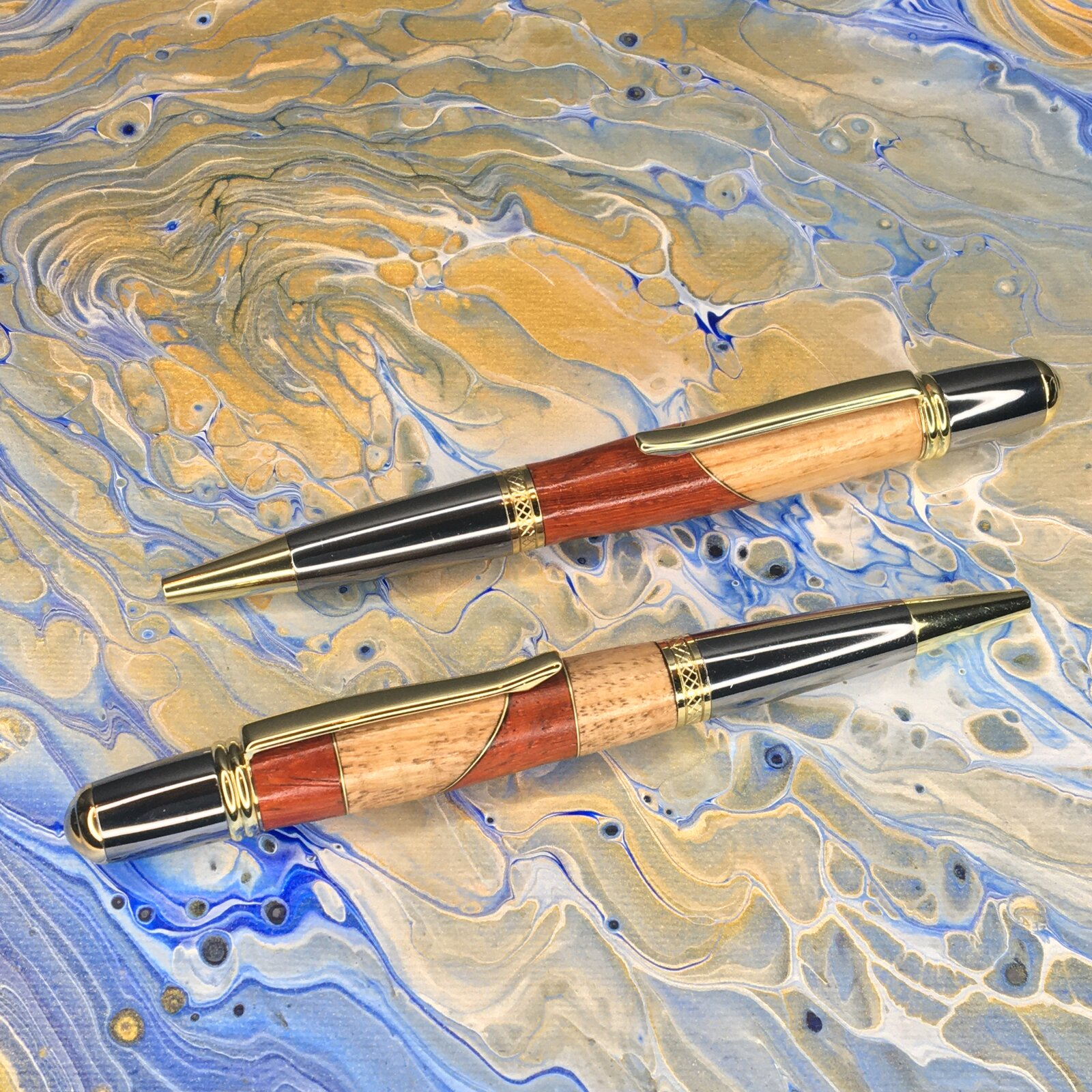 (#004 on Bottom, #002 Above, no solo photos of 4 yet available...)
​
#004 :
So, after making #002, I had the other halves of the blank that still matched pretty much perfectly. I could have repeated my first effort, but I figured, if I'm going to use this blank again, I need to take it to the next level, so I cut each blank at 90 degrees at exactly 5mm from the point where the 45 degree cut exited the blank, inserting additional brass sheeting.​
​
Again my new jigs came in very handy. I also moved the belt on my drill press, slowing the bit speed way down, this proved to be very helpful, at least it seemed to be, in helping to control heat buildup in the blank. Everything held together, and soon I was turning on the lathe! It all went very easily.​
​
I only used 2 coats of thin CA on this pen, I wanted to limit the shine, and try and keep a natural look and feel to the wood, I was very happy with how it finished.​
​
Current Disposition: TBD​
---
I'm going to experiment with several different finishes in the next week, varnish, lacquer, and I've already been playing with Danish Oil, and I've also got several other things I want to try out.
I bought a 5 pack of extra Manhattan brass tubes, I think I saw a few comments that as a new pen turner I'd need them, well, so far I've got 5 left, and no kits left. I'm going to use one or 2 of these for some experimental blanks. If they turn out good, maybe they will even turn into pens! Numbers 2 & 4 were experiments, and there were several moments where I was sure they'd end up in the trash, rather than on a pen, so you never know!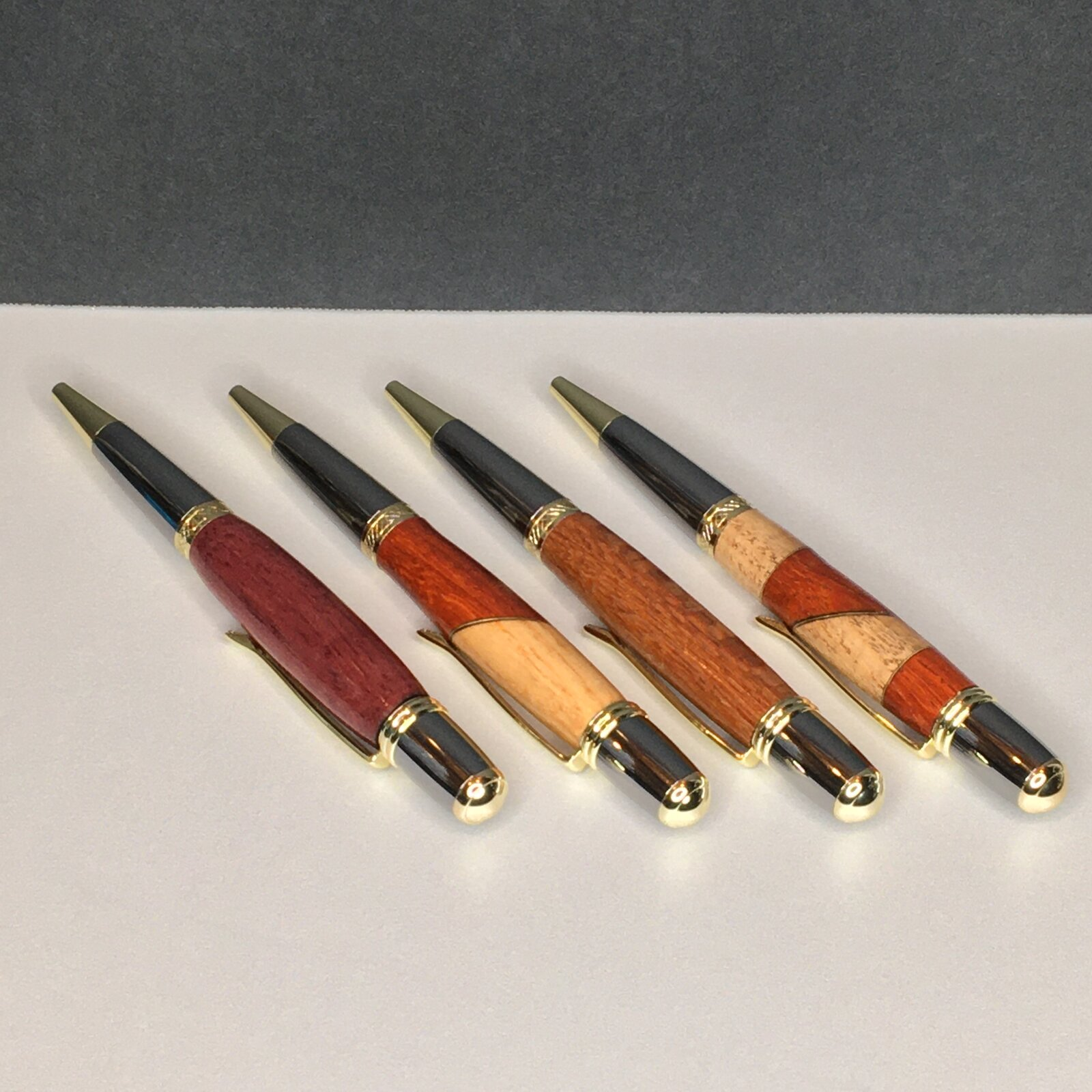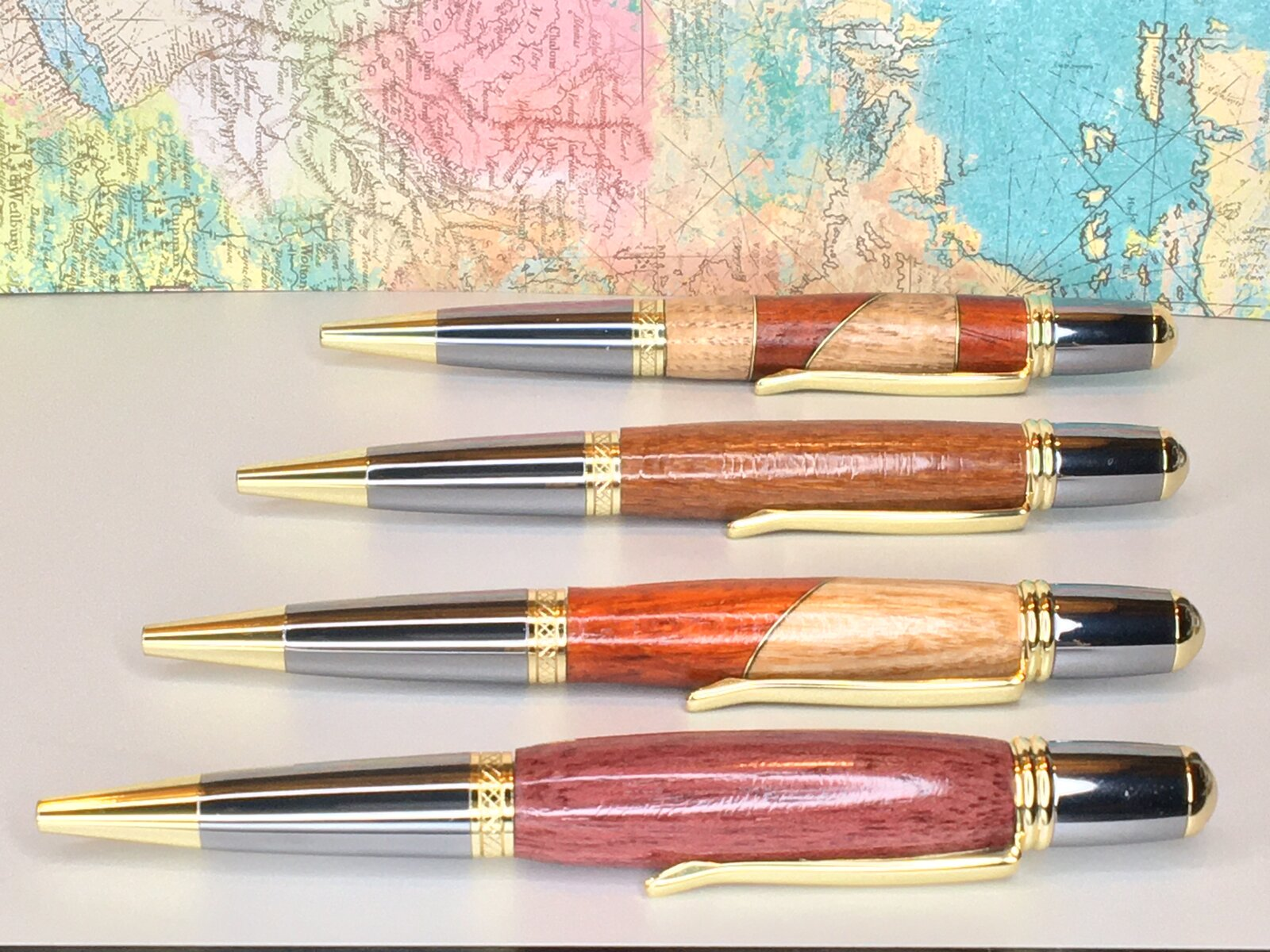 Some of you may have already figured this out by my forum name, but I'm actually also a Forum owner, I also run another Xenforo forum just like this one, it's called CivilWarTalk. The whole reason I'm getting into this hobby is because I'd like to give my forum staff some great gifts, and some lathe turned gifts seemed like something I could do, and enjoy doing as well.
Pen turning hits all my pleasure points: collecting, buying, making, new tools, and woodworking. Now I can tie it into my love for the American Civil War by using wood I've already collected at Civil War Battlefields and elsewhere to make meaningful gifts for friends and family? That's just awesome!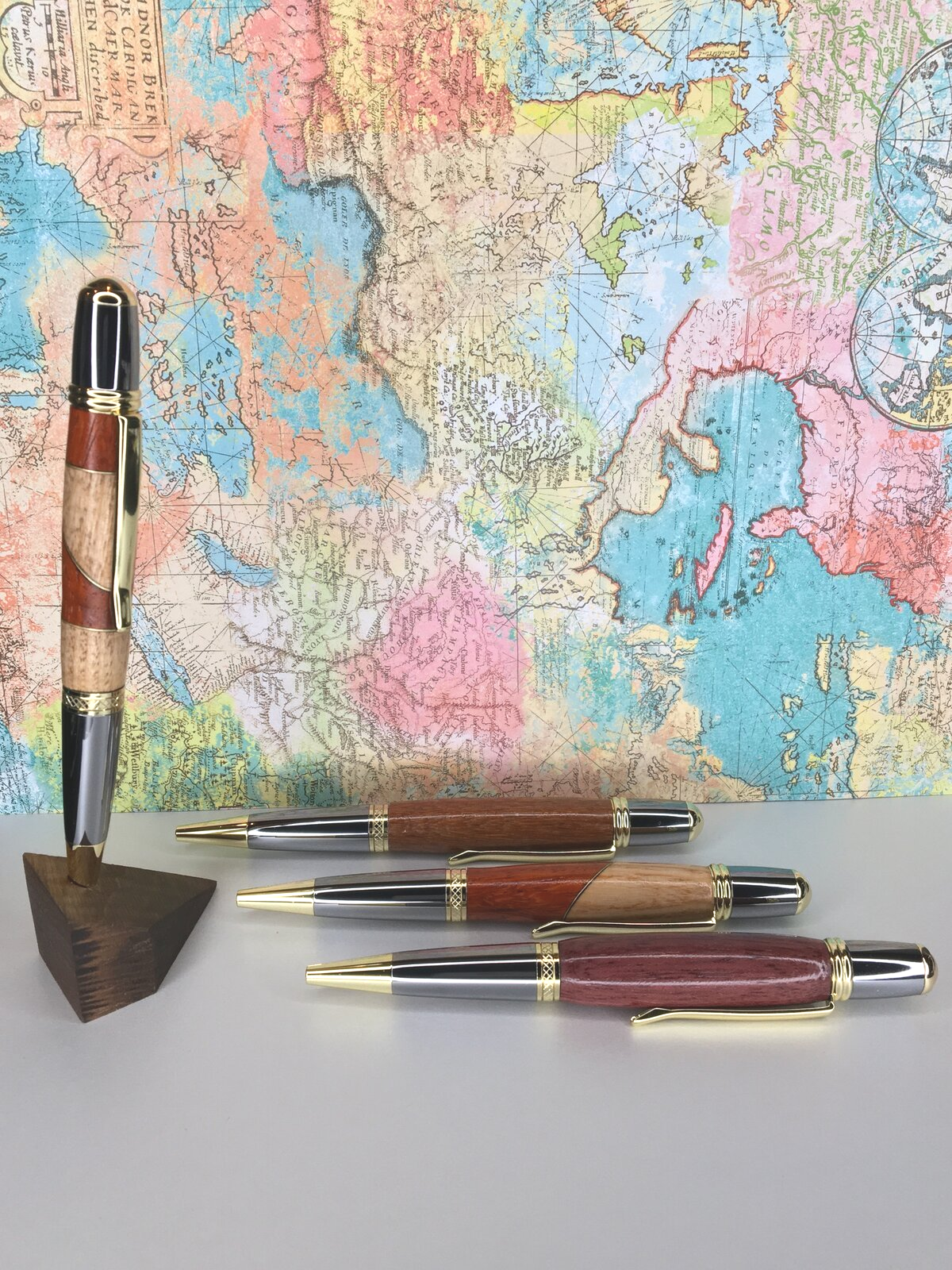 So, my plan, at least for now, is to just make pens as a gift for staff members, or as an incentive for Premium Members on my forum. I'm hoping to create several different lines of pens, all Civil War themed, but many not using the "Civil War Pen Kit" although I will use it when it's appropriate! I don't feel like getting pidgeonholed into one style of pen.
I do have the intention of creating a diary of my penmaking, but I sort of want it to be in my control, so it might actually end up on my forum instead of here, but I'll have to see how it goes.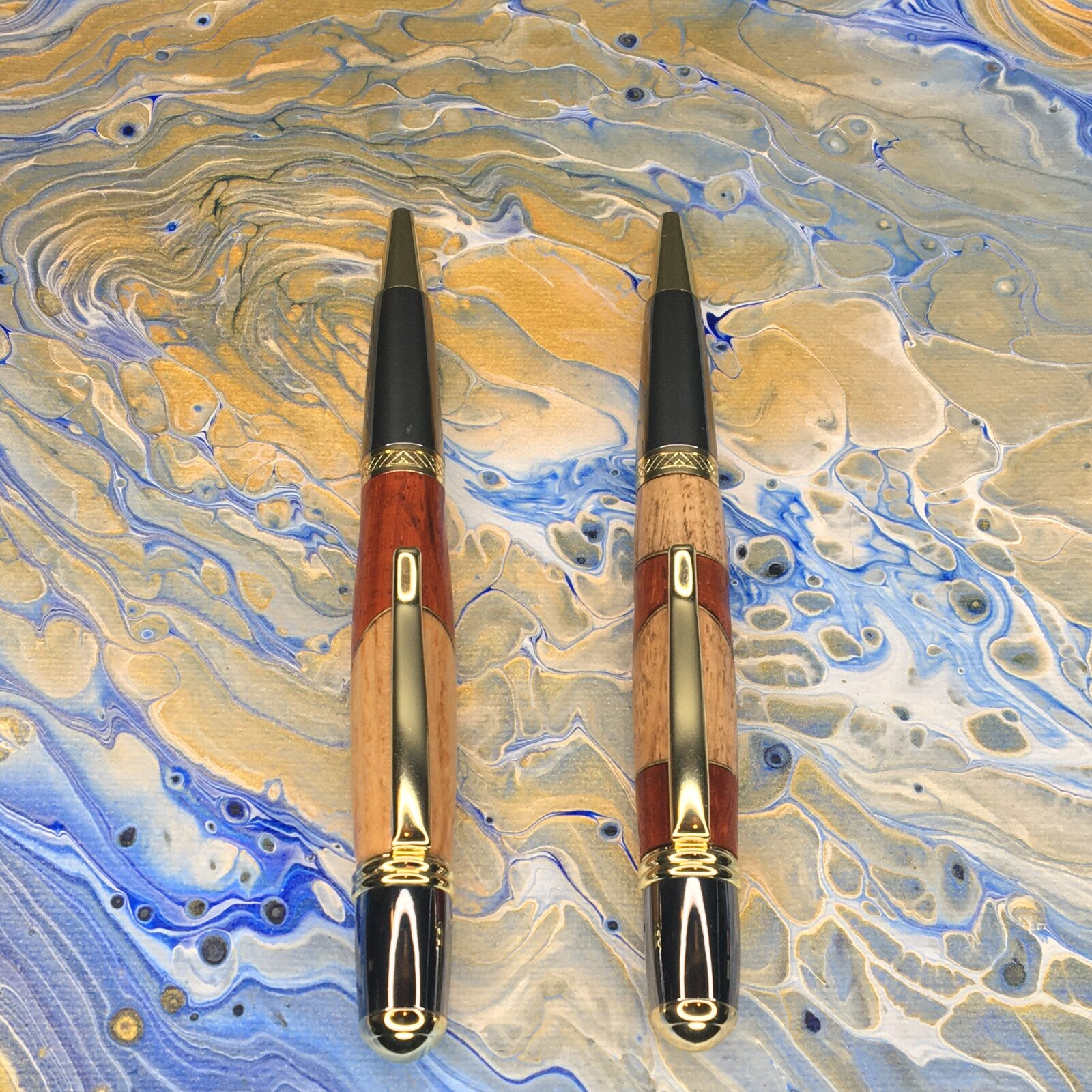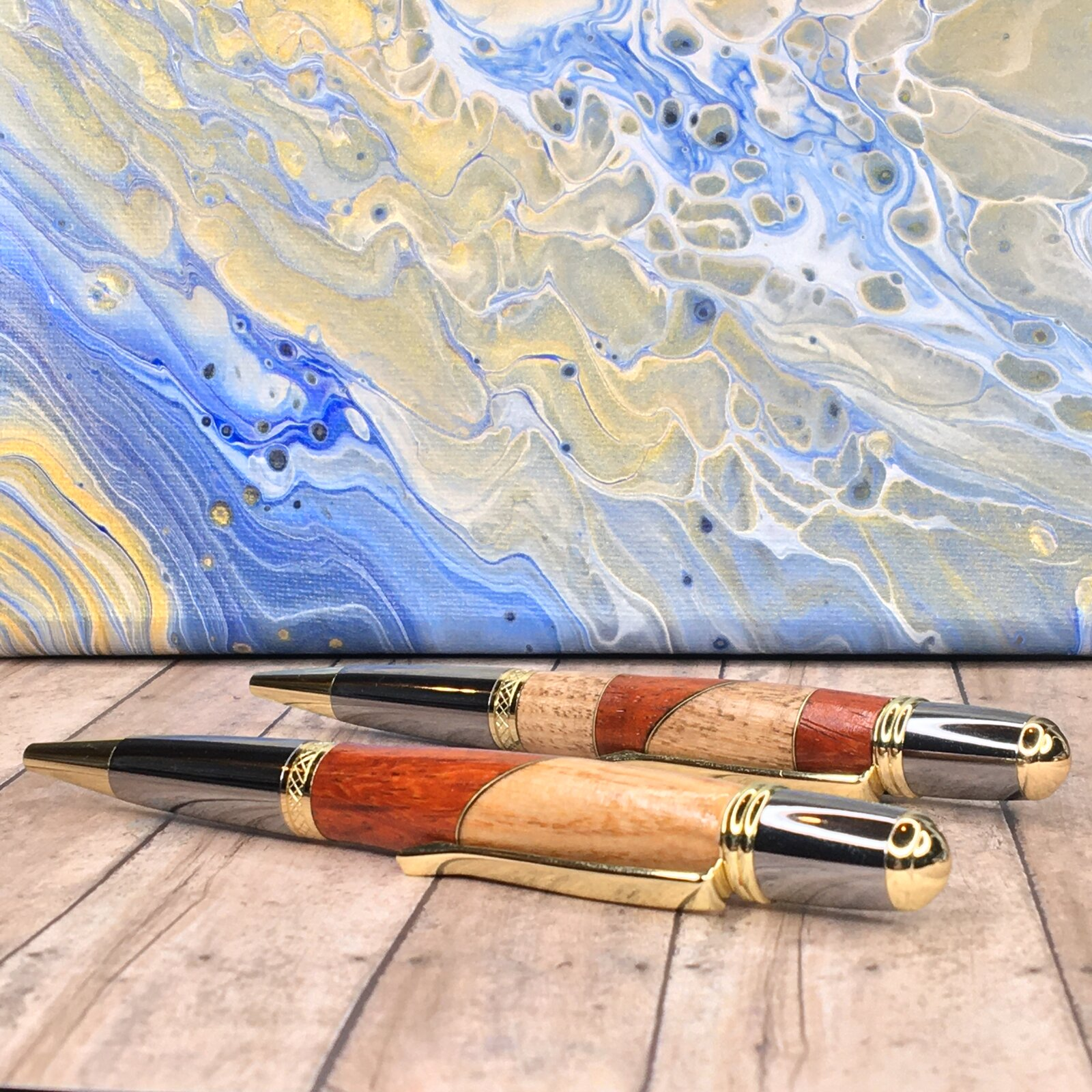 Christmas was crazy. I went to Woodcraft on Christmas Eve, that was the first time I ever went there, and that was a real blast. Filled a shopping basket in a hurry with the help of my two boys who came with me. We also picked out a 2"x2"x12" piece of purpleheart turning stock for a rolling pin for my wife. My boys challenged me to get it done for Christmas Morning, so I had a busy afternoon working on that after driving home....
But I think I made an impression...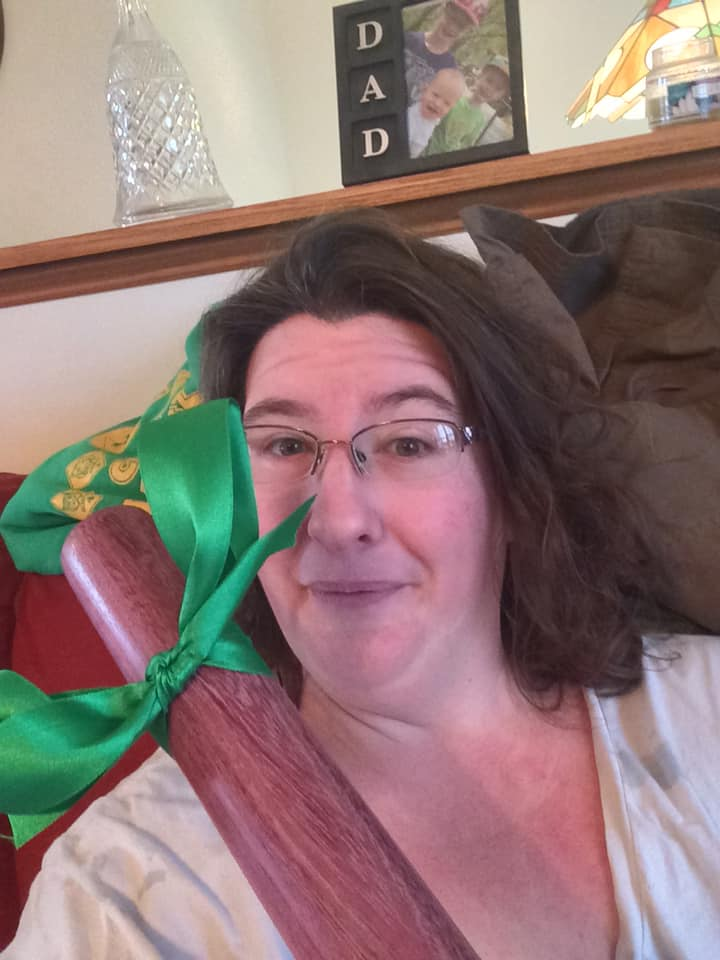 Turned it like a giant pen! Drilled a 1" deep hole in each end, put a 3/8" copper pipe in the hole and made it flush with the end of the blank, then I just turned between the centers. It took about 2 hours to complete, and made a big mess on my lathe. The pin was about 1.75" diameter when I finished, and she said it was exactly what she was hoping for, and it had an awesome blurred glass like finish without actually putting a finish on it (yet, still working on that!)
Here is an update on my Lathe bench... I've installed a partition between the wood lathe and metal lathe, this gave me the opportunity to create a rack for all my lathe tools, and then I just started to add more and more stuff, and well, it's pretty much full of many things I use when working at my lathe...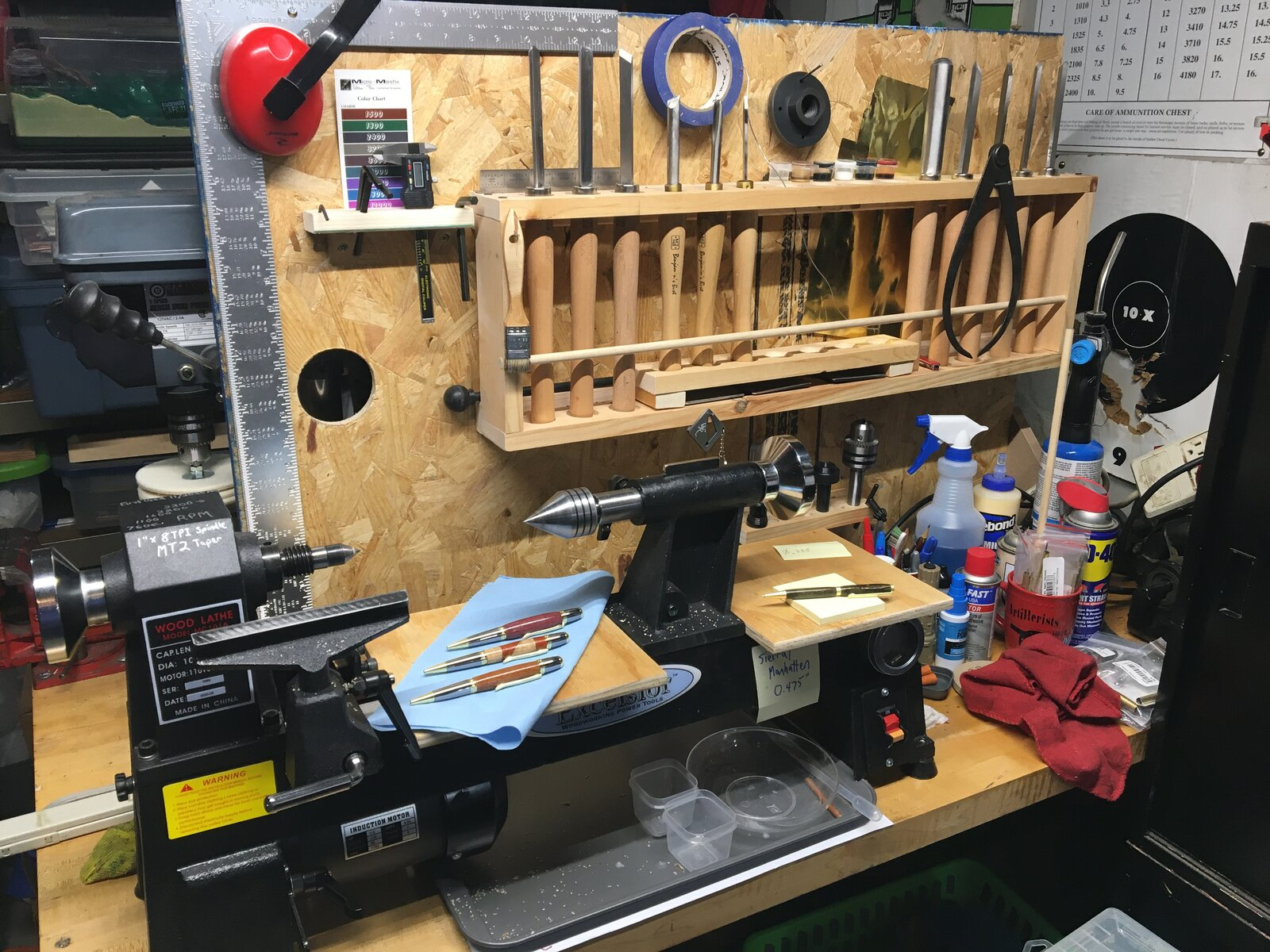 I also added a chip tray under the lathe, made a few plywood platforms to protect my lathe bed, and lots of other custom stuff.
This weekend, I picked up some inks and various stains, I spent a good part of Saturday and Sunday experimenting and learning how to work with different combinations. I also made my own friction polish, and tried that out, and it also worked very well.
This afternoon, I took the opportunity to tackle one of my Christmas Presents, a slimline pen...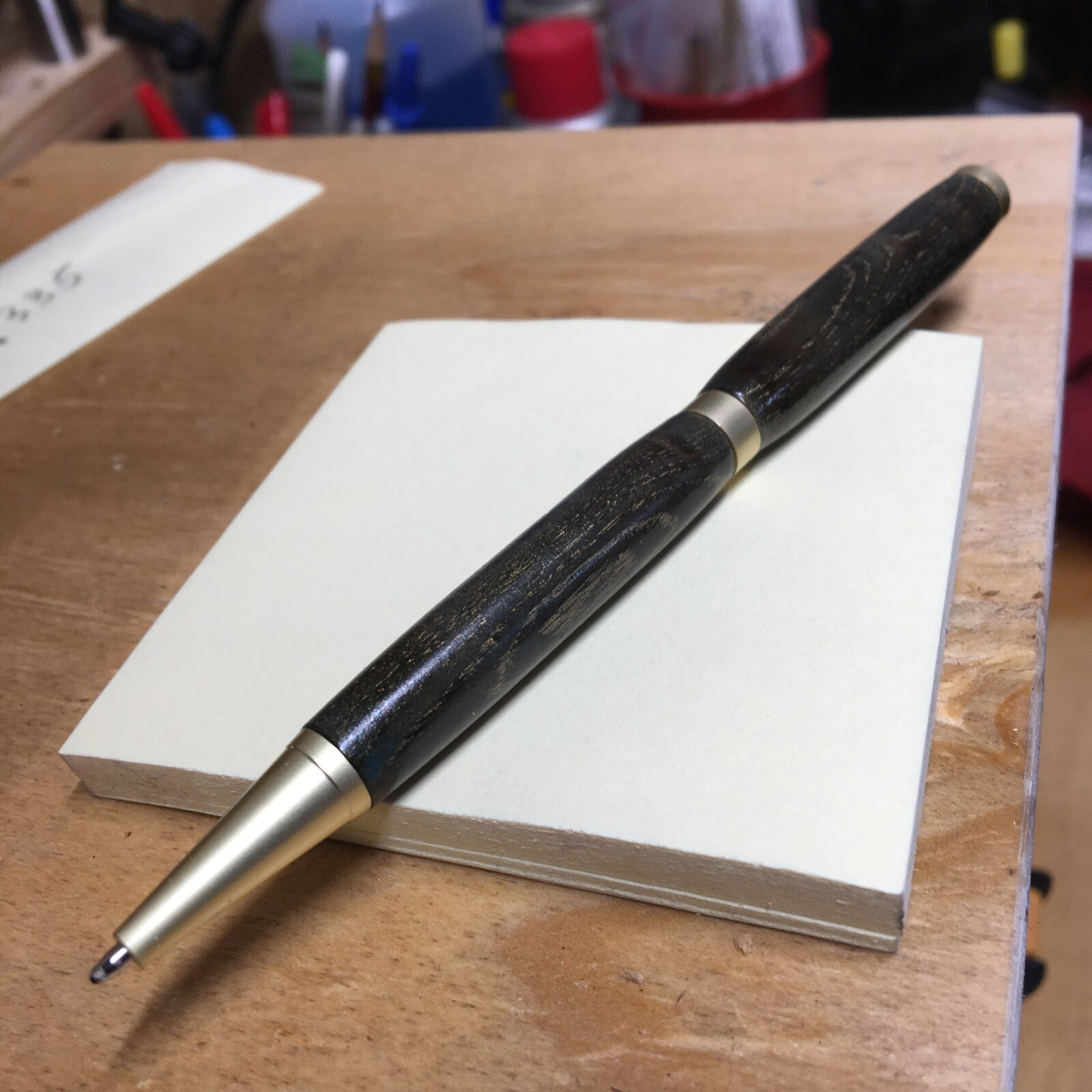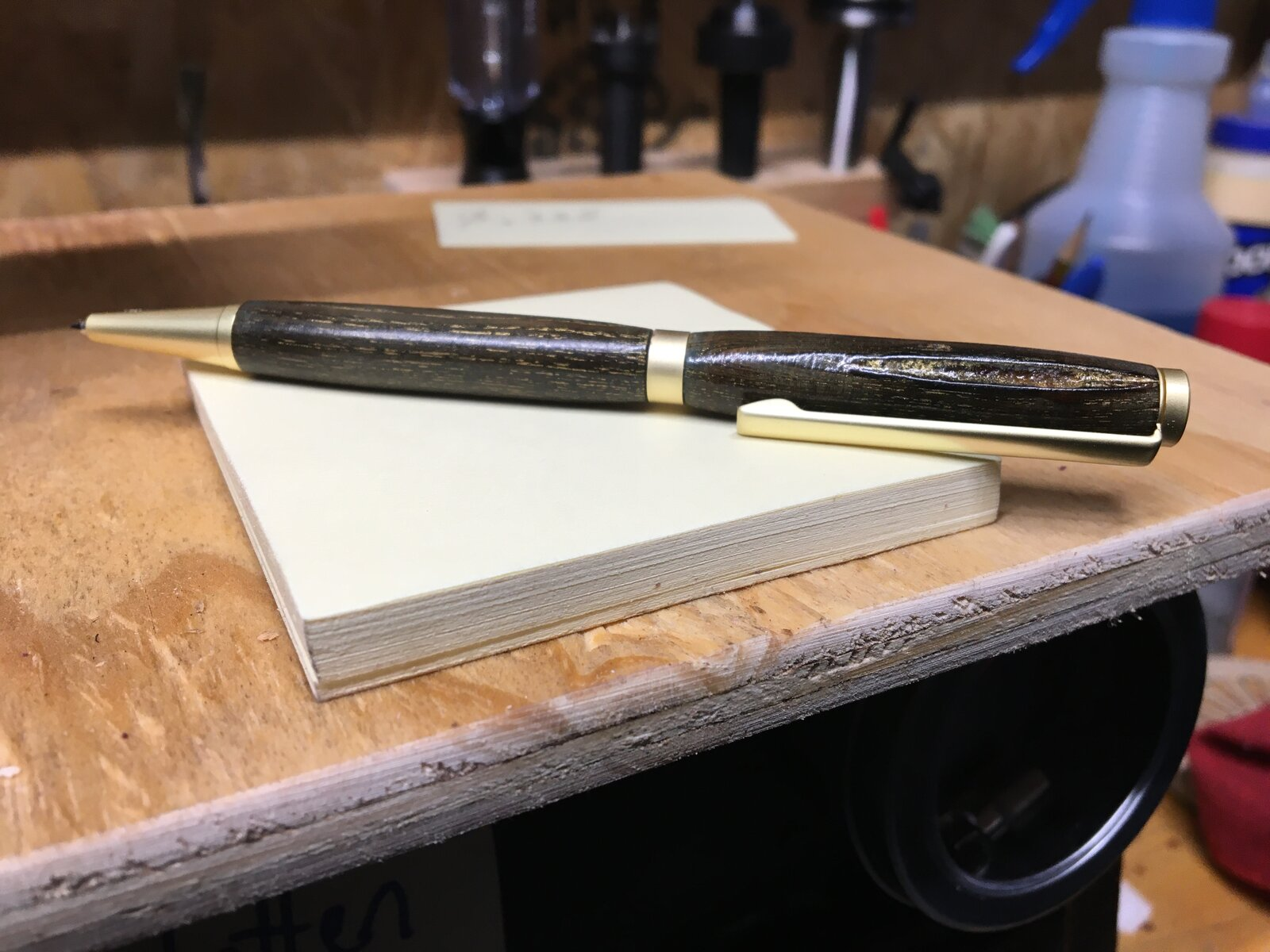 #005 :
This pen was complicated on many levels for me. It was part of my Christmas present which included about 15 kits total. However, I didn't get any bushings, so I had to use the parts on the pen to get measurements and use my calipers and take measurements. Things came out fine, but wow, slimlines don't have much wood on them!​
​
This wood from this pen is made from the branch of an Ash Tree, grown on the north side of the town of Gettysburg, Pennsylvania, the site of the famous Civil War battle. It's not Witness Wood, rather it's from a much younger tree, killed by the Ash Borer. I helped take down and collect this wood about a month ago. When I tested this wood for moisture this morning, the meter could no longer detect any moisture in this group of blanks, I was surprised that it would dry that fast.​
​
This is my first set of blanks to have the tubes glued in with 2 part epoxy, I've always used CA for that step, but I think I prefer the pace of epoxy for this step better. It also give me a good excuse to spend some time sharpening my tools before I start up my lathe!​
​
The wood had a yellow hue to it when I began. I cut the blank on the my lathe as usual, it took time, but I didn't have any problems. I'm glad I had good dust control!​
​
I then did several treatments to try and get the turned blank looking the way I wanted it to look, intending to have a hint of blue, with gold sparkles in the pen. There got a gold ink to draw into the grain of the wood, and I'm thrilled with how that looks with the pen kit! However, I believe, the yellow wood and the blue ink got together late in the process, somehow during finishing the blank went from mostly blue to mostly looking green. I'm actually still really happy with how it turned out.​
​
Funny story about the upper section of blank, it had this vein of resin, I'm not sure if this is a normal trait of this tree, or if it's from the Ash Borer bug. At first when I finished turning, I thought it would just be an interesting feature, but after I did my finishing steps, the resin came out of the cavity, and I was left with that long crack. Luckily, it didn't go all the way to the brass tube, and I was already planning to do the gold sparkle, and that helped improve the looks of it. If I had something to insert into the crack, maybe I could do something more, but I don't yet know what else to use when these sorts of things happen....​
​
After using a wet 2400 grit Micro-mesh pad, I finished the pen using one coat of medium CA, and two coats of thin CA.​
​
Current Disposition: TBD​
I wonder what I'll do next...
Last edited: