Joined

May 22, 2018
Messages

187
Location
Wasn't sure if I should post this here, or in the "Trades, Gifts, & Wants" forum.
I'm not the one selling this
, but I saw the ad and wanted to share it.
Sears/Craftsman radial arm saw with electronic readout for sale in Wheaton, IL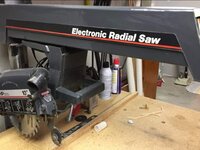 $25- But buyer must carry it up from the seller's basement.
PLEASE NOTE PRICES DIFFER ALL Sears Craftsman Electronic Radial Saw 10 inch $25.00 Belt Sander 3 inch $15.00 Router 1 1/2 Hp...

www.facebook.com
I'd buy it myself if I had anywhere in my tiny little shop that I could put it. But it's such a great deal, and I wanted to share it here for anyone who wouldn't have seen it on Facebook!