Chapter Steering Committee
Joined

Feb 11, 2018
Messages

536
Location
Select your top 5 preferred entries, you have 4 days to vote. The second round of voting will be set-up with the top 5 receiving most votes.
Ladies and Gentlemen, start your clicks!
Entry #1:
Pen kit is a slimline with gunmetal hardware.
Wood is from an apple tree that was cut down in town after being damaged by an ice storm. It looks segmented, but it's all one piece. Somehow apple wood manages to have knots and figures and all sorts of interesting things in very small pieces.
The finish is CA.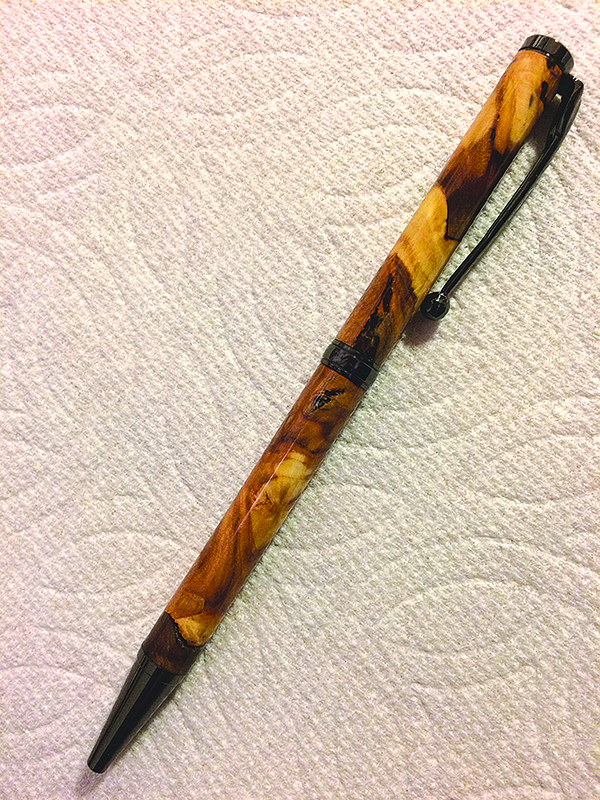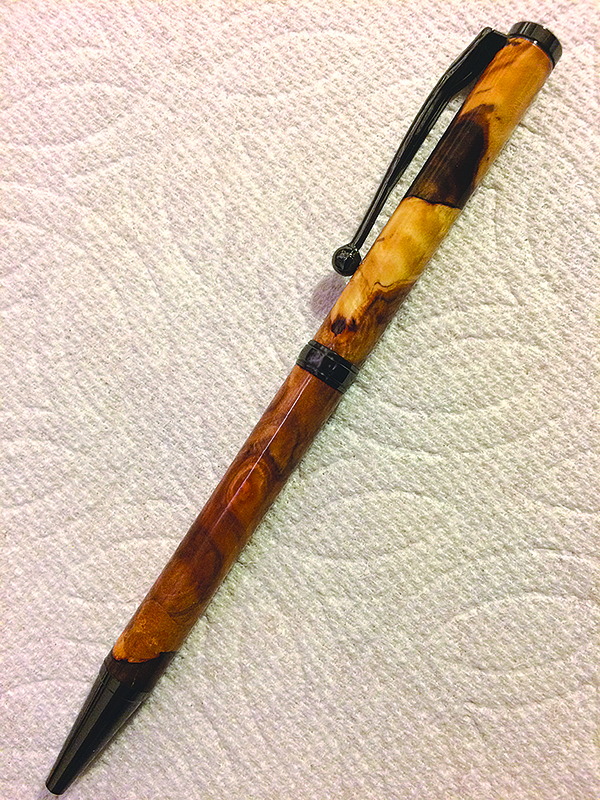 Entry #2:
Double-dyed on the lathe by hand tiger maple, using Keda liquid wood dyes, mercury ca finish, funline gunmetal.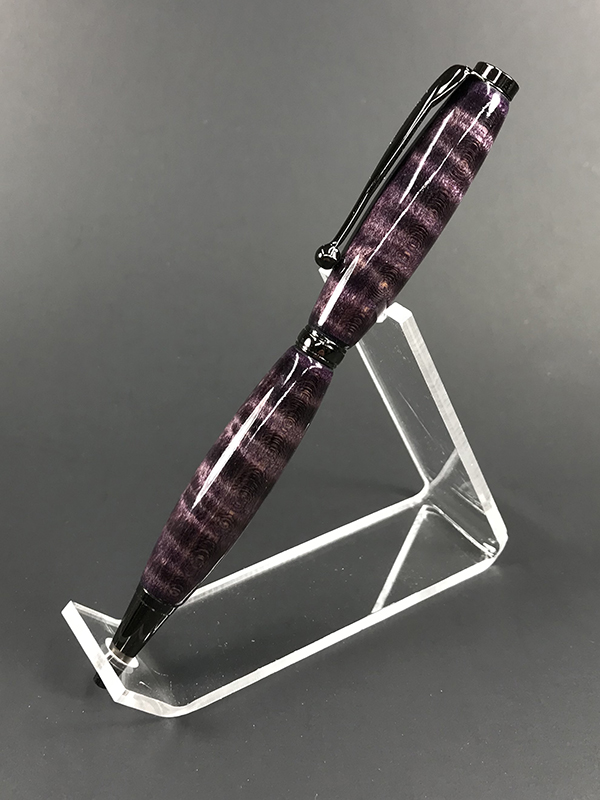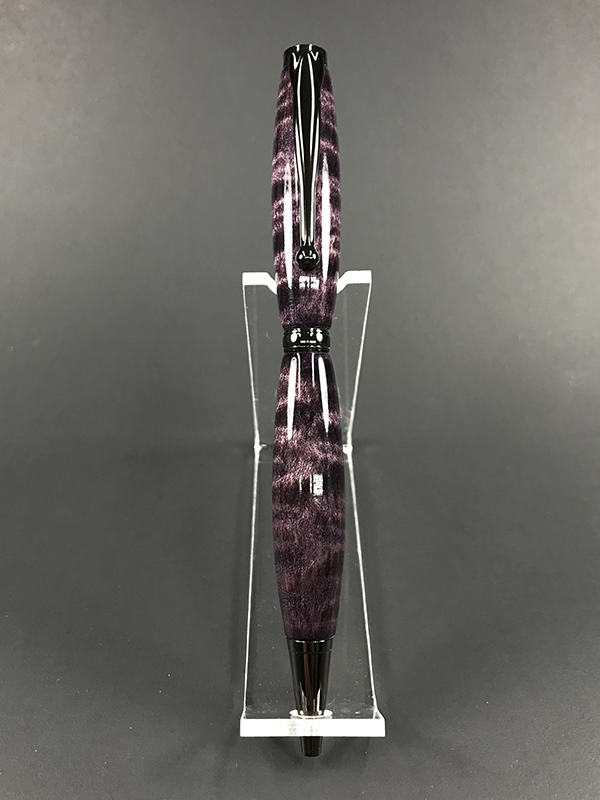 Entry #3:
This is a 7mm Gold Designer NT kit from PSI. The blank is a Sindora burl from Laos in Southeast Asia. Sindora is rarely harvested for lumber because the trees only grow to about 8-inches in diameter. The finish is CA.


Entry #4:
The wood is Coolabah Burl turned and finished with CA and dressed in a satin chrome fancy slimline.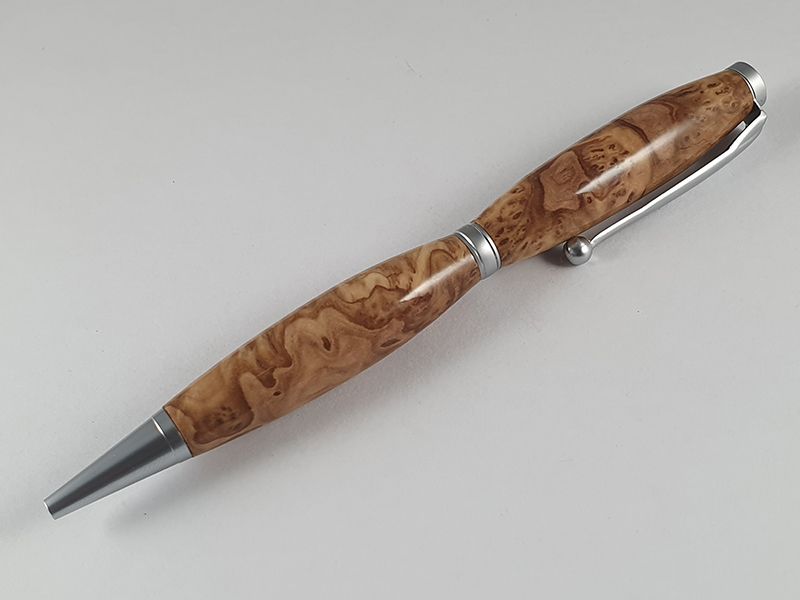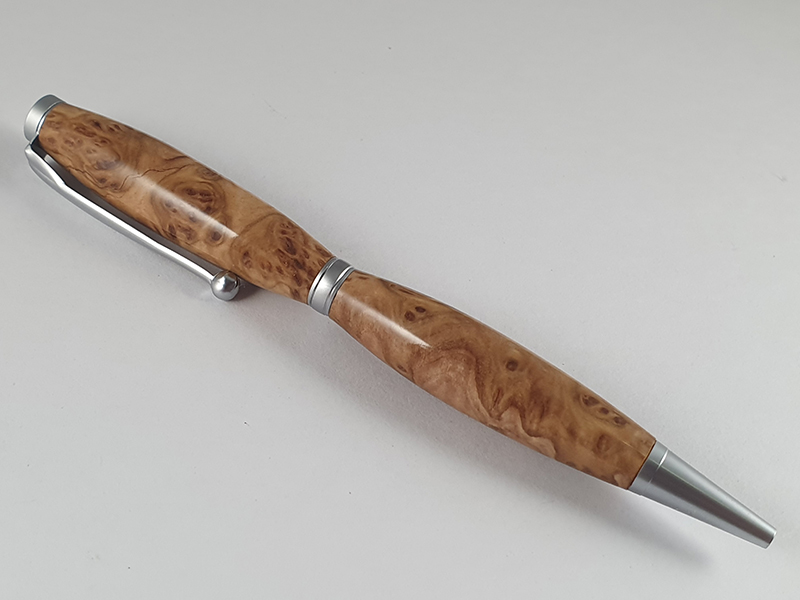 Entry #5:
Streamline Pen Kit.
The blank is Amboyna Burl.
The finish is Tripoli, White Diamond and Renaissance Wax.


Entry #6:
The blank is water snake skin made by myself. On a gunmetal click slimline kit.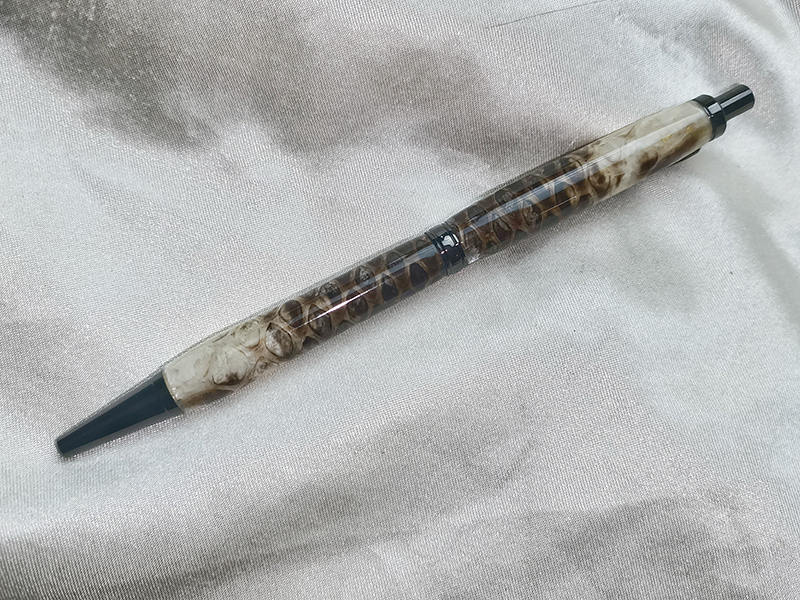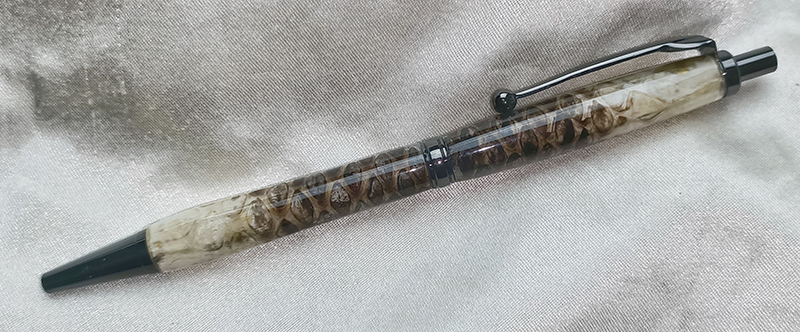 Entry #7:
The blank is sycamore burl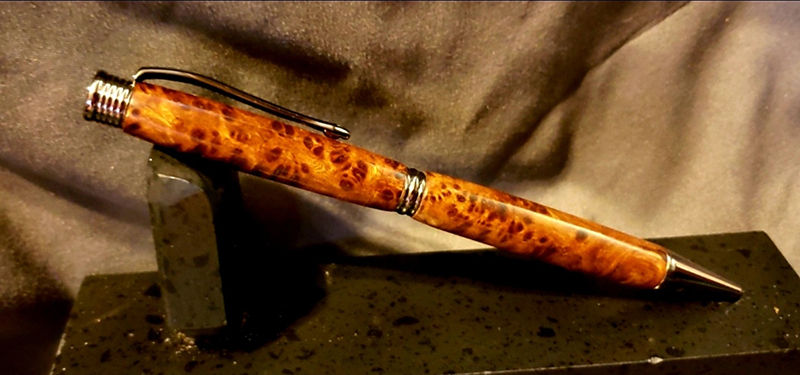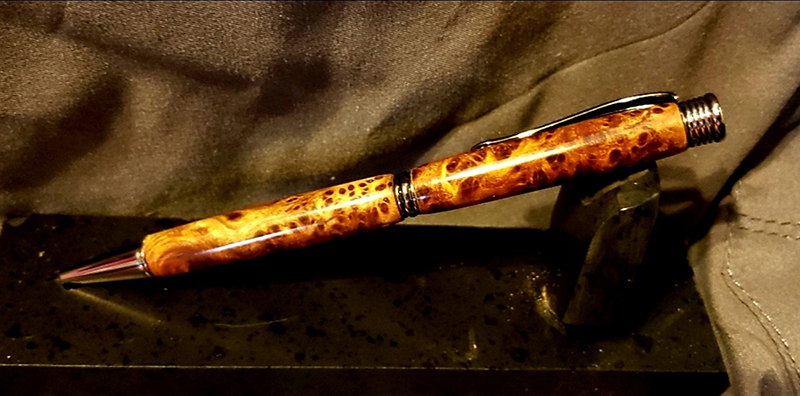 Entry #8:
The blank is made of cutoffs and black acrylic on a black chrome funline.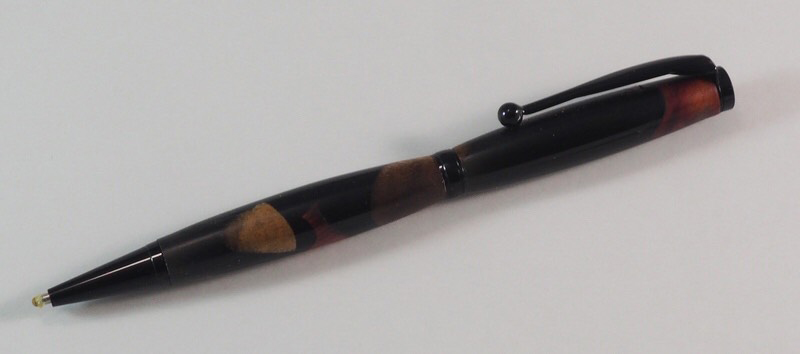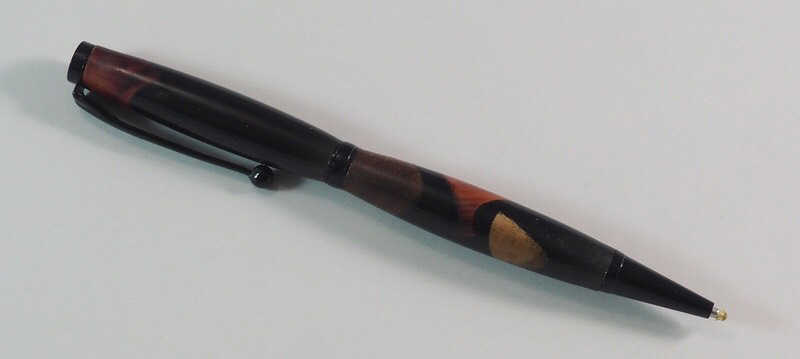 Entry #9:
Home cast resin blanks on a Legacy Fancy Twist, rose copper color.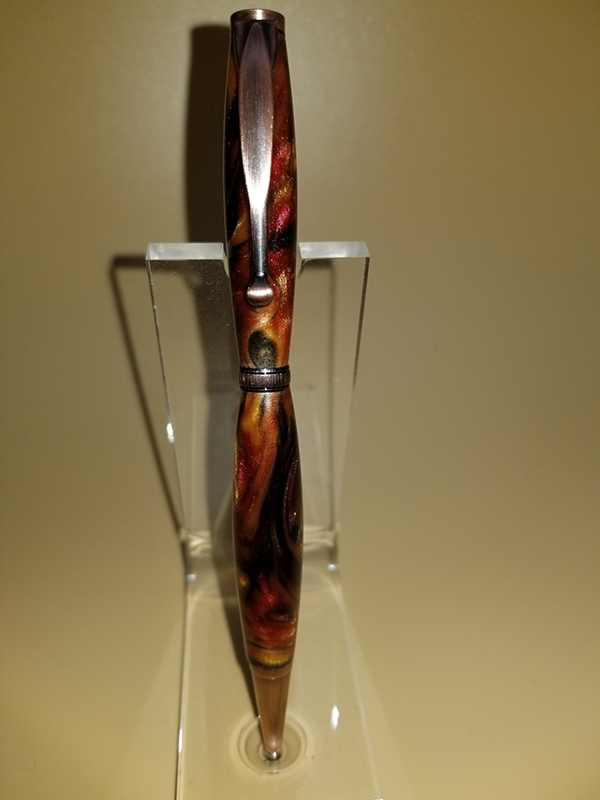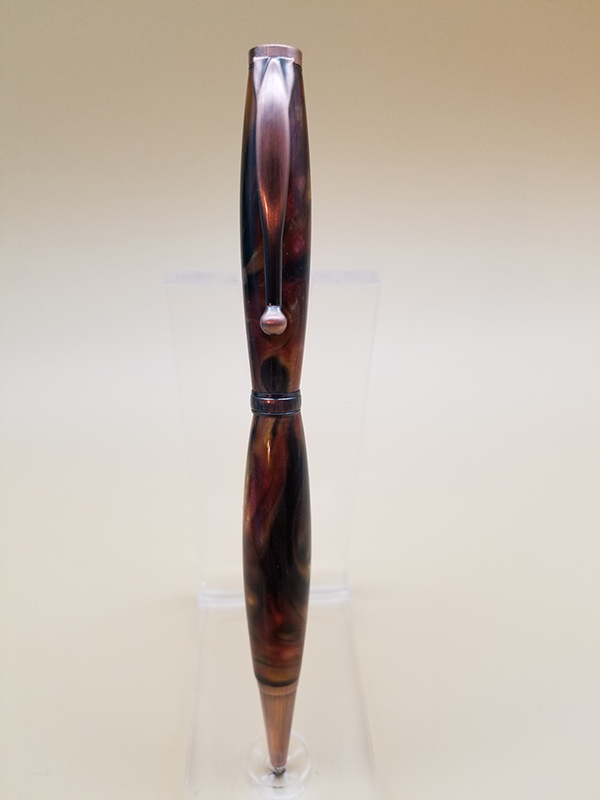 Entry #10:
The blank is a piece of maple burl that I cast with epoxy and bronze mica powder matched with a gun metal streamline kit. Finished with mercury flex ca.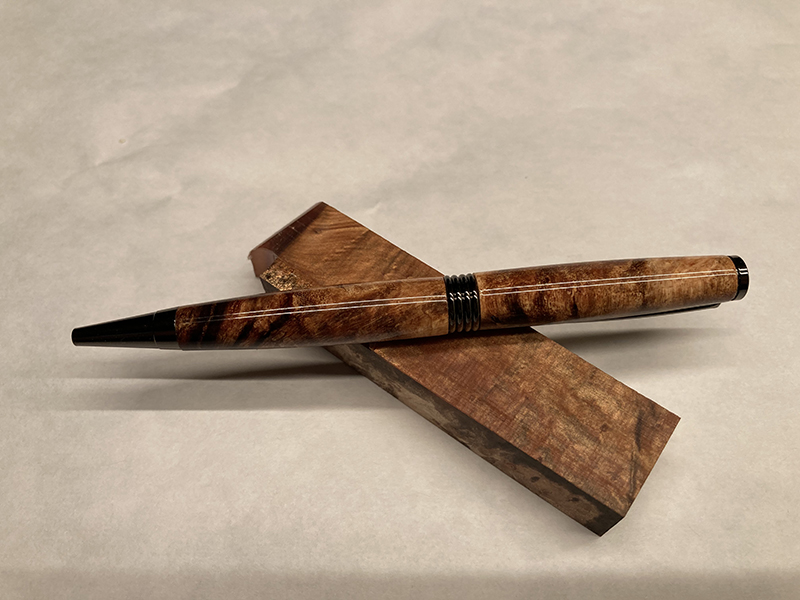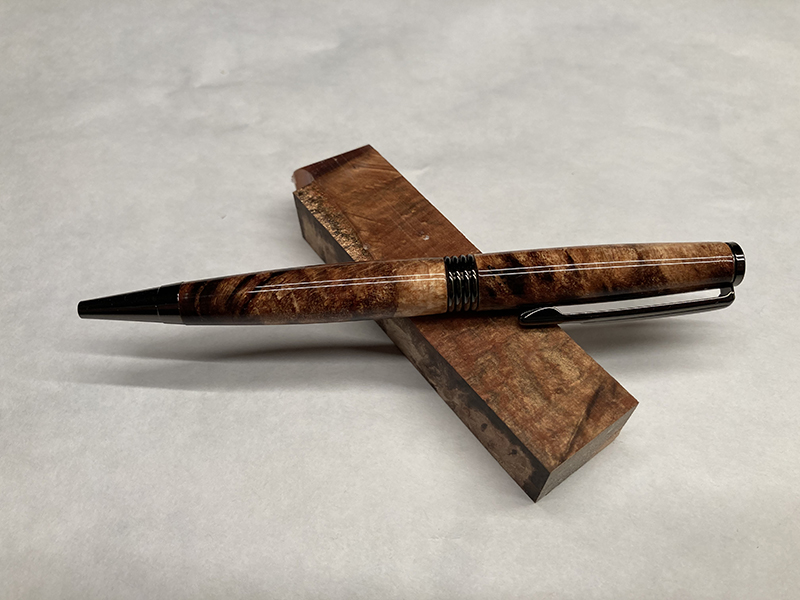 Entry #11:
The blank is torrefied maple (roasted) on a SPW kit. I use Glu- Boost as a finish.


Entry #12:
The blank is 1/4 cut hairy oak, on a satin silver slimline kit,10 coats of thin CA, polished and buffed.