Joined

Mar 14, 2019
Messages

101
I have been noticing that my tool rest might not be well seated and that the banjo might be moving when I run my lathe at high speeds.
I am not happy with my recent pens because of the scratch marks and CA Run. Here is what I did:
1. Shaped with carbide cutter
2. Sanded with mesh 400 paper and then 600 (slow speed on the lathe and then with the lathe off sanded with the grain)
3. Sanded with micro mesh and walnut oil
4. Applied CA using paper towel. Used thin CA from Smith Industry. Wiped on 8 coats alternating starting from left to right. I think my lathe was at 500 rpm.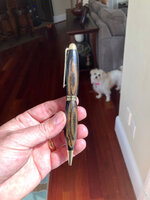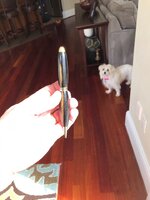 Any suggestions for me?