Joined

Oct 12, 2020
Messages

16
Location
I recently placed an order that included a dozen or so assorted slimlines, and, when I went to assemble the first one, I was rather shocked to discover someone had snuck into the box and stamped the initials "RZ" (presumably for "Rizheng", although the manufacturer wasn't specified anywhere) on the top of all my pen clips. Sorta like this: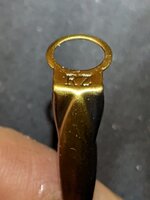 (in fact, exactly like that)
If you're thinking "What's the big deal? The finial will cover it!", then you may be an idiot. Not because it's a particularly unreasonable thing to think, but because that's exactly what
I
thought, and I've been frequently informed that
I'm
an idiot
(if not necessarily for that reason)
. Either way, us idiots gotta stick together. Coincidentally, I was also entirely wrong
(see: idiot)
. The dainty little slimline finial does nothing to obscure the stamp.
This is something I'd never seen or heard of before, and, after contacting the seller, it turned out
they
hadn't spotted it before either (or heard mention from customers), but said that, after checking, it looked like that manufacturer had been doing it for a fair while, and were apparently doing it on
all
their slimlines that aren't made under special contract.
The seller (who I don't want to drag into this, since they're pretty awesome, were very responsive - on a weekend, no less - and, more importantly, have already suffered through my dumb jokes once) offered a refund on the kits, so I'm hardly without options, but I was more curious if any of you had run into this, and how you tended to deal with it - or how
would
you deal with it. Do you send them back, or keep them? Do you sell them like that, or save them as gifts for nearsighted relatives who won't ask too many questions? What do you tell customers who wonder whose initials "RZ" are, and why it's stamped on
their
pen? Do they pay extra if you say it was previously owned by Robert Zemeckis?
Or is this something everyone else has already seen and just takes for granted, like that "YKK" stamp on your zipper pull? They mentioned Dayacom does something similar, too (although I don't think I've used any Dayacom hardware).
Don't ask me how I know what's on your zipper pull. And don't ask which of your zippers I was checking out. And definitely don't investigate that typing sound coming from behind your closet door.


-Bats
(Buy our new Rabid Zebra awareness pen - because you should always be aware when rabid zebras are around!)