Joined

Aug 6, 2009
Messages

6,507
Location
G'day guys and gals,
About 12 years ago, Merissa and I, we've started gathering as much wood as we could and one of its purposes to cut into bowl blanks, at the time I was doing a lot of bowls turning particularly green with green woods, I had also started my eBay store and my main focus was on bowl, platter, vases and other larger chunks of wood.
We brought home and stored under cover lots of the processed blanks that I was either busing or selling, 2 areas were used for that purpose, one to store the round blanks and the other to store the semi-processed logs and short slabs. We were salvaging everything, even stuff that would be more suited as firewood and many logs of the same thing not knowing if we were going to get any more of it.
Newer stuff was stored over the older woods/blanks until there could not fit anymore, I then started to enclose/built other areas to store my woods under cover/out of the weather, wood was coming fast and furious
:biggrin:
Off-course, after some time you couldn't remember what was stored underneath all the stuff and even if you did, good luck in finding an easy way to get to it was either forget about it or spend hours moving logs and then put it all back again only to need something else that was also under tonnes of wood, this was minimized more recently when I rebuilt an old storage area with some heavy duty timber shelving so that the semi-processed pieces of wood could be found and reached with ease,
see here
These last couple of months, I decided that was time to do a clean-up and re-organise these 2 areas I mention at the beginning of this thread, the round blanks storage as part of my "lathe room" and the "corridor" which is an area between the back fence and the main shed, this space is open on both ends and certainly one of the best wood drying spots in my whole yard, wind come through like a narrow corridor reason of its name.
My oldest logs were stored there, 100% of my original Black Wattle logs were stored there 12 years ago, one side almost only this wood and the other a mix of Stone Pine, Macrocarpa root, Silver Wattle, Almond, She-Oak and a bit of everything in there, this storage area is the closest area to my bandsaw so, anything new that I would bring home to process straightaway, I would put in there, I have almost got to the floor (wood pallets) this means that, anything that shouldn't be there was made into firewood and anything else that was good, was semi-processed and stored in the new area so, I will be soon considering bringing a lot of newer woods stored in the open paddock, some of which I have to cut into manageable pieces, some are dry but wet and others still need some extra drying but that will be for another day and another thread/post.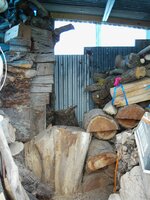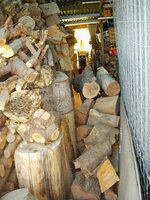 This thread is getting long and I haven't yet said much about the reason for this thread and there is sort the old stock of round blanks, re-cut what was good and make firewood out of those that developed large cracks or self-destroyed.
These were only a small percentage of what once I had in there years ago, lots of other woods were put in front of them hoping one day I would sort that mess, re-organise the space/area to suit my more recent needs.
Pic taken in 2007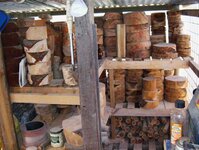 I finished working on them and take them all to the "Lolly-shop", I may list some on the web-store particularly the small ones, the rest will be available to anyone local(ish) that come and visit or someone that is willing to pay freight costs.
Interestingly, the wood varieties are a lot less than what I've thought, they were mainly, Macrocarpa, Stone Pine, Sugar and Rose Gum, lots of Melaleuca, some Black Wattle and Yellow Gum, these are all at least 10 years old since processed the first time so yes, they are all "dry"...!
I only took one pic of the "pile" before I took them away, that was enough...!:biggrin: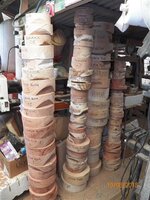 Well, that's all for now...!
Cheers
George