Joined

Feb 2, 2011
Messages

14,787
Location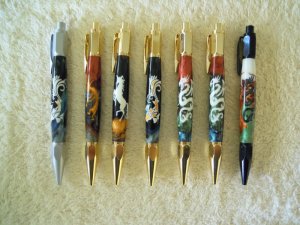 A few Rotacrylics from Masterscroller that I have done in the last few days. They are all on Vertex Click Pens and none has any finish coat applied ... just sanded to 2000 grit and then polished with Meguiar's, then Novus. Tube length is 2.92" and turned diameter was 0.560" before sanding.
From left to right, the designs are Koi Fish, Kokopelli, Unicorn, another Koi Fish, Ghost Dragon, another Ghost Dragon, and finally a Wyvern Dragon. These were exciting to make, especially the Wyvern Dragon ... the blank was almost completely white with very little hint of color except for the black dragon. Only when I started turning did the colors begin to emerge and I am totally thrilled with the result. I am also very thrilled with the Unicorn which appears to be prancing on a bed of fire ! All are outstandingly beautiful, in my opinion. Masterscroller is an incredible artist in this medium. I should say that the blanks for each design come in pairs, one with the image and a matching blank with no image. I used only the blank with the image so I can still use the remaining blanks to make additional pens with similar coloration but without the images. Blanks purchased from Exoticblanks.
I should mention that the coloration in the Kokopelli is out of this world !!
Need to develop my photo technique !!
Last edited: